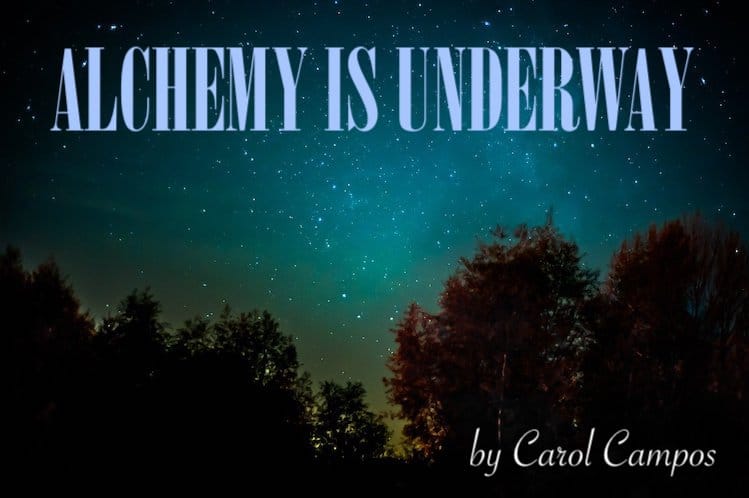 No, I didn't have a psychedelic trip. And it wasn't a dream.  I set out to manifest a Pink Flamingo—wearing a Santa's hat, no less.  Why on earth would I do this?  Let me back up a little.  A few months ago, I was working in my office and had a realization that it had been a long time since I had connected to joy and silliness.  Sure, I had some laughs with family, friends, and clients, but I hadn't connected to child-like joy in quite a while.  I love manifestation practices, but my practice had become rote.  I was going through the motions, but not really feeling it—which is the most important ingredient.  I'm really good at coaching others, but not always great about taking my own "medicine."
I decided then and there that I was going to do something about it.  The next morning, I set an intention to manifest something a little crazy, something a little out there.  Whatever popped into my mind first would be the thing I would manifest.  Well, what popped in my head was a pink flamingo wearing a Santa's hat (it was about a week before Christmas).  It was ridiculous and so out of left field that I knew I had to go with it.  Spotting a pink flamingo in New England during the holidays was going to be a challenge.  But I trusted the image I received.
I headed out to the lake near my house, checking out all the houses and yards.  Was it possible that someone would have a pink flamingo lawn ornament with a Santa hat? No dice.  Driving home there was more traffic and every time a truck or van passed by, I'd crane my neck to see if maybe an image of a pink flamingo was painted on the side.  Nada.  It was still early in the day so I wasn't giving up.
After lunch, I had a quick errand to run.  Once again, I found myself scanning lawns, peering at stickers on cars, and looking at billboards.  Still nothing.  Hmmm.  Half the day was over and I hadn't seen anything close to a pink flamingo—let alone one wearing a Santa hat.  Maybe I had picked something that was too hard for the Universe to deliver?  "No, that can't be," I thought.  As Abraham-Hicks always says, "This is the Source Energy that creates worlds and keeps the Earth spinning on its axis." Certainly, a pink flamingo dressed in its holiday best wasn't that tall of an order. I decided to let it go.
Around 7:00 PM I realized I had forgotten to pick up a prescription at the pharmacy.  I hopped in the car and headed out. It was cold and dark by then, but I was cheered by all the Christmas lights.  When I got to the pharmacy, I cut through the greeting card aisle.  As I passed, I noticed a flash of pink in my peripheral vision.  I turned to my left and scanned the cards.  I couldn't believe it.  There in the middle of the display was a Christmas card with a drawing of a pink flamingo. And on his head—you guessed it—a Santa hat.  I laughed and let out a loud "NO WAY!"  You can't make this stuff up.  I was giggling with glee all the way home.
I share this story as a reminder of how powerful we are.  It's not about hard work, but play.  When starting a manifestation process (or in my case, re-starting), start small. Start with something where you don't have a lot of "skin in the game."  Let it be fun and easy.
As you set intentions and begin to draw things or experiences into your life, you'll become more confident in the manifestation process.
Life is freakin' magical! All you have to do is show a willingness to play.
 I would love to hear your "pink flamingo" story!