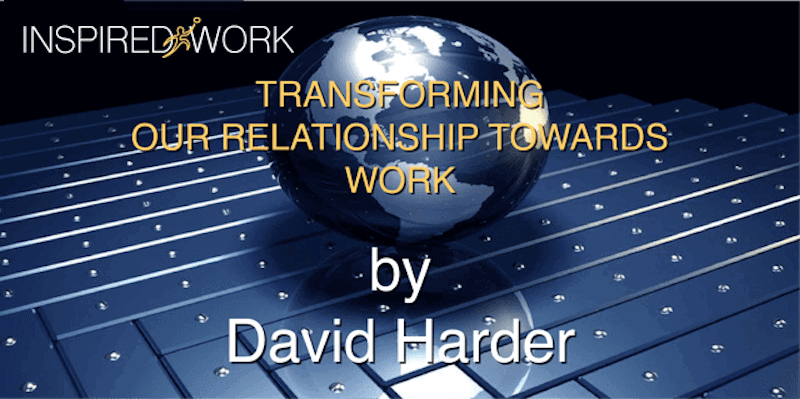 How can you say such hurtful things to people? Words Matter! Seriously, how do you sleep in your car at night?

–Triumph the Insult Comic Dog
The term "Soft Skills" is one of the most dismissive and misleading terms in human capital development. These are the very skills that can make most anyone successful. Why would we run from them?
Because these are the skills that require courage to develop:
Sales
Presentation skills
Developing influence
Building an active online presence
Skillfully asking for help
Learning how to fluidly and graciously connect with others.
Back when it was enough to find a job, to clock in and out, change wasn't biting us in the rear end. Even if we didn't particularly like our work, we could make a good living. But change has accelerated to the degree where today's average college graduate will change careers, not jobs, 4-6 times. What on earth have we done to prepare them? If we haven't prepared ourselves, what are we teaching them? Probably not at all what they need.
Here is why a change in mindset is so crucial:
As the rate of change increases, our need to connect with others grows just as quickly. Getting access to help, information, insights, jobs, clients, mentoring, and other forms of support are critical if we are to remain successful. As a result, isolation is the single biggest reason that people fail.
We launched our first Inspired Work Program in September 1990. Since then, we have observed thousands of people reinvent their relationship towards work. For most of us, great relationships towards work mean loving our work, making a good living, and having work that enhances rather than detracts from our personal lives. The three definitions are unique for every person we work with. In fact, telling people what to do with their lives is one of the greatest detours from one's soul. We have also discovered that when people find that sweet spot, they become more willing to practice courage and learn how to not only attract positive attention but to enjoy it as well.
Most everyone, when faced with the need to draw healthy attention to themselves, responds with some form of, "They'll hurt me."
For example, the National Speakers Association has taken surveys that indicate about 90% of Americans would prefer actually to die than give a public presentation. Let that sink in. When we run away from that, we overlook the fact that if we don't become skilled at being visible and connecting with others, we increase the probability of starving.
There is real freedom when we recognize that drawing effective and healthy attention to our selves, careers, and businesses is learnable. The more that we learn the skills, the more adept we become in using them. Hence, the results get better and better. With these dynamics in mind, isn't it time that we rename the skills?
Soft implies the skills are optional. Therefore, our school systems don't teach them or require their development.
Even one of the shyest world artists understood the game of success. In 1990, Marsha Sinetar published a book called, Do What You Love and the Money will Follow. It implied that loving our work was enough. The money would show up. Try telling that to a sole breadwinner! But, Andy Warhol, was far more truthful when he said, "Do what you love, you can always sell it."
One of the issues that keep me up at night is that while so many of us are having difficulty with change, we are not finding solutions in our political and educational leadership. After running political programs based on focus groups, give us one politician who is telling American workers what to do. At the very time, we need to be inspiring our people to change, they are being fed promises that are rarely if ever, kept. Only the most motivated learners are recognizing what it takes to be able to not only keep up with change but to also make use of change to their benefit.
Our schools continue to prepare children and young people for the Industrial Revolution. Most schools do not teach sales, presentation skills, wealth, influence, and how to find the right kind of help. Few bring up active learning, that radical shift in our culture where those of us who devour learning every day is quickly taking ownership of the future of work.
My colleague, Dr. Mary Campbell, and I made a presentation to a community service organization. They support one of the wealthiest charter high schools in the country. When we finished Q & A, they announced their student of the month. Everyone was so proud of her. They were applauding. But, she refused to get to the podium to accept her award. When a bright and deserving young person runs from positive attention, it is a failure of her parents and the educational system. We are sending our children into a workplace where those of us who find solutions from others, who reach out and collaborate, who graciously connect, have the brightest futures of all.
The work ought to begin in our families. But, the average American family could use just as much change and reinvention as our school system. Today, the average family communicates 7 minutes per day, 4 of those minutes are consumed arguing or correcting the kids. That same family will go on to watch Television for 4 1/2 hours. These patterns of checking-out rather than taking action is producing a society that overall is so soft and illiterate of opportunities, that only the most motivated parents are finding ways to reinvent the way they prepare their kids for the future.
I interviewed the legendary film critic Leonard Maltin in 1999. Leonard has had a love affair with movies since he was a little boy. In the middle of our interview, Leonard asked, "What is your favorite film?"
Avalon is my favorite film.
I didn't expect Maltin to be so moved. The movie didn't get a great deal of attention and it was 10 years old. But, his eyes flashed with deep emotion and he asked, "Why did you select that film?"
Avalon is about an immigrant family that comes to America the land of abundance. The movie opens in Baltimore just after World War II. A few family members have arrived from the old country. They walk through the city on July the 4th with fireworks bursting in slow motion overhead. They are a tight-knit and highly engaged family. The grandfather owns a furniture company. Many of his relatives come work in the store. Every night they gather around a huge dining table. They gossip, crack jokes, insist on feedback from their children, and keep relatives that didn't make it alive by telling their stories.
One afternoon, the grandfather came home to make a big announcement. "We are going to make a fortune selling these!" He was holding one of the first Television sets. In the next frame, the family has moved from the table to the living room. Everyone stared at the TV. It was the beginning of that family's decline. Instead of paying attention to each other, they stared at something that gave nothing back in return.
My intention isn't to scare anyone. It is to hold up a flag that if we take the initiative to change our mindsets, to develop new skills and to study success rather than mediocrity. Because the road ahead is already much better and exciting than our past.
Technology isn't taking away work. It is giving us freedom from tasks. This is the time to find the work that celebrates what you love, the work that matters to you and perhaps the world around you. But, if our heads are down and we are scared to look up, all we will experience is the worst kind of fear. It will be the fear that doesn't result in our taking action, to learn, to grow, and to let go of obsolete models.
But, all of us ought to be concerned about the underemployed because they represent the single greatest source of our country's turmoil. Working harder, making less, and worried about what will happen when technology eliminates the routine. All of us ought to be making every attempt to help them look up and to learn so much about the future that they find the very best fit,
If this applies to you, get some help. If we are speaking of our children than we need to move as if our hair is on fire.
If you are speaking of our children than we need to move as if our hair is on fire.