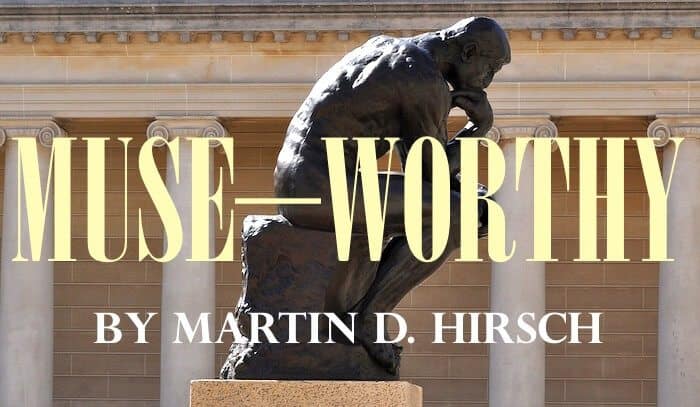 Sometime during the late 80s, I watched a fascinating PBS TV series called "Making Sense of the Sixties." Its premise was that the revolutionary counter-cultural movement of the 60s was the direct response to the stifling rules, restrictions, materialism and social injustice of the 50s. The logic was impeccable.
Baby boomers like me wanted a different life than the one our parents worked so hard, sacrificed so much and tried so desperately to indoctrinate us to accept and adopt. Boring work in exchange for a comfortable home, two cars in the garage and a pension? Not for us! Following and living our dreams, a life of music, art and adventure, creativity and passion – that's what we were all about.
My father worked in a factory, my mother for the U.S. Postal Service. Get an education, they said. Take a Civil Service test, they implored. It all starts with security.
And I listened. Or maybe more accurately, my head listened, while my heart remained open to other possibilities. The rest of my life has been a tightrope walk balancing between my head's need to satisfy my stomach and my heart's need to satisfy my soul.
After 12 years of public school and four years in college culminating in a bachelor's degree in English and communications, I set out to find my way across that tightrope to my true destiny.
First I took a straight job in sales promotion at a small company that sold pots and pans and dishes and tableware. It gave me a chance to write, and I twisted myself like a balloon figure to fit as much of myself into the role as I could. But a year and a half or so was all I could last, and then I followed my heart.
For the next two years I worked as a freelance journalist by day and a singer/songwriter, performing at bars by night. It wasn't very lucrative, and it didn't offer much security, but it sure was fun, and the intellectual stimulation was through the roof. I was incredibly immersed in both vocations and burning the candle at both ends.
Crucial crossroad
When it wore me out, I took that Civil Service test my parents were always pushing and also applied for a graduate assistantship to get financial aid to work for a master's degree in journalism. When both came through, my walk on that tightrope landed me at the most crucial crossroad of my life.
I chose graduate school. Studying journalism in the mid-70s, during the seminal Woodward and Bernstein Watergate years, provided me with the analytical skills, principles and foundation in storytelling that I've drawn upon in my professional life ever since.
But I didn't wind up writing for a top-tier newspaper or magazine as I had hoped. Despite pounding the snow-covered pavement of New York throughout the frigid winter of 1979 and meeting with editors at Time, Rolling Stone, Esquire, Forbes and New York magazine, all my passion and packed portfolio of writing samples only got me invitations to submit stories on speculation. I wanted a steady, dependable paycheck.
So I didn't wind up in publishing or in the music industry, or any of the fields closer akin to my singer/songwriter and freelance journalist wonder years. Instead, I wound up working in corporate communications for a huge international healthcare company that has been my professional home for almost 35 years now. I became an accidental company man.
How the accident happened
As I approach my retirement at 65 in just a couple of months, I can't stop wondering how that accident happened. Recently I sought advice from the renowned existential psychotherapist and author Dr. Irvin D. Yalom, known for his books on finding meaning in life. After reviewing some background I'd given him about myself, including some nostalgic reminiscences of my youthful days as a troubadour and writer before settling into my life in the corporate world, he asked if my financially poor but creatively rich formative years back in the 1970s were my happiest.
I paused to reflect. As romantic as those years seem today, and as much as I've longed to circle back to them somehow and still hope to reunite with that part of myself, I had to admit that they were not my happiest days. They were like the blacksmith's forge that shaped me into the person I became and I wouldn't trade them for anything. But I had to concede that my happiest times were at several stages during my corporate years when I was plying my communication skills to educate, inform, inspire and influence, and pursuing creative writing and music on the side with some complementary and enormously satisfying success and recognition. That was the winning combination.
A little help from my friend
I recently reconnected with an old fellow musician friend from my youth named Julie Gold, whom I hadn't seen in 25 years. Unlike me, she'd remained loyal to her heart and stuck with songwriting even when it wasn't getting her anywhere security-wise and she had to work by day as a receptionist for a cable TV company to pay the rent on her tiny Greenwich Village apartment. One of the last times I visited her there back in the late 80s, she played me a new song she'd written called "From a Distance."  Bette Midler recorded the song, made it an international hit, and it won a Grammy for best song in 1991. Many other artists have since recorded it.
I asked Julie if she was making a decent living from the proceeds and she said she was. "But what if you hadn't, I asked her. What if your songwriting never brought you a secure living and you had to put it aside to find a better-paying straight job?"
Julie didn't hesitate a moment to consider her answer. "I would have died rather than give up my music," she said. "I honestly think I was put on earth to give that song to humanity and I still see the appreciation in people's eyes when they tell me what it means to them."
Callings to die for
So much for accidental careers," I thought. Some of us – but very few – have callings so strong they'd rather die than do anything else. They become materially successful at what they love spiritually, or thrive on the spiritual richness of their lives even if material success eludes them.
Others commit themselves to material success, whether they like their work or not.
And then many others, like me – have careers that may not be accidental, but let's call them serendipitous or fortuitous; they choose a field that gives them the opportunity to do something they like and are good at, and it's up to them to put as much of themselves – their hearts, souls, spirits, creativity, passion, and principles – into the work and bend their jobs to their will rather than letting their jobs or workplaces reshape who they are.
They reach crossroads and make choices. With a bit of talent, luck and perseverance, they can wind up with great lives that give them the chance to do what they're good at, make a good living, and see the world too, as this accidental company man has.
And maybe, when all is said and done, it wasn't an accident at all. Maybe it was meant to be.