When you're standing around waiting for a touch of inspiration to hit you, do you let your eyes wander to yesterday's newspaper, a stack of junk mail, or the back of the cereal box – just because you aren't ready to dive into that waiting project? But you don't want to be completely zoned out and idle either, so you sort of fake busyness until your momentum returns. If that even remotely defines how you approach your growing to-do list from time to time, this article written by Brian Tracy will give you inspiration and incentive to tackle those items weighing you down.
The following post is an excerpt from chapter 6 of Eat That Frog, the book written by the master of productivity, Brian Tracy.
A word about frogs… It has been said that if the first thing you do each morning is to eat a live frog, you can go through the day with the satisfaction of knowing that that is probably the worst thing that is going to happen to you all day long. Your "frog" is your biggest, most important task, the one you are most likely to procrastinate on if you don't do something about it. It is also the one task that can have the greatest positive impact on your life and results at the moment.
The ABCDE Method
The ABCDE Method is a powerful priority setting technique that you can use every single day. This technique is so simple and effective that it can, all by itself, make you one of the most efficient and effective people in your field.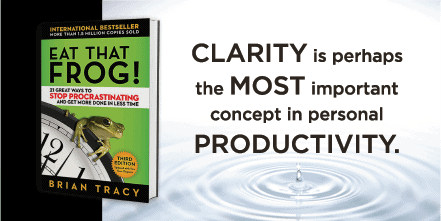 The power of this technique lies in its simplicity. Here's how it works: You start with a list of everything you have to do for the coming day. Think on paper. You then place an A, B, C, D, or E next to each item on your list before you begin the first task.
An "A" item is defined as something that is very important, something that you must do. This is a task that will have serious positive or negative consequences if you do it or fail to do it, like visiting a key customer or finishing a report that your boss needs for an upcoming board meeting. These items are the frogs of your life.
If you have more than one A task, you prioritize these tasks by writing "A-1," "A-2," "A-3," and so on in front of each item. Your A-1 task is your biggest, ugliest frog of all.
A "B" item is defined as a task that you should do. But it has only mild consequences. These are the tadpoles of your work life. This means that someone may be unhappy or inconvenienced if you don't do one of these tasks, but it is nowhere as important as an A task. Returning an unimportant telephone message or reviewing your e-mail would be a B task.
The rule is that you should never do a B task when an A task is left undone. You should never be distracted by a tadpole when a big frog is sitting there waiting to be eaten.
A "C" task is defined as something that would be nice to do but for which there are no consequences at all, whether you do it or not. C tasks include phoning a friend, having coffee or lunch with a coworker, and completing some personal business during work hours. These sorts of activities have no effect at all on your work life.
A "D" task is defined as something you can delegate to someone else. The rule is that you should delegate everything that someone else can do so you can free up more time for the A tasks that only you can do.
An "E" task is defined as something that you can eliminate altogether, and it won't make any real difference. This may be a task that was important at one time but is no longer relevant to you or anyone else. Often it is something you continue to do out of habit or because you enjoy it. But every minute that you spend on an E task is time taken away from an A task or activity that can make a real difference in your life.
After you have applied the ABCDE Method to your list, you will be completely organized and ready to get more important things done faster.
The key to making this ABCDE Method work is for you to now discipline yourself to start immediately on your A-1 task and then stay at it until it is complete. Use your willpower to get going and stay going on this one job, the most important single task you could possibly be doing. Eat the whole frog and don't stop until it's finished completely.
---
Brian Tracy is one of the top business speakers in the world today. He has designed and presented seminars for more than 1,000 large companies and more than 10,000 small and medium- sized enterprises in 75 countries on the subjects of Leadership, Management, Professional Selling, Business Model Reinvention, and Profit Improvement. He has addressed more than 5,000,000 people in more than 5,000 talks and presentations worldwide. He currently speaks to 250,000 people per year. His fast-moving, entertaining video-based training programs are taught in 38 countries.
Brian is a bestselling author. In addition to Eat That Frog, Brian has written more than 80 books that have been translated into 42 languages, including Kiss That Frog!, Find Your Balance Point, Goals!, Flight Plan, Maximum Achievement, No Excuses!, Advanced Selling Strategies, and How the Best Leaders Lead. He is happily married, with four children and five grandchildren. He is the president of Brian Tracy International and lives in Solana Beach, California. He can be reached at [email protected].