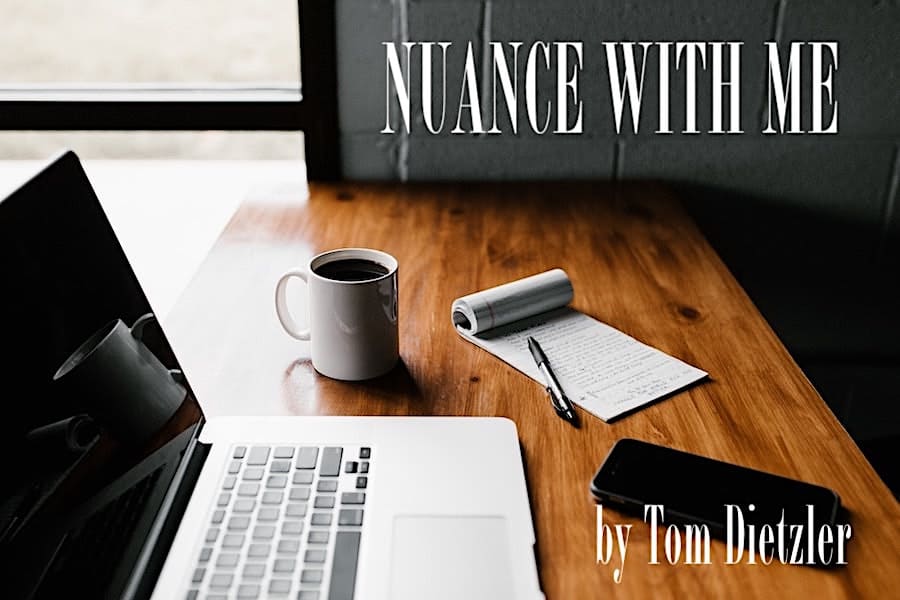 Congress shall make no law respecting an establishment of religion or prohibiting the free exercise thereof; or abridging the freedom of speech, or of the press; or the right of the people peaceably to assemble, and to petition the government for a redress of grievances.
            –First Amendment to the United States Constitution, adopted in 1791
I understand that by placing this topic in the arena of larger discussions, I am dancing on thin ice. It has been my habit, credo, and default setting to abstain from political discussions on social media. I ask, maybe plead, petition, sincerely desire of anyone who reads and comments on this to do so in the spirit of discussion and exchanging ideas. That's why I partake of social media – to learn, and to find out more from all the smart people out there who generously share what they know so that we can all become smarter, and maybe gain a tad more understanding of each other.
Maybe, just maybe, I'm drinking of the Kool-Aid of dreamers and those who think that if we tweak this life long enough in just the right ways, we can make things perfect.
Fear not, we shall not see perfection on this side of the grave. My goal is that if we simply try to get a little more better (yes, that's one of my grammatical offenses…) every day, we can become, um… a little more better than we were. Think famous Green Bay Packers' Coach Vince Lombardi here: "If we chase perfection, we can catch excellence."
If you wonder why the long preamble here, it's because as I write this, I am baffled that Free Speech has become a controversial thing. I am old enough to remember when we encouraged wide-ranging dialogues, especially in those analog days back when I was in college. College professors sometimes sneered and made off-putting remarks regarding students who made unpopular or "against the grain" comments in their classes, but they didn't stop those views from being expressed. We always discussed just about every side of every issue that could be discussed. College, and public discourse, in general, was supposedly a "marketplace of ideas."
One of my first mentors, and a guy who I will remember until my last breath, was our neighbor and eventually our family doctor, and he taught me so much about life and education and the exchange of ideas. He often interjected into discussions this gem, and I shall never forget it, and hope always to abide by it: "Just because we disagree, doesn't mean that we have to become disagreeable."
Look at how the First Amendment begins: "Congress shall make no law…" That means that any law that seeks to reduce the ability of anyone to speak their mind is not going to be upheld as a law. And no, you don't get to yell "Fire" in a movie theatre or church and claim that is your right.
Criticizing how someone else is using their first amendment right is not violating the first amendment. Isn't it amazing to everyone how often we hear people recommending that this person or that group or that kind of speech should not be allowed to be heard at all? If it's hateful or ugly or derogatory in some manner, it will be revealed as such.
Once you place words or feelings or sentiment anywhere in the arena of public discussion, you own it and it will be up to you to defend and make sure that people understand how you meant it and how it applies to whatever the topic that is being discussed.
The first thought that comes into my mind when someone wants to take away someone else's right to say anything is that they are unarmed, or unprepared in some way, to engage in a discussion or to defend their point of view. Tell me all you want about my white male privilege, and that is something that can be used to flavor my views, but don't use it to cancel my voice. Most of the time you will find that when you try to silence something or someone, their voice simply gets amplified and echoed far beyond the original platform that they were speaking from.
Don't talk to me about hate speech. The first arrow out of my quiver will be "who gets to define what hate speech is?" This is the first, biggest, and most dangerous of all the slippery slopes. Once you start outlawing any kind of speech, you open the door to the day when no one will be able to speak their minds or hearts about anything. History is full of dead and dormant kingdoms and empires and nations whose wreckage we can study about how and why they failed. Part of the autopsy invariably has the restriction of speech and thought as if not the cause of death, then a significant contributing factor.
Too often we hear of a topic being kicked around and someone will invariably say "that's part of a larger discussion that we as a society need to have." When you try to sit down and actually have that discussion, you'll no doubt be peppered with all sorts of things that you better not talk about, you'd be insane to bring up, or if you mention that you have an affection for getting certain body parts kicked or rearranged.
There will be those who continue to shoot from the hip, and there are many who care not one whit for collateral damage.
I take much more care and thought before I say or write anything for larger consumption. Formerly, I was always on the offensive, letting verbal sparring partners have it with both barrels, never taking the chance of being put on the defensive… Those days, well, they ain't gone for good, but they are a lot more infrequent. I try to speak with a certain amount of kindness, a reduction in snarkiness and more respect. Not everyone goes through the "ready, aim, fire" process. There will be those who continue to shoot from the hip, and there are many who care not one whit for collateral damage. But they, and me (when that delicate pause is not taken…) must deal with the consequences and may have to explain and expand upon what they are trying to communicate. When someone wants to silence them altogether, it appears more as a surrender, in that the one doing the condemnation has no response, no answer, nothing to offer as an alternative to what they condemn.
If you want to silence someone, to take away their right or ability to speak, you should prepare yourself for someone who wants to do the same to you. Any attempt to silence anyone is an attempt to silence everyone. Communication is not like pornography – you don't know hate speech when you hear it. Stupid, hateful, ignorant, racist rants have always been a part of public discourse, when you try to silence it you just give it louder amplification.
Twitter is not something that I am overly active in. 280 characters is just enough to get me in trouble. I am way too insecure to think that I am interesting enough for people to read my next comment. My original thought may have been enough to incite a flaming response, and that I may not be completely coherent or be able to type fast enough to flesh out the next thought that helps them understand my first thought. It is the dire state of media today that news organizations feature snippets of exchanges on Twitter with the verbal volleys back and forth, and the headlines tell who they think is winning. For a society of "barely there" – almost no attention span folks, Twitter and its 280 characters are about as much depth as anyone can stand.
But if Twitter is blowing off steam for society and it helps keep some folks from taking their gripes toward more drastic measures, then it is serving a valuable function to the human race. The problem with many of the social media platforms is that they are trying to limit certain types of discussions from taking place, and they are seeking to restrain or silence particular voices. They are either privately owned or publicly held companies, not government agencies or utilities, and therefore have the right to do what they want with their platforms, and all that they are risking is some form of backlash.
There cannot be any sort of compromise regarding our free speech. Even incrementally sliding down any part of the slippery slope will eventually have us at the bottom, without any recourse, our ability to challenge the complete curtailing of our freedom to express ourselves. I often talk of picking battles, or people who know me like to quote me as saying "That's not a hill that I'm willing to die on." I am willing to die on this hill. I will fight with every ounce of my being to see that nothing ever happens to erode or diminish in any way the beautiful right to expression that the founders of this great country sought to preserve with this amendment. The First Amendment – first because it's the most important and sacred of all the freedoms that we possess. Any other ones that we have are dependent on the use of this one to communicate.
Feelings, emotions, being offended, getting your hackles up about hate speech, people speaking from positions of privilege, all of these might be sacred to you as well.
However, you might want to silence me today because you just don't agree with me or see the need for what I am saying to have be aired… beware, because next week, month, year, whenever – your turn will be coming. And soon, there will be no one who will ever be able to raise their voice in your defense.