The stakes have never been higher. Complex problems demanding innovative solutions require the collaboration of the best minds. Yet, too often trust is low, and people are disengaged, putting teams into a downward spiral of mediocrity or worse. Then there are the stellar exceptions: teams that consistently deliver exceptional performance. The critical question isn't why, or what…But "How?"
Team Relationship Management: The Art of Crafting Extraordinary Teams gives you the powerful, yet simple answer: by developing and sustaining the strong, healthy relationships that people want and need at work to do their best and be their best.
So human. So blindingly obvious.
Yet, while there are mountains of research that demonstrate the impact relationships have on team effectiveness and individual well-being, the topic of managing those relationships is largely absent from the day-to-day conversations of business leaders. And, very few organizations train leaders, especially new first-level leaders, to actively manage the key relationships that make or break team effectiveness and well-being.
The ideas and actions detailed within Team Relationship Management emerged during the five years Dr. Hurley spent walking in the shoes of today's team leaders while researching what it takes to craft exceptional 21st-century teams.
From the influx of millennials into leadership roles and the expanded use of global virtual teams to changes in performance management processes, he experienced how businesses are transforming in the 21st century. Yet, too often, Dr. Hurley still saw 20th–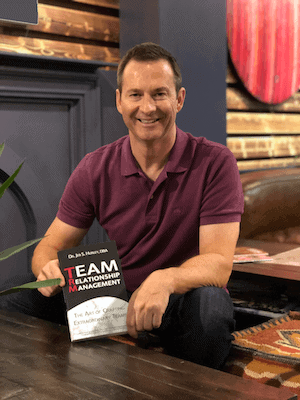 century command-and-control management practices being used in a world of digital natives and fluid networks, draining energy and engagement and wasting the potential of both organizations and people.
Team Relationship Management is a practical guide for a new generation of leaders who understand that 20th-century approaches won't meet today's challenges and are looking for new ideas to spur innovation, attract and retain talent, and develop the next generation of leaders. The book describes how thriving in the 21st-century demands that organizations reshape themselves around teams and networks of teams and that they evolve mindsets from "leadership belonging to a single person or specific role", to "leadership as a collaborative process that is shared across networks of people".
Team Relationship Management offers a new and innovative perspective on team leadership centered around relationships. You will learn how to develop and sustain the strong, trusting relationships that people want and need at work to do their best and be their best. Team Relationship Management gives leaders what may be the single most significant opportunity for organizations to ensure that their teams can innovate and compete in the 21st century.
Editor's Note: Team Relationship Management: The Art of Crafting Extraordinary Teams is now available on Amazon.com as a Paperback Edition or for Kindle