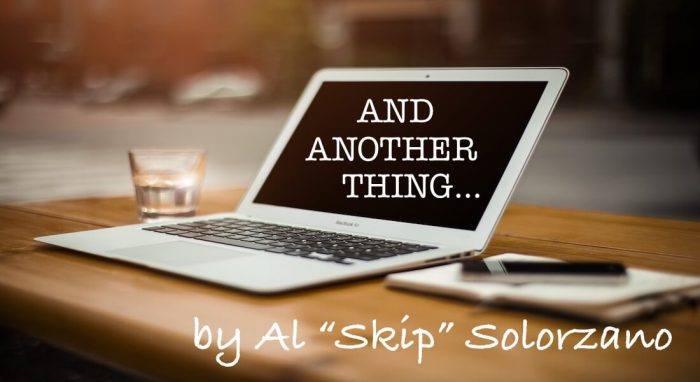 It's amazing how rapidly technology is changing our ways of life. Forget the Dick Tracy communications wristwatch, we now seem to have access to products that genius inventor "Q" would have designed for Secret Agent 007.
Recently Apple introduced the I-phone X and as I reviewed the latest features one that I found astonishing was it offered face recognition accessibility. I suppose your "thumbprint" is now considered "old school." In my family I'm considered at the time as rather than an I-phone 7 Plus, my version is the outdated 7 – Well Excuse me!
Atlantis, the Pyramids, and AOL
It doesn't seem so long ago that having AOL at the end of your e-mail address was considered current, now when someone shares an e-mail with AOL listed in the address, you almost feel sorry for that person.
What's strange there was a time that one could memorize 15-20 telephone numbers, now when you ask for someone's cell number, the response is typically let me text it back to you. We are traveling through time almost in hyper speed; it's a little scary what life will be considered normal five years from now. My bet is microchip implementation will soon be the norm. Health plan coverage likely will offer microchip upgrade procedures with your annual flu shot.
Where Are the Books at Barnes and Noble?
This week I entered a Barnes and Noble and before the cashier asked if I wanted to become a member; no exaggeration approximately only half the store contained actual books. Instead of an abundant of literacy selection now – toys, games and greeting cards crowded the store shelves and aisles. Amazon has had a dominant effect in the way our purchase habits have changed that's for sure. It's interesting as much as we are a generation of consumers that want things yesterday; now we have been reprogrammed to yes, order on impulse, but accept that product will be delivered the following day, including Sundays right at our doorsteps.
And talk about reprogramming, it's almost become natural to walk into a store with your own bag. For some reason, some consumers mirror relatives of Ebenezer Scrooge when it comes to distaste in shelling out a dime for a bag. Rather than buy or bring a bag, on more than one occasion I've seen families walk out of the store with hands filled with merchandise and it wasn't that long ago that store security officer would be approaching them as shoplifting suspects.
We, humans, are truly interesting creatures. Just when you think we're ready to "Beam me up Scotty" here and there, I notice men and women on street corners twirling promotional signs; vendors pushing cars through the neighborhood selling hot dogs and snow cones; and doesn't it seems each grocery storefront has boy or girl scouts hocking candies, nuts, and cookies. I even had to take a second look inside Barnes and Noble, when I saw vinyl records for sale; I must have entered the Twilight Zone.
Could You Spell that Again – Never Mind
I wonder if the pending collapse of "spell check" in the future is imminent. I know it wasn't that long ago that the words Uber, Lyft, Hulu, and AirBnB were considered misspellings of some sort. I also imagine the Smithsonian will soon feature a new exhibit that will include pay phones, fax machines, 8 track and cassette stereos, and automobiles that once required drivers to maneuver. Boy, I can't wait for the Apple I-phone XXV to be released.