IF YOU CAN remember what life was like before R.E.M.—and can identify a Care Bear but sure as hell never went to bed with...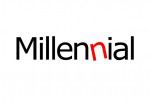 Dineh Mohajer, if you choose to believe Time magazine, is just like you. Two years ago, the 24-year-old California woman launched her own cosmetics...
If you had any doubts that American society is in steep decline this video of media priorities will quickly clear things up! In other words what does the mainstream media think that the average American deems to be more important: The arrest of a 19…
How can you hire highly skilled workers, persuade them to work for free, and then release your product to the masses for free? It's...