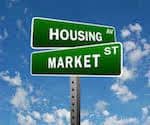 A U.S. housing regulator is considering limiting one of the most powerful tools federal attorneys have to punish banks for making mistakes in mortgage...
The world is awash in inaccurate sound bites related to mortgage credit. We spoke with numerous industry executives and identified three truths that need...
Veterans Administration (VA) loans have consistently performed better than Federal Housing Administration (FHA) loans. In this commentary, we take a closer look at both...
There's no shortage of options when it comes to financing your next personal home purchase. The list of available programs includes FHA, VA, USDA,...