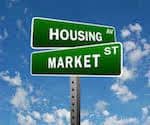 It was two years ago, almost to the day, that Warren Buffett said on CNBC he would buy up, "a couple hundred thousand" single...
Over the past few years, institutional investors have quietly bought approximately 200,000 single-family homes at bargain prices and converted them into rental homes. In...
The last time the housing market was this hot in Phoenix and Las Vegas, the buyers pushing up prices were mostly small time. Nowadays,...