Welcome to Synopsis 360° "Where Content and Community Connect." Every month we examine a topic or theme via a book, article(s), podcast, video, or poem and engage in lively conversation.
July 6th event: "Wrestling with Resistance" — An interview via video, audio, or transcript.
This month's Synopsis 360° focuses on the concept of "resistance" – a workhorse of a word. "Resistance" has shades of meanings relative to
Politics > the refusal to accept or comply with something as in resistance movements (Think the American Revolution and July 4th)
Medicine > lack of sensitivity to a drug
Physics > the slowing or stopping effect exerted by one material agent against another
Electrical > the degree to which a substance or device opposes the passage of an electric current
One meaning of "resistance" that is not likely to show up in any dictionary but is just as powerful relates to our inner make-up, our psyche — our ability to self-sabotage, our self-doubt, our self-judgment.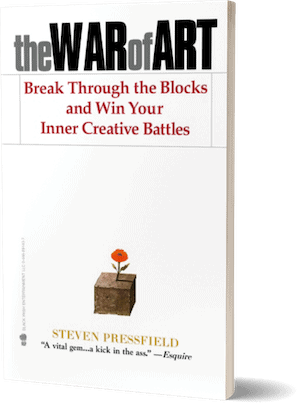 No one has done more to define and challenge personal resistance than Steven Pressfield. Pressfield is a fascinating character. He is now an enormously successful fiction and non-fiction writer, and screenwriter, but the road getting there was full of potholes and washouts. That journey fueled the book that has arguably had the most impact: The War of Art. It's where he introduces the concept of "resistance" — our internal negative energy, that repelling force that "prevents us from doing our work. It's the villain in our movie, the enemy within."
"Resistance" may manifest itself as procrastination, delay, diversion, or ultimately giving up. "I'm going to start tomorrow" is resistance's white flag.
If you have ever considered stepping out of your comfort zone and experienced that dry mouth, pit in your stomach, that red traffic light of inaction, that feeling of feet-in-concrete, and that nagging internal question of "Hey, who do you think you are?", well, you have experienced "resistance."
Join me on July 6 as I host this installment of Synopsis 360°. We'll dive deeply into a video podcast conversation between Marie Forleo and Steve Pressfield to learn more about "resistance" — especially how to overcome it.
Click here for the Session Preview.
Join us July 6 at NOON Eastern for "Wrestling with Resistance."
CLICK HERE TO RESERVE YOUR SEAT
---
Upcoming Synopsis 360° Events