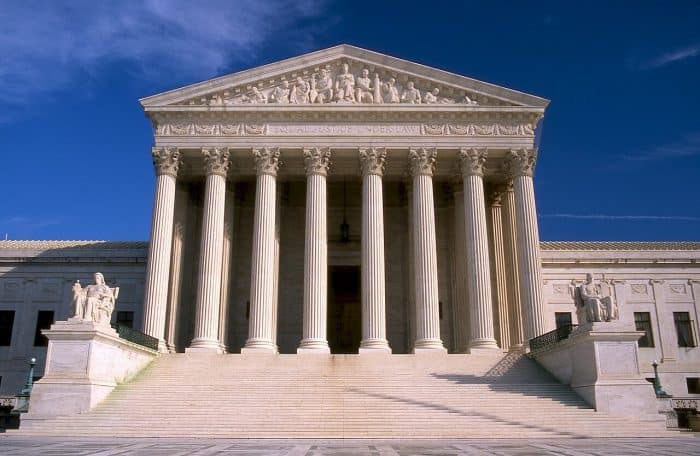 O N Monday, April 10, Neil Gorsuch took the judicial oath of office in the White House Rose Garden and became the newest Junior Justice on the United States Supreme Court.  A visibly moved Neil Gorsuch embraced his wife as President Trump and Justice Kennedy (who administered the oath of office) looked on.
Earlier in the day, at a private session at the Supreme Court, Chief Justice John Roberts administered another oath to Gorsuch, the one given to federal officials where they promise to defend the Constitution.
It seemed appropriate Justice Kennedy would administer the judicial oath of office at the public event considering Gorsuch clerked for Justice Kennedy and considers Kennedy a mentor.  The moment was not just significant for Gorsuch, but it was the symbolic completion of a campaign promise for Trump who promised to appoint a strict conservative to the court.
Trump may have another opportunity to shape the makeup of the Supreme Court with rumors spreading Justice Kennedy, 80, may be considering retiring to allow Trump to name a conservative replacement.
The President called the occasion "momentous" and "historic," noting his power to appoint justices to the Supreme Court was among a president's most important powers enumerated in the United States Constitution.  Always having good political instincts, President Trump knew he had to make this domestic victory for his administration very public.
The eternal self-promoter, the President praised himself for getting the confirmation done with the first 100 days of his administration.  After months marred by legal troubles over his travel ban and the failure of the House Republican effort to repeal Obamacare, Trump needed to make the confirmation of Neil Gorsuch a "Yuge" deal.
During his eleven-year tenure in the federal appeals court in Denver, Gorsuch mirrored Scalia's originalist approach to the law and interpreted the constitution according to the meaning understood by the Founding Fathers.  As a law student, reading Scalia's opinions are always entertaining and thought provoking.
Based on my research of then Judge Gorsuch's opinions, Gorsuch is an equally gifted writer with a flair for turning legal jargon into plain language people can understand.   Believe me when I say this ability to write in "plain English" is something lawyers are trained to do but have a hard time doing effectively.
In a 2009 speech entitled, "Mullahs of the West: Judges as Moral Arbiters," the late Justice Scalia lamented many Americans have placed their faith in Supreme Court justices to give our nation moral guidance.
READ MORE AT WOMEN'S VOICES MAGAZINE