Peer-to-peer fundraising is a fundraising strategy that empowers individuals to raise money on behalf of a cause via online fundraising pages. This method leverages existing social networks to maximize the impact of a virtual fundraising campaign.
We'll cover a lot here, including:
If you're ready to learn more about how peer-to-peer fundraising can support your nonprofit's fundraising efforts, read on!

What is Peer-to-Peer Fundraising?
Peer-to-peer fundraising (also known as social fundraising or P2P fundraising) is a social giving method where volunteer fundraisers raise money on behalf of a nonprofit. It's the perfect way for nonprofits to get their supporters more involved and expand their social circles beyond their own capacity.
How does peer-to-peer fundraising work?
The overall process involves the following steps:
The nonprofit determines its goal and sets up its main campaign page using a peer-to-peer fundraising platform.
The nonprofit recruits volunteer fundraisers to set up their own individual campaign pages.
The nonprofit provides the volunteer fundraisers with resources to use while promoting their pages.
The volunteer fundraisers share their individual campaign pages on a variety of platforms.
The nonprofit tracks the campaign's progress and offers continued support to the volunteer fundraisers.

Who can use peer-to-peer fundraising?
Everyone can use peer-to-peer fundraising! When individuals raise money for medical expenses or adoption fees, it's generally called crowdfunding, but it relies on the same principle as nonprofit peer-to-peer fundraising.
Crowdfunding is the process of funding a project or campaign by collecting several smaller donations from several donors. Peer-to-peer fundraising is an elevated level of crowdfunding, as participants ask their friends and family to make donations and have their own crowdfunding-style page.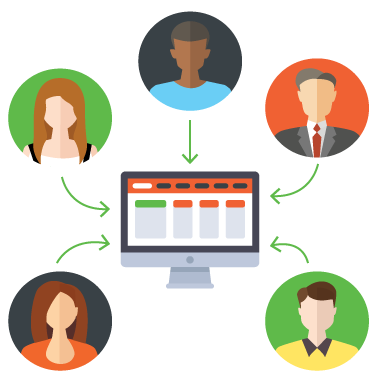 Why does peer-to-peer fundraising work?
Peer-to-peer fundraising campaigns are cost-effective and engage donors by relying on their own relationships. It's also easy to integrate with other online fundraising platforms, making peer-to-peer events a smart investment.
You can also strengthen your nonprofit's relationships with its donors because:
Your donors can customize their donation pages to reflect their own relationship with your mission.
Your staff and donors can build stronger relationships by working together.
Your donors feel more connected to your nonprofit after personally raising money for it!

Donors love participating in peer-to-peer fundraisers because it allows them to support the organization and show their friends and family what the mission means to them personally.
When is a good time to use peer-to-peer fundraising?
Peer-to-peer fundraising is incredibly versatile, so you can use a variety of timing strategies, such as:
Time-based campaigns. With only a certain amount of time to raise the money, peer-to-peer fundraising can help rally donor support to your cause.
Rolling campaigns. With no set end date, peer-to-peer fundraising can help keep your campaign at the front of supporters' minds via your peer-to-peer fundraisers' pages, even between big events.
Giving days. Giving days, like #GivingTuesday, are mini 24-hour campaigns that challenge donors to raise as much money as they can during that day. Peer-to-peer fundraising makes sharing the campaign easy and offers a sense of urgency.

Peer-to-peer fundraising also increases anticipation leading up to events like competitions. These events work well because friends and family are supporting both the nonprofit and the individual who participates in the competition.
For more peer-to-peer fundraising ideas, check out our guide to over 65 awesome fundraising ideas and events.

Getting Started with Peer-to-Peer Fundraising
You may be asking yourself: how do you start a campaign? We've broken all key parts of the planning and execution into 5 simple steps.
Step 1: Define your campaign.
Once you've decided to run a peer-to-peer fundraising campaign, you have to ask yourself:
What's the financial goal?
What type of campaign is this—rolling or time-based?
What's the central theme?
Next, make sure your fundraisers are educated on how the campaign works, what your goals are, and how to use the fundraising software.

Step 2: Facilitate donation pages.
Before your campaign starts, you should help each fundraiser design and personalize their own donation page and confirm that it works on all devices.
Make sure your fundraisers have everything that they need to share their donation pages, like social sharing buttons, post templates, and ways to sign up to be a volunteer or purchase merchandise.

Step 3: Start fundraising!
Once your fundraising campaign is in full swing, stay in contact with your fundraisers by:
Sharing frequent campaign updates.
Acknowledging the most successful fundraisers.
Engaging with your fundraisers' posts.
Encourage your fundraisers to play to their strengths, whether those are a strong and engaged social media following or a close connection with locals in your community.

Step 4: Build relationships with your donors.