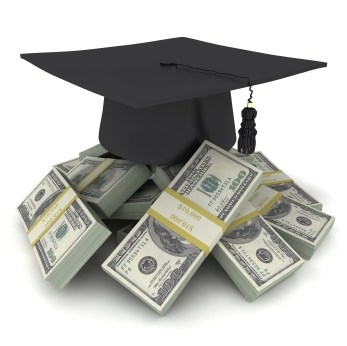 With 43 percent of the 22 million students behind on their payments of the nation's $1.3 trillion in college loans, it's not surprising that student debt was emerging as a campaign issue during the 2016 elections. It's not only an important public policy issue but also a matter that resonated with students from all over and lured them to polls on Election Day.
However, some protocols that promised to eliminate student loan debt at public colleges and reduce interest rates might not have been targeted to borrowers struggling the most, according to an April 2015 Urban Institute report. The report also points out that student debt isn't a problem for most undergraduate students but rather for smaller groups of atypical students.
It's really important for us to understand which groups of students are the ones borrowing unmanageable amounts of money to pay for their education. Loans taken out by students in higher education will typically revolve around the type of education they receive, such as attending online classes, going to a private university versus a public one, and also the type of program they're enrolled in. The following are just some of the most prominent examples:
Graduate Programs: Perhaps the only reason why the "average" student loan debt is so high (almost $23,000), is that the total amount includes the loans of graduate students, who are allowed to take out an unlimited amount of federal loans up to the cost of attendance. According to Graduate Student Loans, 40 percent of 2012 students who borrowed $50,000 or more were graduate students.
Lawyers were also accounted for owing at least $140,616 in student loan debt while medical students, only accounted for 5 percent. Many of them were able to find high-paying jobs in their field after graduation, of course. However, with the downturn in the legal field, some law school graduates might have suffered.
Private School Students: At first glance, there seems to be an increase in the number of four-year college graduates with extremely large debt. Thirteen years ago, only 1 percent of all students who earned a bachelor's borrowed $50,000 or more, which was adjusted for inflation. Unfortunately, that number has grown since 2012.
Graduates of private institutions account for a quarter of the students who were graduating from college back in 2012, but constituted for only 9 percent of all degree recipients. In other words, this means only 6 percent of students who earned their degrees from four-year public universities experienced such a high level of debt. At private universities, only 12 percent of graduates had high debt, which is still less than half the rate of the private schools.
College Dropouts: Students who don't finish their studies accounts for 55 percent of the students with low debts, between $1 and $10,000. As a matter of fact, those without college degrees are less likely to pay back their student loans back, not only because they can't get a high-paying job, but also because some of them believe they shouldn't have to since they didn't finish school.
A tough question – How do we help this growing problem of school debt?
Luckily, there's help for most students. The federal government has already arranged for special repayment plan programs to help lower monthly payments based on an individual's income. For example, if you're 150 percent below the poverty level, your loans will be deferred without affecting your credit. Above that, borrowers pay anywhere from 10-20 percent of their total income.
Although private loans don't have the same benefits as federal loans, these students have options that include refinancing, paying extra towards a high-interest rate, and applying for loan modifications based on their credit scores.
Tuition: The major difference between private universities and public colleges lies in how they are funded. This is what affects the student the most because funding is tied to tuition prices. Most public universities and colleges, for instance, were founded by their respective state government officials, some as early as 1800. These universities were created to give residents the opportunity to receive a public education. Today, the tradition remains the same. State governments pay for most of the cost of operating public universities, and students pay the remainder through their tuition, for which many students have to get various forms of financial assistance. The state's also responsible for overseeing these universities and colleges through appointed education board officials.
Meanwhile, private institutions don't receive the same type of funds from state legislatures. Instead, they rely heavily on tuition, donations, and other private contributions to help fund their university. This means that tuition rates are generally higher than public colleges.
What about online schools?
Colleges and universities that offer online degree programs are typically cheaper than going to a traditional university for various reasons. For the many schools that specialize in offering online degrees, they have fewer expenses to incur. They also usually don't have to worry about the external expense that includes landscaping, building maintenance, and property management. This is what gives colleges and universities the opportunity to offer cheaper tuition rates compared to traditional schools. Rather than spending thousands each semester, students will spend on average anywhere from $300 to $400 per credit hour.
Is Cheaper Better?
The biggest question that most students ask is: is cheaper better? It depends. There's really no correlation between the cost of an education and the quality behind it. That's why it's important for any student to research the school they plan on attending, regardless if it's an online program or a traditional environment.
Thanks for the read! Please feel free to leave comments below if you have questions, or thoughts of your own.