Ahhhh, kindness! Simply being friendly, generous, and considerate one to another. Wow! Just so you know: that doesn't equal taking them to the Fall Ball or saying, "I Do!"
What a profound impact these three actions would have upon the weary hearts of so many people every day in our harsh world. What a positive impact these actions could have in each of our homes; in each of our workplaces; in each of our relationships! Kindness; simple kindness.
What about the impact upon our most intimate relationships? To simply honor WHO our loved ones ARE and WHO they SAY they ARE! That is "friendly, generous, and considerate" in action, regardless of individual objections and justifications!
Do your words undermine WHO your loved ones ARE and WHO they SAY they ARE? Think about THAT!
Cue: Stop it already. Because what are you trying to achieve by destroying who your loved one IS? Do YOU really win?
How would friendliness, generosity, and consideration positively impact the love we have for one another in our own homes? How would having the best interest of others at heart change the dynamics of our most intimate relationships; of our workplace relationships; of our community relationships?
What about our casual relationships – having the best interest of others at heart? You know: "Not my will, but thine be done."
Then, how would having the best interests of others at heart in our everyday interactions change the hopes and joy of others? What does it cost us to just give someone else that treasure?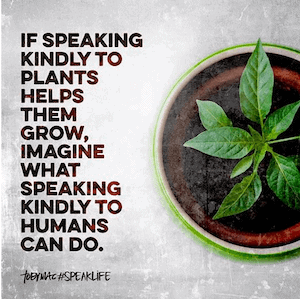 If I can speak to my plants with hope and love about their pitiful dead leaves (and, oh yes, I do!), how much more can I muster the courage to speak to humans, who are formed in God's very image, with tender love and respect?
Why do we think it is okay to slay one another with our tongues just because we disagree, or just because we are guarding the broken territories of our thoughts and feelings?
When we slay our loved ones with our tongues to one other person, we taint the God-purpose effect of our loved one's life! Think about that. The person we tainted with our nasty words will forever be impacted by negativity; not truth and power and impact (of our loved ones)! Jesus, help US!
We are NEVER better than when we are laying down our OWN will for the loving encouragement of others (notwithstanding abusive situations; that is NEVER okay). There is no glory in laying down your life for abuse.
This beautiful gesture never includes allowing anyone to run over who we ARE or who we SAY we are!
But, it does equal desiring the best of God's healing in their life, regardless of whether someone is for you or against you or even deceiving about you! What does THAT look like in YOUR actions and words?
What if it is not about WHO is right, but rather WHAT is right?
I'm just asking for a friend! And, we are really just talking about speaking kindly to plants! So, relax!