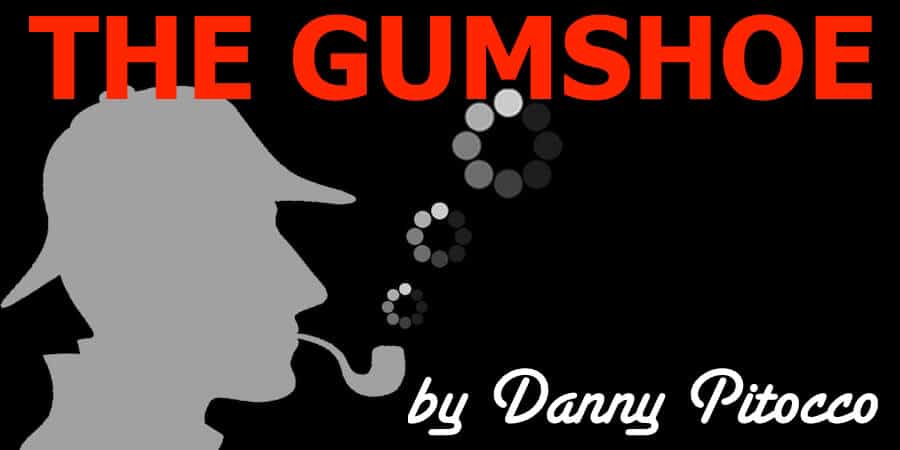 Gumshoe has always had a personal interest in World War II and has an extensive ever-growing book library to prove it. (Amazon stockholders love Gumshoe)

Why World War II you may ask?  Gumshoe love's history and because Gumshoe personally knew two unsung heroes who participated in that conflict that determined our present world.

Gumshoe's late father, Dominic Daniel Pitocco was a navy man and he was awarded a Bronze Star with a "V" (for valor).  He saw significant combat action during the entire war in the Pacific theater.  He was a witness to history to some of the fierce naval engagements (battles) between the Japanese Imperial warships and the U. S. Naval warships.  He also was a gun captain to defend his ship from the much dreaded and relentless Kamikaze attacks—"The Divine Wind".  These attacks brought death to many of our U. S. Navy sailors and destruction and damage to numerous U. S. Navy ships.
In "Harms Way" for certain with death a very high probability.
My father never ever talked about the war except on only one specific occasion when I asked him about his war experience.  He told me that before the Imperial Armed Forces of Japan were forced to surrender, (Thank you Harry Truman) he was going to be one of the landing craft operators. He was instructed by his commanding officer that it was already calculated that there would only be a 50% survival factor for the landing forces on the mainland invasion of Japan. This calculation was based upon the horrendous losses (casualties) incurred by the U. S. Navy and the U. S. Marine Corps personnel who participated in the beach landings and the land battles on the home Japanese Island of Okinawa.  How's that for morale booster folks?  In "Harms Way" for certain with death a very high probability.

It was only after his passing that Gumshoe learned of dad's numerous combat ribbons and awards.  Horror shared can be horror relived to some.  Dominic found his peace with family and work.  Gumshoe inherited his sense of humor.  Definitely a survival mechanism for both combat and for police veterans.  Some were and are both.

Gumshoe's father Dominic was definitely the quiet professional who survived the war and went on to marry his beloved wife Rita and they raise eight little Pitocco's.  He was always working one full-time job as well as a days-off part-time job.  He also found the time for numerous home construction projects.

No Post-Traumatic Stress Syndrome for Dominic— he didn't take the time.  Just an occasional can of cold "Iron City Beer" and he smoked a sweet-smelling "Tiparillo" (Havatampa Brand) cigar while listening on the radio broadcast of the Pittsburg Pirate Baseball during his outside home projects.  This was dad's type of self-imposed relaxing therapy.  No complaints nor excuses from Dominic. Never.

Gumshoe also had a favorite late uncle, Gene Heckman, who was a decorated combat Army infantryman in the European theater from D Day to VE Day.  

Uncle Gene spoke German and some French and his language skills as a translator as well as a front-line machine gunner assignment kept him on the battlefront more often than most.  He rose through the ranks to company master sergeant. He was part of the U. S. Army unit that liberated the Nazi death camps at Buchenwald as well as at Dachau. Uncle Gene never explained what he saw, but Gumshoe could always see his momentary memory of the horror he reflected deeply in his gentle brown eyes that would tear up as well as the quiet look of righteous anger that would suddenly draw across his face.  He would immediately draw himself back from the brink by telling Gumshoe amusing stories and jokes.

Uncle Gene started to talk about his front-line combat experiences with Gumshoe when Gumshoe enlisted in the Marine Corps at the ripe age of 17 during Vietnam War circa 1967. Uncle Gene never told war stories to brag or impress Gumshoe. No. He genuinely wanted to impart his battle-worn knowledge.   He only offered advice to Gumshoe about surviving the rigors and trials of combat and its aftermath.  Uncle Gene and Gumshoe bonded as brothers-in-arms during our in-person chats.
Note:  Gumshoe never saw combat In Vietnam, but Uncle Gene's storied advice came in handy on many occasions during Gumshoe's police career on the streets as a SWAT operator and as a Field Training Officer.  His legacy was passed on to police trainees.
Uncle Gene was a natural-born salesman and he worked hard to put all of his four sons through college with never a hint of a complaint, just pride in their accomplishments. He lost his cherished wife Irene during that time.  He remained single and faithful to a fault for "his Irene" until the day he departed this life.  

Gumshoe knows in his heart of hearts that Uncle Gene and his beloved Irene (he called "Reenie") shared a joyous rendezvous once again and for eternity in God's promised kingdom. Amen!  Uncle Gene had a strict nightly protocol.  He kissed his nightstand picture of "Reenie" every night without fail before he slept.  He was always faithful to his wife and to his sons, just like the Marines—"Semper Fidelis".

Uncle Gene told me that the real war heroes were the ones left behind in the military cemeteries and he always grieved for his lost buddies.  He was the real-life embodiment of "Saving Private Ryan" in Gumshoe's eyes.

Both Gumshoe's father Dominic and Gumshoe's Uncle Gene came of age way too early in their teens and each survived their individual rites of passage during the horrors of live combat that they personally experienced and they survived and they both thrived in their own individual ways. They both instilled in Gumshoe (as well as Gumshoe's four other brothers, Mike, Dennis, Paul, and Nick— all Air Force veterans, one Jarhead was enough according to our late mother Rita) a genuine patriotism and the sincere love of our country.

We all learned to give back what our dad and uncle gave us through their example; the responsibility and the honor and duty to serve our country, the good old U. S. of A.  Not perfect but the best on God's green earth.
Freedom is never free.  It is real and not just a faded bumper sticker or some out-of-date adage.
Sunshine patriots be damned!  Freedom has to be earned and maintained which demands sacrifice no matter the cost.

God bless World War II combat veterans, U. S. Navy Petty Officer 1st Class Dominic Daniel Pitocco and U. S. Army Master Sergeant Eugene Heckman.  Thank you for your service and especially for being role models for Gumshoe and his brethren. Men and fathers like Dominic and Gene will always be the heroes who had lived among us.

Smooth seas and fair winds and "Semper Fi" to my Dad Dominic and to my Uncle Gene.

Always remember to love the ones who love you and really try to love the one's who don't.

Coram Deo!

PS: God bless all past, current, and future veterans.