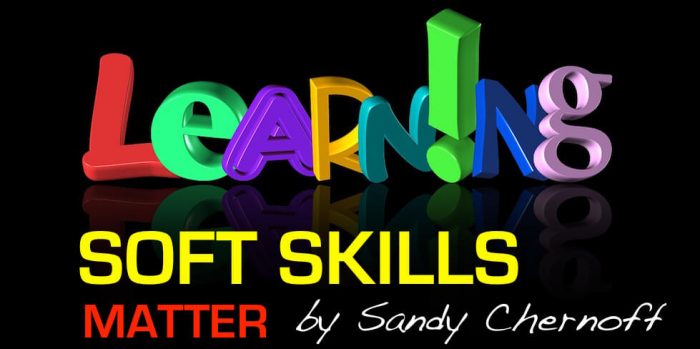 In today's competitive world your business needs a cutting edge….something that will make it stand out from the competition.
Marketing tools are an excellent place to start, however, what seems to be happening in that realm is that every time someone initiates a new, unique idea or approach, everyone else jumps on the band wagon and copies it; which just levels the playing field once more and you lose your edge. Instead, in this area you need to come up with a value statement that sets you apart from the rest of your competition, something that will make your brand unique and innovative, something that is sustainable.
So what else can you do?
Here is another option to consider….your people skills, or the soft side of your business, the relationships you build through effective communication, are the real keys to your profitability.
So if you improve your soft skills you will definitely reap the benefits both internally, with your team and externally with colleagues, suppliers, and customers!
Here are four great tips:
[message type="custom" width="100%" start_color="#F0F0F0 " end_color="#F0F0F0 " border="#BBBBBB" color="#333333″]
Build a strong, productive, focused team who respect, trust, and support one another in their efforts toward achieving their common goals and completing their projects in a collaborative, efficient and productive manner.

Develop effective leadership practices and invite feedback so that you can continue to improve your skills and thereby enhance your team's productivity. As the leader, it is your responsibility to coach your team and help them to reach their full potential. This process starts with open, honest communication, especially lots of active listening.

Build a broad network of colleagues, friends, acquaintances, and of course customers, who will trust you and what your business offers so will also spread the word about your services or products to others and be loyal to you. This will ultimately translate into repeat or expanded business from your regular customers/clients as well as new business from their associates and friends.

Establish organized systems, structures, and policies so that your company will be consistent in all that it does and will have a process for orientating and on-boarding new hires. You may also want to establish parameters for keeping your employees up to date in their particular skills. Finally, offering opportunities for the learning of new skills which can both enhance the performance of your team and offer them new opportunities, will make them feel appreciated, encouraged, and supported.[/message][su_spacer]
How are you going to achieve those outcomes?
Again, most importantly, you must develop effective communication skills as they are key to great leadership. The cornerstone of that skill is Active Listening.
Many of you probably believe that you are good communicators because you have been communicating since you were born. However, in truth, most of you are not very successful at articulating your ideas with clarity and impact. As a result, many messages are not actually received as intended so ultimately they are not acted upon as expected. You must realize and remember that a communication exchange is not linear, it is, in fact, extremely complex and has many potential interferences along the pathway between the speaker and the listener. When you fully understand more about those various obstacles, you will have a much better chance of getting what you want by "generating voluntary compliance" from the listener. Comprehending those interferences gives you the opportunity to employ strategies to overcome or get around those issues.
Remember…..Hearing and Listening are NOT the same thing, in fact, hearing is an ability, listening, on the other hand, is an art, and requires your ears, your eyes, your heart, and your mind so that you can absorb all aspects of the message. Assuming, gets you into lots of trouble and usually results in disappointment, confusion, resentment, stress, and complaining. Therefore you never want to assume that the listener heard you and will do as instructed or directed, unless you get some concrete feedback from them that reinforces your expectation of what they heard and what they will do. In the end, the more you actively listen, the more you will learn and the more effectively you practice this most important skill the more positive outcomes you will enjoy!
In addition, the most valuable employees will be those who are great team players, excellent communicators, reliable self-starters, as well as individuals who self-manage effectively and handle stress and pressure with a calm, efficient demeanor…..the exhibiting of good soft skills!