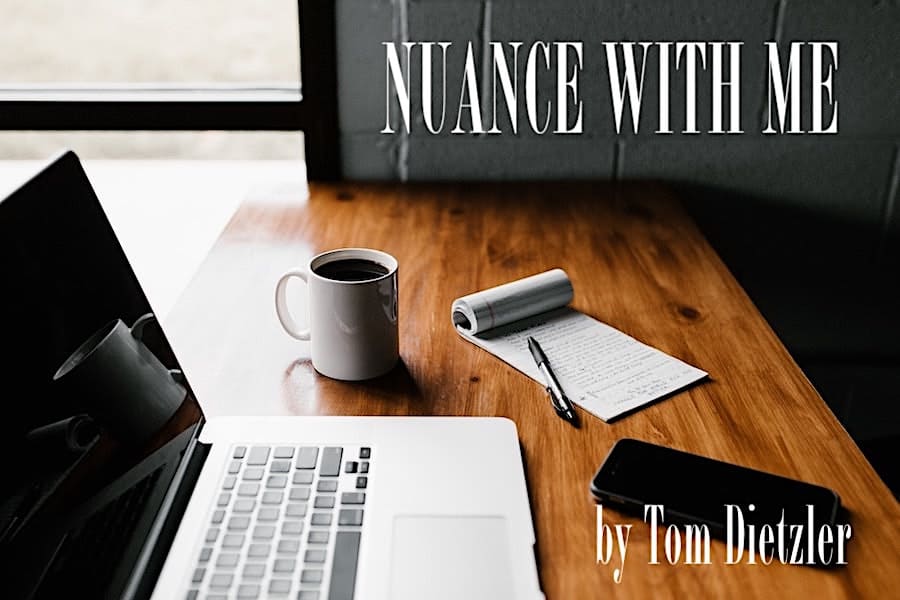 Stop. Stare, maybe. Pause, look down. Deep breath. Smile. Say (just a few!) words of encouragement. Is the other person done speaking? Give a few more seconds for them to finish their thoughts. If you can add some value with a thought that builds upon what they offered, offer it up.
Here, right here, is where a probing question would fit perfectly.
The first four sentences that you have just read… are me, as a work in progress. Does any of it come easily, naturally? Heck no, this is so far from my default setting that I honestly had to think through all of these as I tried to write them just now.
For the longest time, my mantra was: "Don't ever be on the defensive. Let them have it with both barrels first, and after that see if they have even the slightest urge or desire to respond."
Hello everyone, my name is Tom, and I am a smartass. Never intending to be mean spirited, I just had a personal war on silence, on thoughtful pauses, on reflection.
I have always gravitated to funny people, the hysterically funny, never at a loss for words, quick with a rejoinder, pretty good at one-upmanship… kind of people. But only because I wanted to be like them. That guy, as funny as he was, and maybe only funny in my own memory, in my own mind, or in my own imagination, was never very good at listening.
I listened superficially, as if everyone was my personal sidekick or straight man or woman – if I was speaking to you, your job was to lob me verbal softballs so I could knock them out of the park.
As I age, and I am aging, it has occurred to me that there is richness and texture and beauty and wonder in the words we speak to each other. I have not perfected listening, and as a human being, I doubt that I ever will be perfect at anything. And I hope that I don't become perfect at anything. I like that steady climb upward; I wouldn't be any good at trying to repeat perfection over and over.
I need to listen better for lots of reasons. One very good reason is that I spent far too much time, the better part of 30 years, in the industrial sector without the proper hearing protection, so now my hearing can really suck sometimes. I have tried to gently encourage my wife that if she is not within direct earshot of me if she can't see me or is pointed away from me, I will not hear her. I need to pay closer attention, to listen more closely, to focus on what is being said and how it is being said.
The practice of being present is important. If I ever perfect that, I know that my wife will keel over dead on the spot. If the TV is on, if a newspaper is nearby, if the scrolling thing is happening, if I am lost in thought… whatever speech is being directed at me shall be as profound and as memorable as any words spoken by an adult in a Charlie Brown cartoon: "Wah wah wah wah wah wah wah wah wah…" (possible inflection up at the end there…).
I like to say that all of us are a whole lot smarter than any one of us. But the only way to really benefit by that is if everyone has a chance to speak, and to be heard. If I'm trying to be Henny Youngman or Rodney Dangerfield in a room or a conversation, there isn't a lot of depth, or a lot of substance, and not a lot of opportunity for others to contribute.
Like anything, like everything, listening is a learned behavior. It's an art, it's a generous gesture, it's part of being interesting. I love people, I love interacting with people. I love learning what others have to say.
It's not a New Year's resolution. It's a new me resolution. Besides, I started this a while back, and by writing a manifesto like this (sounds important, and impressive, yes?) I hope to invite accountability and reminders from others. Like anything new, I will stumble, regress, maybe even say "Screw it," and give up. I don't have to give up on being me, I just have to get a little better at it and get a little better at things that make me better, a little bit at a time.