Sir Ken Robinson died just recently.  Author of "All Our Futures", a book that asked the Government to change its approach to education and perhaps most famous for his TED talk "Do Schools Kill Creativity?".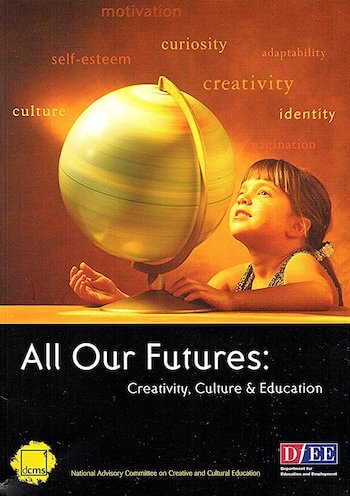 I was invited to lunch with Ken at Warwick University just around the turn of the century, long before he did his famous TED lecture.  He invited me thereafter spotting that I'd released my first book "Best Practice Creativity".  In truth, I did not know much about him at that time, so of course, I did my research.  Ken had a working-class upbringing, suffered from Polio at the age of four, and consequently had a very hard time at school which he reflected upon in later life.  But he never seemed to let his condition hold him back from learning and enquiring.
We had a wonderful dialogue, not least because of our shared interest in creativity but also because of our backgrounds, Ken in theatre and drama, and mine in music as well as science.  We found much in common and some indifference in terms of our diverse experience and the findings that command and control teaching and management produces low levels of achievement and attainment.  He, from his experience in theatre and mine from my experience in teaching for the Open University MBA programme in Creativity, Innovation, and Change.   We also shared a lot on what might be called whole brain teaching and learning, finding ways to engage every student through cross-curricular teaching approaches.
Sometime later, I heard that Ken was somewhat disappointed that the report on creativity in education commissioned by the UK Government had been ignored in many respects.  I suspect that this was simply because he was too far ahead of his time.  He left the UK shortly after this.  I remember Ken saying many years later when we net in London, that the Americans listened to him better when he moved to the Getty Institute, perhaps because he was an eccentric Englishman.  I thought more about our conversation to this day when I included some reflections on our dialogue in the book "Leading Innovation, Creativity, and Enterprise".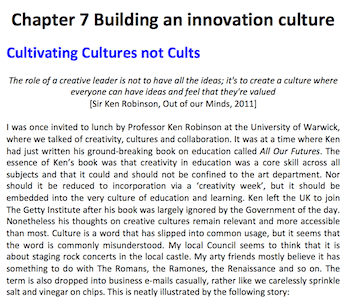 I hope that Ken's messages will reach politicians now that we are having to re-think education for the information age.
The simple upload – download model of knowledge via examinations has been outmoded for many years and has come into sharp relief under the COVID crisis.  The simple absorption of knowledge is now less relevant than the ability to apply knowledge to solve problems and seek opportunities.
We need more people like Ken in the world to help us find better solutions to complex problems.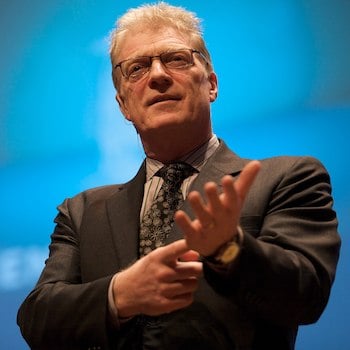 One of the great joys of our conversation was our shared love of music.  It seems fitting to end with Ken's favourite song from his Desert Island Discs programme.