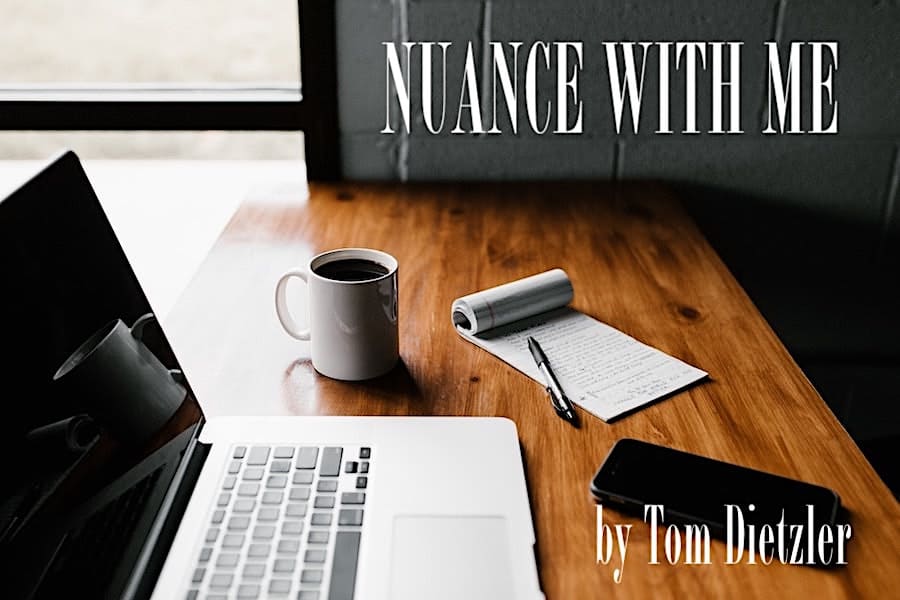 Stuff keeps happening, doesn't it? As I wander through this life and trail behind my friend Oliver, I listen to podcasts and get to hear what other people think about what is happening in the world. Oliver is magnanimous toward every opinion and doesn't say much regarding the wide variety of views and topics that knock around inside my head. It's helpful to him that he doesn't have headphones on, and I get to listen to the voices in my head on my own. Hmm… that does sound like I am talking about something else. Oliver is my dog, by the way, and he is a good boy.
Podcasts. I listen to a lot of them. They are interesting and have wide-ranging opinions and intelligent sources and the people in those podcasts have excellent reasons for saying what they say. Their passion on behalf of their viewpoints is always a source of inspiration to me.
Passion is a good thing, usually, and I can find myself gravitating to those people whose passions run toward positions that I might agree with. Good arguments can do that.
A particular topic of interest to me is that of free speech. I know, it's very high-minded and noble of me, don't you agree? Truth be told here; I am of that ilk that believes that free speech should not be trifled with. All of it, unvarnished, from wherever the speaker thinks it should proceed to, let it go there. It's less than a hundred years old, but I love the idea of the "marketplace of ideas." Put your viewpoint out there, and through a series of arguments, hey – a discussion even, we might arrive at a place where 51% of your position prevails over 49% of mine. And then… (this is the part that is sorely missing from our interactions "these days") we shake hands, have frosted fermented beverage and we continue our friendship.
A recent podcast that I heard (and dang it, I listen to too many of them to keep track of where I heard it or who said it… so you must trust me here…) a woman said that they put the "marketplace of ideas" to the test and found it to be sorely lacking. Her test was that they had a few people tweet out a few stories – some stories were true and factual, and others were false and full of errors and misinformation. The false stories got retweeted and shared and commented upon way more than the true ones. So, on that basis, she wants us to abandon the marketplace of ideas mantra. Because, well Twitter is where we champion all the great ideas of our time. Only high-minded discussions take place there, and if it can't be summarized in 280 characters, then shut your mouth.
No, you shut up. A rumor is halfway around the world before the truth has its shoes tied. It's been that way forever. Twitter just confirmed it.
There are those who put forth the idea that the marketplace of ideas is inherently racist and used by those with the privilege to shout down everyone else. Calling someone racist is supposed to be the end of the argument. The biggest threat to free speech is to label it with something that is abhorrent and thereby renders the other person defenseless. If you are racist, you lose your seat at the table and you no longer have the right to take part in the discussion. In fact, the discussion is over.
Hate speech or misinformation, or its step-sibling, disinformation. Slap any of those labels on someone's argument and the discussion is over. The "marketplace of ideas" has been bandied about by the really smart kids for a long time. Those exact words were first coined in the US Supreme Court in a free speech case in 1919. You can argue that Justice Oliver Wendell Holmes came up with the idea, and a half-century later Justice William O. Douglas said those words… but it's been a thing for quite a while now.
It's disappointing that people of a certain age now feel as if all you have to do to silence someone (like me) who is jabbering on and on about the freedom of expression is to ask, "What if it's hate speech?" Hate speech should not be tolerated in any way shape or form, ever, they contend.
Another place where freedom of expression has summarily tortured, bloodied, and kicked to the curb is on social media platforms. Before we tiptoe through these tulips, I know – social media platforms are private entities, and they should get to decide who gets to play on their playground. I agree, completely. It's their place, they built it, and if they don't want to let someone like me chirp about freedom of speech, they are completely entitled to close the gate and make sure that I am on the outside.
That leaves me with questions (everything does, I am irascible, pit bullish sometimes, and curious…). As to hate speech, misinformation, and disinformation – by whose definition are we playing? Who gets to do the labeling? Who gets to be the final arbiter as to what can and should be said?
Ok, so if the social media "fact-checkers" have deemed something I said to be hate speech, misinformation, or disinformation. I might be disinvited from their midst. Ok, they have the right to do that, it's their platform. My next set of questions has to do with: What are they afraid of? Engage me with arguments that counter mine, refute mine, site facts and sources that lay my contentions bare and expose me as a liar and hate speaker and mis/disinformationer.
This topic is way bigger than my ability to prattle on about it. I shan't be letting go of it. My friends, if you are ok with them silencing me, then you might be on shaky grounds if someday they focus their laser a little tighter and suddenly, you ain't playing by the rules. I am not saying that this has happened to me, I was just using me as an example. Maybe I am looking into the future, or maybe I just didn't want to use some examples that would've caused hackles to get raised. My arguments are pure speculation and just for the purposes of this discussion.
Let's ask ourselves this question and be honest and sincere in our deliberations. By silencing anyone, no matter how heinous and disgusting their point of view, aren't we driving it further underground and giving credence to those who would gravitate toward it because now it has the gravitas of being banned? So, somebody got hacked off and banned this line of thinking. There might be something to it, someone might conclude…
If hate speech or the mis/dis siblings are like pornography (I know it when I see it) – why try to drive it underground. To me, this is all about people who think they are our betters trying to decide for us what to believe and what not to believe. What are they afraid of? If they are afraid that stupid people will believe it, why are you afraid of stupid people?
I have an answer. Spoiler alert: it requires me to continue this discussion in another post. Stay tuned. Or not…