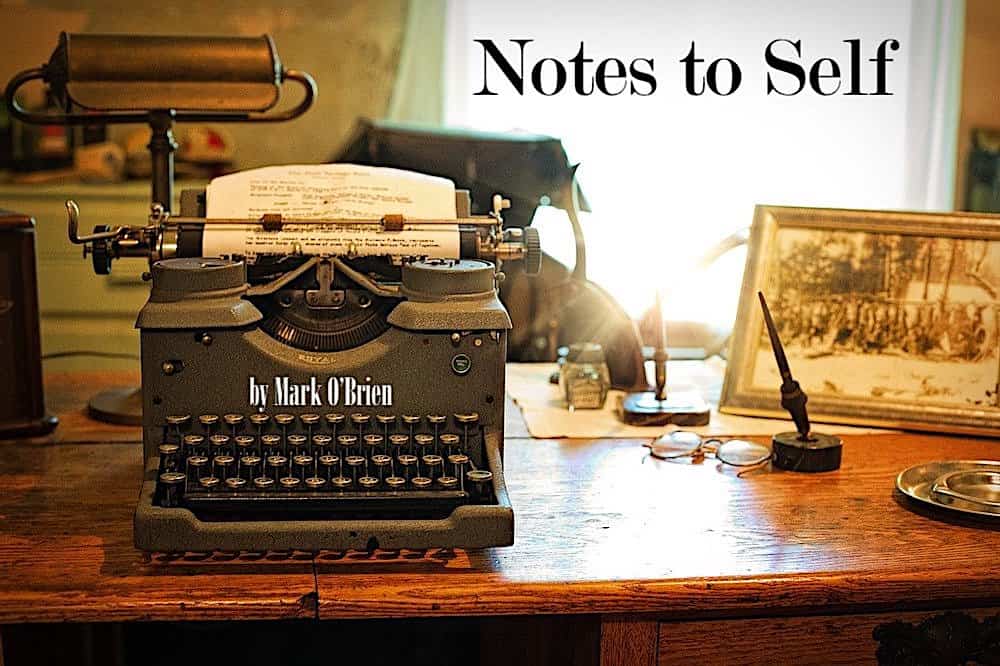 Since Anne and I live in an over-55 community with an HOA and a landscaping service, I don't have a lawn to mow anymore. Since mowing is mundane and repetitive (cut, turn, repeat), it afforded me time to think. The other activity during which I do some of my best thinking is taking a shower. Since I only take one shower a day and no longer mow a lawn, my thinking time has taken a rather significant hit. That's why, believe it or not, I was happy to have gotten sick last week.
I contracted some pernicious combination of a gastrointestinal virus and a kidney infection. If you suspect it wasn't much fun, trust your gut (no pun intended). It did, however, necessitate some downtime, which gave me time to think. And, as so many unexpected occasions do, it gave me an opportunity to learn something new. Here's how that happened:
Anne takes very good care of me and is an expert worrier. When my doctor prescribed some medications for me, she volunteered to go to the pharmacy to pick them up. She returned with said medications, along with a package of Organic Manunka Honey Drops (lemon, with bee propolis). Since I had time to think — and since I was eager to be distracted from my discomfort — I was grateful for the opportunity to have my curiosity piqued. Here's what I learned:
Manuka Honey is unique to New Zealand and comes from the Leptospermum Scoparium tree. It derives its name from Manuka Kanuka, a member of the Māori, the indigenous Polynesian people of mainland New Zealand who arrived there between 1320 and 1350. One day, while hunting for kiore (the Polynesian rat) to feed his family, Manuka, who suffered from hideous acne, tripped and fell into the flowering, low-hanging branches of a Leptospermum Scoparium tree.
Later that day, when he walked back into his cave with the fruits of his daily hunt, his wife said, "Holy shit, Honey. [She had no idea that would become a pun.] What the hell happened to your face? It's as smooth as a baby's ass!"
Sure enough. When Manuka looked in the mirror, the skin on his kisser was flawless. And within a few days, his chronic bacterial prostatitis was gone without a trace. He determined to find the bees that made the honey from the pollen of the Leptospermum Scoparium tree. And find them, he did.
Quickly discovering the honey had unique properties, Manuka named it for himself, since he was a serial entrepreneur. (He'd created and sold New Zealand's first Ariki Gin distillery, named for his uncle, Hohepa [Joseph in Māori], since Hohepa was an actual Ariki, which is a Māori high priest.) He then set up the Unique Manuka Factor Honey Association (UMFHA) to ensure the purity of the product, its integrity, and that its sizable revenue stream would accrue to him alone. And knowing animals and insects would inevitably become more important to people than other people — and that virtue-signalers wouldn't be far behind — he took great pains to ensure and to promote the fact that the honey-collecting process would be as stress-free for the bees as possible.
As Manuka discovered, the honey he named after himself has antiviral, anti-inflammatory, and antioxidant benefits. It's also effective for healing wounds, for curing myriad skin conditions, for soothing sore throats, for preventing tooth decay, for improving digestive issues, for reversing male pattern baldness, for eliminating excessive nose and ear hair (particularly for men with male pattern baldness), for stanching troublesome nosebleeds, and for resolving contentious legal issues like divorces, copyright violations, or trademark and patent infringements. It might also curb flatulence, but Manuka was too modest to comment on that.
After tiring of the easy money in New Zealand, Manuka contracted a severe case of wanderlust. And because he was, after all, an entrepreneur, he sold the UMFHA to Wedderspoon and moved to Switzerland. Taking his cue from the drops into which Wedderspoon had put his honey, Manuka then founded Ricola.
While Manuka's acne came back, his prostatitis didn't. So, he's happy. Mrs. Kanuka's happy. Manuka's Swiss dermatologist is happy. And I've recovered from whatever plagued me last week.
All's well that ends well.