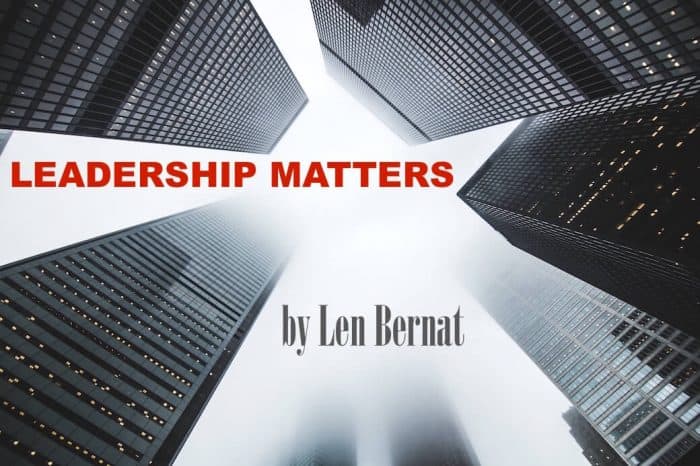 I was a young Sergeant working later than normal and I noticed that the Gunnery Sergeant in the Stock Control Section was also still at work. He had a look on his face that told me something was bothering him. I approached his desk and asked, "Is everything okay, Gunny?"
"I was just looking at my LES (leave and earnings statement – the military equivalent of a pay stub). The end of the fiscal year is coming up and I am about to lose another 30 days of leave."
I did some quick figuring in my head. In the Marine Corps, we earned 30 days of leave a year. We could keep up to 60 days of leave on the books at the end of a fiscal year. To lose 30 days, you have to go 3 years without taking any leave. To "lose another 30 days of leave" means the Gunny had not taken any leave in at least four years!
"Gunny, why haven't you taken leave in so long?" I asked with a tone of shock in my voice.
"Well, Sergeant, if I take so much as a week of leave, I spend the next two to three weeks correcting everything that was done wrong while I was out. No, I just can't afford to take time off. Without me, this place would not function."
Now, this is where I showed just how naïve I was. I asked what I thought was a good question. "Well, Gunny, why don't you train your people to do their jobs so that you don't have to fix things when you get back?"
To clean up his response, he told me to stick to my pay grade, not to speak to him anymore, and to quickly exit from his sight.
Too many people in a position of leadership feel that it is important that they keep important knowledge from their team so that they are able to maintain control over their team. They create within themselves an air of importance because "everyone must come to me for answers because only I know the big picture." Most important to this kind of leader is they believe their boss will see them as pivotal to the operation. However, they miss these important downsides to this kind attitude.
Keeping important information from your team does not make you important; it makes you selfish. Eventually, your team will realize you withhold information to increase your own sense of important and to maintain control over them. Slow but surely, they will lose their respect for you and begin to look for other opportunities. Your personnel turnover rate will be a problem.

You are creating an information dam where you dole out just enough information to allow your team to move to the next step but not enough information to allow them to think on their own and come up with new and innovative solutions. You are stifling the creativity that could earn your team recognition for process improvement or cost savings. Your good folks will be frustrated and try to learn more. If you continue to hold them back, you will lose your most important asset – your good team members. In the end, you will have a team of people who have no self-motivation and only do what you tell them to do.

You will put work before family because you cannot risk allowing your team to be successful without you. If you are not there, how will the bosses know you were the driving factor to bring about the success? In the end, you will risk losing your family just to maintain this false impression that you are indispensable at work.

You will never get the promotion you desire. Why? Because you will have been successful in convincing your boss that your team cannot function without you and you will be stuck in the same job.
Thanks to this important conversation with the Gunny, I was able to create my "Three Day Rule" and I have lived by this ever since. This rule, when properly applied, will ensure success for both your team and you, create a bond of oneness within your team, prove to your team you are dedicated to their advancement and success and prepare you to move up the corporate ladder as a proven leader. Here is my rule.
"I will train my team members so well, that should I die while sitting at my desk, it will be three days before anyone notices I am dead. Most importantly, they will not notice I am dead because the job is not being done. They will notice I am dead because I will begin to stink."
If you want to be an exceptional leader, start by instituting the Three Day Rule. Ensure you train your team – teach them everything you know – help them grow and succeed. Trust me when I say, it pays dividends.