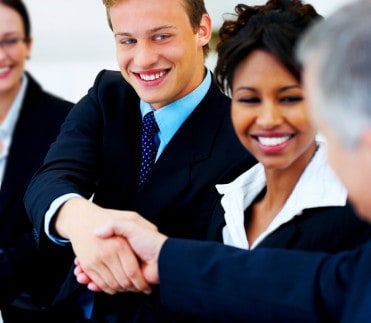 Some Things to Consider
Intern programs have long been viewed as a way for companies to get free menial labor and for students to get tedious but necessary work experience. Many of us started our professional lives as interns and learned nothing more than how to unjam the copy machine. (Ok, that's probably the most useful business skill I've got, but you see my point.)
Today, however, internships are evolving.
The US Department of Labor recently changed its regulations. As a result, most interns have to be paid. And it rarely makes sense to pay someone to make copies all day.
While some organizations have opted out, others are adding more structure and real work assignments to their programs. That takes planning and money, but the investment can pay off significantly.
Benefits of paid internships
Try before you buy.
Many companies view internships as extended interviews for employment. You can determine whether someone is a cultural fit and has an aptitude for the work before making an offer.
You can see how quickly they learn. And if you do bring them onboard, the new employee already understands your company.
Hiring through internships can reduce turnover as well. According to the Internship Institute, interns have a 40% higher retention rate than other new hires. And a 2016 survey from the National Association of Colleges and Employers found that 78.5% of employees hired through internships were still with the company after one year compared with 67.5% for those who had no internship.
Develop your current employees.
Don't assume that interns will do all the learning. You can use the program to help current employees develop communication and management skills.
Ask strong performers to develop better leadership by managing one or more interns. Or ask subject matter experts to teach specific job skills to the newcomers.
Teaching others improves your employees' communication skills and gives them a broader perspective on their work. Plus, some people love to share their knowledge.
Earn a good reputation.
Interns are about to enter the job market, and they share their impressions of your company with others. If you offer a good experience, they can become vocal brand ambassadors, and you'll gain a reputation as the company everyone wants to work for.
Plus, you'll support your industry by helping develop new professionals.
Get some work done.
Even though they come with little or no work experience, you may be surprised at how much interns contribute. As Steven LeVine of grapevine pr+ consulting notes, "More often than not, an intern, paid or unpaid, has something to prove." And they'll work hard to make their mark.
However, internships may not be right for every organization. If you're thinking of offering one this year or next, consider these points before proceeding
Pitfalls of paid internships
Make sure you have capacity.
Interns will do you no good if they're sitting around playing Zelda. Training expert Diane Weklar suggests ensuring you have enough work for an extra person.
Also, identify one employee who's in charge of the intern's schedule and assignments. If possible, select someone with the time and inclination to mentor young professionals.
Be ready to teach the basics.
Interns have little experience with the professional world. You may be surprised when you have to explain it's important to be on time. You may need to specify appropriate attire and language.
And be ready for some brashness. Interns may come in thinking they know more than they do. As Derek Capo of Next Step China puts it, "Interns always bring a lot of new ideas to the table, but one thing they lack is tact in the office."
Are you ready? Dive in!
After considering these points, you may be ready to host an intern. If so, there are good employer resources on the internet such as Internships.com. The local college career development center can also help you find suitable candidates.
You don't have to confine these programs to summertime. Recent graduates may be looking for experience all year long, and current students can often juggle classes and work if you're willing to be flexible.
While there are some challenges to running a good internship, a company that takes it seriously will find real value. And if not, at least you can get some copies made.