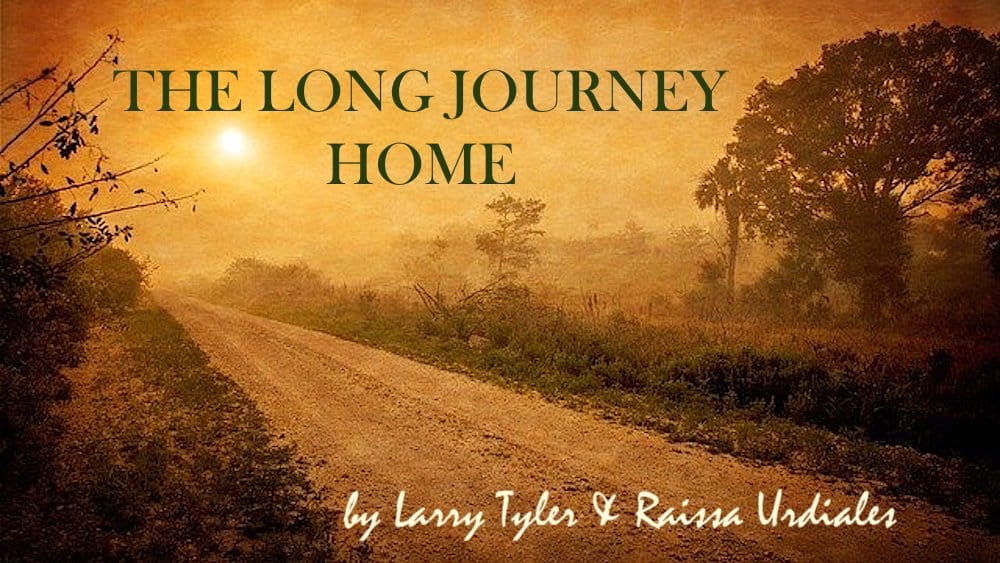 Excerpt from Beaches, Boats, Hurricanes And Hemingway's Rum
As we slowly guided our Harleys through the crowded Mallory Square, the sun was dipping into the water.  It was there, near the edge of the crowd, where we saw Raissa and Pauline waving at us, and then I saw Rick's eyes light up then darken as he saw Richard standing ten feet away from Pauline.  His eyes locked with Ricky's and then he turned and vanished into the crowd.  Raissa and Pauline were unharmed, and we knew Key West only had one road leaving town. Tomorrow we would find him, and we knew he was running out of places to hide.
This is the Eighth Installment in a series called "The Long Journey Home
Chapter 1 by Raissa Urdiales
The rain had cleared, leaving the air feeling fresh and crisp with a bonnet of blue skies above them. The Jeep was packed and ready for the trip to the Keys. Pauline and Raissa had a stop in Vero Beach planned to drop in on Raissa's longtime friend. Raissa had been pondering how many times two introverts can appear distant from those around them. Still, the connection they have is deep, almost spiritual. Introverts may need an extroverted catalyst to bring them together; yet, it is for a lifetime once connected.
The wind blowing thoughts to them and the gradual conversation would spark.
Such was the connection to the friend they were going to visit. They had been close in their awkward teen years and well into their crazy college years but had not always kept in touch after. Nevertheless, the many experiences of youth created a long-lasting connection that would never be broken. They had been inseparable through High School and would always connect over the summer break from college. They had many conversations and peaceful contemplation by the Great Lake Michigan atop a strange tree that jutted from the hillside. The secrets shared upon the trunk of the tree referred to it as the "Truth Tree." You see, two introverts can spend enormous amounts of time just being; just taking in the waves' sound and the caw of the birds that gathered near its shore. The wind blowing thoughts to them and the gradual conversation would spark.
They spoke of their dreams when they "grew up" and could never quite imagine being an adult. They giggled about silly things that they had done and "boys" they had obsessed over. They talked about the confusion of learning more about the world around them that challenged what they believed. They pondered that with more education how they were becoming less unsure of the truths in life. Nevertheless, most of all, they spent time together quietly and peacefully, letting the words come or remain silent in each other's' presence.
Raissa was finding she had a similar feeling when she spent time with Pauline. They were not too sure of each other initially, but soon Theodore became the extroverted catalyst that would pull them together. After all, Accountants and Artists are not typically friends, but that all changed when the three of them spent time together. The truth was the person who did the most talking was Theodore, and Raissa and Pauline would listen to the many stories he had to recount.
Frequently they wondered silently how true some of the tall tales could possibly be. One thing that would always make Theodore blush a bit was when he spoke of the brown-haired, blue-eyed, long-legged beauty he spent time with down in Key West many years ago. She enjoyed swimming and spent her days studying the life that lived within the sea.  To Raissa and Pauline, they imagined a mermaid swimming with the dolphins and manatees. Regardless, the tales he would tell of his adventures always kept them captivated, leaning into his every word with their bright eyes wide in anticipation.
They could only imagine what would be on the pages of the unedited version of that Last Manuscript.
On their trip down, there were many moments of silence contemplating what they might learn about Theodore. Pauline never knew anything about her mother, and much of her young life was a bit hazy. Raissa had a similar haziness, except she knew nothing of her father and was raised solely by her mother. Her father had always been a mystery to her, although she frequently would imagine who he might be.
They pulled up to the gated fence and asked the attendant to ring Heidi Lynn. They pulled up to her house, and there she was standing outside, waving her arms, flagging us in. After the initial introductions, hugs, and laughter, they headed to Heidi Lynn's backyard pool. They spent the afternoon lounging in the sun and catching up on lost time. The funny thing is that by the end of the day when they were ready to say their good-byes, it was as if the three knew each other for a lifetime.
Pauline and Raissa traveled the rest of the way to Key West and pulled in to where they were to meet up with the boys. Pauline had been anxious to see them again. Raissa had a sneaking suspicion that Pauline was enamored with Ricky. If only they had the magical truth tree to perch on. Raissa and Heidi Lynn had pressed a bit, but Pauline was keeping that little secret to herself. Of course, the connection with people sometimes does not allow secrets to remain, sometimes they are known but unrevealed until the time is right.
Regardless, when they saw the boys, they waved at them fiercely and then seemed distracted at something behind them. Both Raissa and Pauline looked behind them, not seeing anything they shrugged and headed in their direction.
Chapter 2 by Larry Tyler
The night arrived, and it breathed new life into the sunset celebration from earlier that day. The neon lights flashed from the bars and restaurants casting red and blue colors on everyone's faces.  The music was loud and festive.  I looked at Ricky and said maybe when we wrap this up we can sit in and play a song or two with the band.  Ricky and I walked shoulder to shoulder as we worked our way down the crowded streets looking at faces hoping to find Richard.  In the distance, we saw row after row of Harleys in front of the Green Parrot Bar, a local place that welcomed bikers.  Ricky read the sign over the bar out loud.
The Parrot Bar is a Jury of non-judging peers, a rugged and ragged council of friends.  It is a place of hi-jinks and misadventures, of understated kindness and everyday miracles.
Ricky and I stared at this sign for a long moment then I said it looks like our kind of place.  Without a doubt, we knew someone would know Richard.  We walked boldly into the bar wanting to attract attention.  The sooner word got around that we were looking for him the sooner we could get some answers.  Ricky noticed the captain of the salvage ship we saw on the river during Theodore's funeral was sitting at a back table with his crew.  I felt sure they knew the moment we left Saint Simon on our way to Key West.  It was obvious that they were expecting us as they had two extra Bourbon glasses sitting on the table just the way I had my Bourbon, neat, no ice, and at best a small batch with a beautiful amber color.
Everyone took a deep breath and waited as the silence built around us like a morning fog across the sea.
The bikers acknowledged Ricky and me as we walked deliberately toward the table near the exit sign.  It was a silent message to us that they had our back and, if needed, there would be no hesitation.  We could see the salvage boat crew scattered around the room.  They were tense and would not hold our gaze.  Ricky and I knew this could go south without warning.  Raissa and Pauline were slightly left of the back table just out of their line of sight.  Ricky's eyes went to cold blue steel and he locked eyes with the Captain.  This was not the time to show fear.  This was the time to unleash the dragon slayer.  As we pulled up chairs and sat, the Captain said "Welcome, the Biker Poets would dare to sit at our table" and laughed loudly.  "I am honored."  Everyone took a deep breath and waited as the silence built around us like a morning fog across the sea.
The Captain said, "I was a friend of Theodore and that is why we saluted him from the river that sad day when you spread his ashes to the winds."  We drank hard, sailed to Cuba when it was illegal, and I stayed with him as he wrote his last story at The Hermitage on Cat Island.  I thought Richard was Theodore's friend, but I am realizing that is not the case.  He is deeply involved with the Obeah, a very dark and dangerous cult on Cat Island.  Richard felt that maybe the Obeah could reach through the veil and ask Theodore to tell him how to finish the manuscript.  Little did Richard know how this would cost him as the price of a soul can cost more than a person could pay."
Raissa asked Captain Rafael where Richard was hiding.  He answered at the Hermitage on Mount Alvernia, the highest point on the island.  To get to the top you must climb a stone staircase on a steep rocky incline.  You will pass Father Jerome's hand-carved stations of the cross.  Richard left a clue at each station in case something happened to him.  You will find him there; he has no other place he can go on Cat Island. The Obeah want him because he betrayed them and hid the manuscript leaving them with nothing for their help.  A bigger mistake could not be made.  In the end, he would stand before them.
After a few more rounds of Bourbon and long conversation, we decided that Captain Rafael and all of us would set sail at on tomorrow's dawn for Cat Island.  Ricky and Pauline left for a walk along the shore.  Ricky suggested that she should finish the manuscript, add to Theodore's legacy, and start her own.  Pauline said that she would think deeply on this and maybe tomorrow would provide an answer.  After a lingering kiss, they said goodnight.  There would be little sleep tonight.  So far, we all had more questions than answers.
A gentle morning breeze awakens the sails on Captain Rafael's ship.  The sun had just broken the horizon filling the sky with bright yellows and golds.  The answers they sought were just beyond the rising sun.  Larry, Raissa, Ricky, and Pauline knew this might be their last adventure together and all felt a sadness, yet all were relieved that the mystery was coming to light soon.  Pauline said there will be a reckoning and an awakening before this day ends.
Coming soon:  The Reckoning, The Awakening, and Redemption