Our lives are continuous waves overlapping with each other. We reach a top of a wave and then start our way down to its trough only to start a new wave and the cycle continues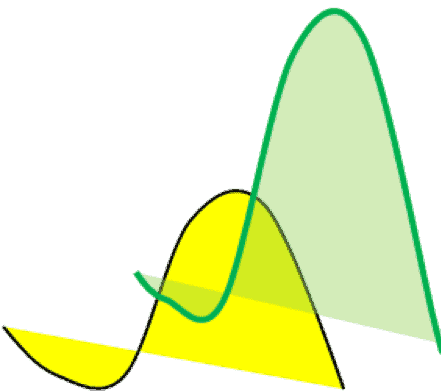 This is a natural phenomenon. For example:
Similar to the principle of equilibrium, any extreme is opposed in order to restore balance. On a sunny day, after reaching the max. temperature in the noon, the temperature starts to decline. Or even the way potential & kinetic energies vary between 0 to maximum on an oscillating pendulum (correct me please) – Visweswaran Balasubramanian
Once we start with new or change, we are climbing the waveform through solving small pieces of the puzzle.
If the graphic represents a path in waveform then the Rubik's Cube is its controller. As we ride the bell curve and considering all the right questions that lead to success, we are attempting to solve the puzzle the Rubik's cube has presented. To the extent we perform, the puzzle offers some guidance as we startup. Once we start with new or change, we are climbing the waveform through solving small pieces of the puzzle. As we near the peak and maybe even close to solving the puzzle, we are handed a new Rubik's Cube by our teams, customers, or economics. Clearly, this is a pullback and not a failure- Harvey Lloyd.
Carl Jung explained this through 'Enantiodromia' in Psychology as "the emergence of the unconscious opposite in the course of time.
Every action has a reaction, every rise has a fall and every bright day has a dark night! – Zahra Sayeda
In your "Rollercoaster Wave of Bipolarity," one sees that the lives of people and organizations may move along the wave. On the one hand, this insight might give hope to people who are at the valley (trough) of the wave. On the other hand, people and organizations at the peak may know that a peak precedes a descent so that they do not take success for granted- Rod King.
Everything in life has its own polar opposite, the Law of Polarity plays out in EVERYTHING, on every level, whether business or life- Hasnae Addioui.
Yet failure does not have to be a step backward; it can be an excellent stepping-stone to success. Experiencing no failure can mean you are stuck in your comfort zone – unable or unwilling – to take the risk to move forward– Jean L. Serio.
Paradoxically, to obtain the promised benefits of success, you need to fail your way to success- Amina Alami.
If we think, better failure seeds are embedded in success and the seeds of success are waiting patiently to grow from failure. The opposites cannot be separated- Elena Gabor.
We all have a dense curriculum of situations in which the real problem was not having considered, in real-time, the downside. With two groups of main reasons: because blinded by internal dynamics, which did not make us see objective limits and defects clearly visible to all the others around us. Alternatively, because limits, deceptions, and interests have been artfully hidden, and dressed instead with glittering promises, to convince, to steal trust, to defraud, to steal– Aldo Delli Paoli.
I agree that life can present challenges and being I am an " all or nothing" kind of girl. When I go all in and fail. My outlook is it only brings me closer to my goals– Debbie Payne.
Then there is the perspective that there is no failure, only feedback that leads to the next accomplishment as we review, learn, and grow from the feedback we receive– Charles Eduardos.
U-turns, where the max rate of change of momentum is required- Vinod Dahake.
It is interesting how our "flaws" add to our unique qualities .. make us distinctively different The flaws of diamonds may give a "distinctive glowing shine" But that does not hold true for humans "Flaws" reveal & reflect both good & bad qualities- Fay Vietmeier
In addition, our next new success peak may be lower . . . or something different beyond our biggest hopes- Cynthia Ann Leighton
Your honesty and imperfections that you acknowledge help encourage me to keep being the person I am! I know I am unique and I am happy with that! I like being different– Mary Jane (MJ) (Hudoff) Bruce
Between the peaks is an area filled with unplanned learning where character is built– Wayne Hall
This seems to suggest as well that we need to maintain a certain momentum through our failures that will help propel us back upward to success- Yonason Goldson
Nature and society are discerningly two separate halves where on one hand nature follow her own rule, while human continuously strive against nature to make himself superior against it-   Debasish Majumder
Your thoughts remind me of a trading rule, when you are close to reaching a maximum it is not advisable to bet upwards, since in such a case, a change in the trend would be very close to happening, so it would be better to wait and take advantage downward- Roberto De la Cruz Utria
That's positive optimism brother, always another chance if we can see that failure is another opportunity to get it right- Mohamed Hammoud
Focusing May Lead to Failure
We need to understand that focusing on the peak or the trough may be the source of failure. Reaching the top of the wave means decline is coming and a trough shall soon form. When at the top extend your thinking to the trough where new opportunities shall emerge once it starts to shoot up. Similarly, do not fall in despair while staying in the trough because you must be aware that a peak is forming. Think of the new opportunities that shall be available to open minds.
I want to share a personal story to reflect on this idea.
My Story
When I was doing my Ph.D., a beauty contest joined the university. She was very attractive. All eyes were looking at her in amazement. Students wanted to draw her attraction by offering help whenever it was possible. For example, if she tried to pick a dish in the restaurant many hands volunteered to pick it and place it in her tray.
I could see she was bothered. More, I had a dim hope she would even look at me. Her choices were too many to stand out. Therefore, I paid little attention to her because I felt it was futile to approach her.
One day as I was having my lunch in the restaurant she approached me and asked me if she could join me. I welcomed her. She wanted to know from me why I avoided her, unlike other students.
I learnt my lesson then- If I try to attract, the less attractive I become.
The more I focus on success, the less successful I become.
The more I focus on profit, the more I lose.
This is because I may be sitting on atop of a wave that is soon to decline. The opposing forces may be operating under my feet without me noticing them.
It is a life lesson. Think of the trough when you are on a peak and of the peak when you are on a trough. Then enjoy the journey between the top and trough.