This is the first in the "He Said, She Said" series: This conversation between Scott and Sandi is about how television and other technology have created a different world.
Scott: After I retired and we decided to become "snowbirds" in southwest Florida we left a lot of our family and friends in Ohio.  I knew we would miss them but we could go back often and they could vacation in sunny warm Florida visiting with us.  We could spend more time with our daughter who lived in Florida. It seemed to be working out nicely and then… the coronavirus happened.  I'm glad we got to see our Ohio family in December especially now that we can't even guess when we'll be able to see them again.
Sandi: Yes, it was a good visit.  I was looking forward to our son and grandson coming for a visit over spring break and now that had to be canceled.  It's been about 5 weeks since we began  "self-isolating."  We had to come up with things to keep from getting bored so I decided to sew face masks and buttoned headbands for some friends who worked in health care.  When they said we should all wear masks if we went out, I made some for ourselves and the family.  It felt good to be doing something helpful.
Scott: I read a lot, kept the plants watered, and kept the lanai cleaned…
Sandi: And you took up a new hobby?
Scott: You mean doing jigsaw puzzles?
Sandi: Yeah, I was busy sewing, so you were on your own with those and that kept you busy.   You know, we watch the news and talk about the changes and negative impact on everyone because of the virus almost every day. But there are some silver linings in this whole thing, right? Thank goodness for technology… it has really changed our lives.
Scott: Yeah….like when our son called last week and asked if I wanted to watch a baseball game with him.  I had no idea what he was talking about. First of all, there are no games being played right now and second, he's in Ohio and I'm in Florida about 1200 miles apart!
He said,  "How about watching the 1995 World Series game between the Cleveland Indians and Atlanta Braves?"
I said, "How are you gonna' do that?"
So, he tried to explain how we could each pull up that game on the internet and we could also FaceTime as we each watched.   I had no idea what he was talking about!
Sandi: I know just about enough to be dangerous and you guys made all kinds of fun and laughed at me while I was trying to get it working for you.   I had to hook up the laptop to the tv so you could watch the game on the television…then make sure we both hit the start arrow at the same time so you were at the same place at the same time in the game. Shame on you guys! I get no respect….lol!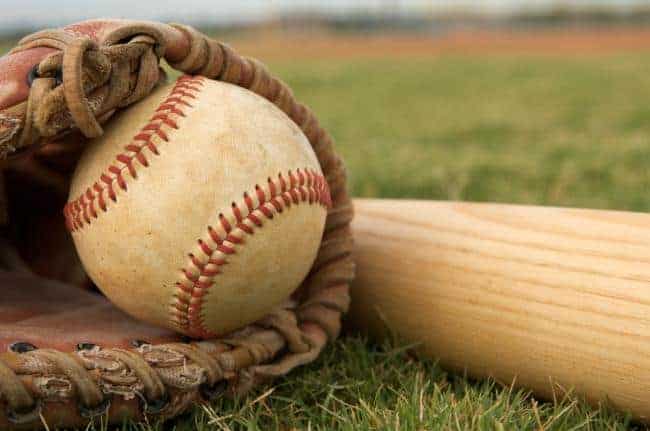 Scott: So, everything is hooked up and then the cellphone rings. It is my son on FaceTime.  And then my grandson in Pittsburgh pops up and then my grandson in North Carolina pops up!  They're all set up to watch the game too!  It was like all four of us were sitting together watching the game just like buddies sitting together in a pub.  Back in the day, we would call that "shits and giggles." That was really special, especially feeling like we were all together for about 2-3 hours.
Sandi: I loved hearing you guys talking and laughing together.  Did you ever think you'd be watching TV with someone miles away? Do you remember the first time you saw a television?
Scott: I must have been about 8.  A neighbor lady got a TV and invited the neighborhood kids in to watch it one day.  She made popcorn and Kool-Aid for us. Then she turned on the TV and we watched a cooking show…we weren't interested in cooking but we were glued to that TV.  It was like going to a movie theater right there in her living room!
Sandi: I remember our first TV.  I think I was about 7 and my grandpa came into the house carrying a box.  It had a 7-inch screen on the side.  You had to sit really close to even see it.   I remember watching The Howdy Doody Show, The Lone Ranger, and Roy Rogers. Do you remember the big sort of magnifying sheet you could put on the screen to make the picture larger?
Scott: Seemed like a good idea at the time, but it really didn't work too well. It distorted the picture so much that you had to sit directly in front of it.
Sandi:  Remember using "rabbit ears" to move around to get good reception? There were 3 knobs, one was the off/on and volume knob, one was the channel selector, and the third was a tuner.  And there was no remote control.  You had to actually get up and turn the knobs manually!  And everything was in black and white. Do you remember when color programs first came out?
Scott: Probably in the 1960's or early '70s? There were only 3 channels, NBC, ABC, and CBS.  The programming went off about midnight after the news and ended with the national anthem.  Now there are hundreds of channels on 24/7.  And you can change the channels with a voice command.   You just hold a button down on the remote and say what you want to watch.
Sandi: My grandpa could never have even imagined all that's possible now. Technology has made so many advances and added new words to our vocabulary.   We have the "inner tube," "HappyFace," Zoom, FaceTime, and weefee (wifi), just to name a few.
Scott: Like I always say, it's a different world!