Rivers have always drawn my attention as far back as I can remember.  Walking along a stream with wellington boots as a six-year-old, or more recently, the tangible joy of witnessing such glory; just a walk away.
Strolling along the banks of a river is a calming sensation; the gentle flow of water, reflections of blue sky, clouds, and trees.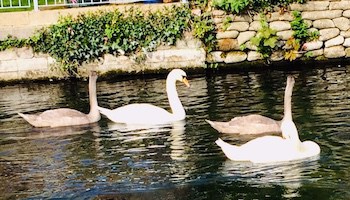 Summertime and Autumn are the most spectacular, although Spring provides a delightful combination of pristine new green leaves, but not fully 'clothed'.
'Reflections provide space, a dimension deep below water as if another living format. Trees deep in water and when leafless, almost look as though walking along upside down as if aliens from an imaginary forestry planet.'
Observing reflections does tend to free the heart and mind to wander along with the river, under bridges, greeting majestic swans, gently acknowledging one's presence with regal nods of approval. Swans do tend to swim with their 'partners' and signets as if a royal family in procession; the only thing missing being an iconic 'royal wave'.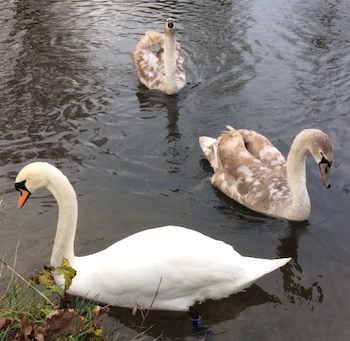 On a lucky day; an unforgettable sight;  swans take off as if graceful Concorde supersonic airliners; no noise except flapping wings touching the water;  magical reflections, remaining in the mind's eye even when the swans have departed.
The river Itchen; poet Keats' favorite river walk is certainly blessed with so much greenery and wildlife.
Each step tempts the walker to look in every direction; the flutter of ducks, a heron, quietly standing, waiting for what I do not know; perhaps a trout.
Walking for miles, silent except for the magical sounds of Mother Nature's gift to humanity.
Only yesterday did I once again experience such tranquillity. Never forgotten and awaiting another stroll along the banks of peace and harmony.