Prologue 1 of 2
This is a story of how I went from being pals with a friend from Texas to a few years later sharing stages with him and his band across the U.S. during a major summer heavy metal travelling tour. The story is mostly of the events that led up to the tour, as well as some of the shenanigans we got up to during the tour.
Feel free to google names like Pumpjack band, Ozzfest 2000, Dimebag Darrell, Vinnie Paul, Phil Anselmo, Rex Brown, Pantera band, Sevendust band, Incubus band, Godsmack band, KISS band and Zakk Wylde for reference and to understand their musical/cultural significance, if you don't already.  If you're lazy like me who'd likely not google these names if you didn't already know who they were, just know that Ozzfest, Dimebag (Dime), Vinnie Paul, Phil Anselmo, Rex Brown, and Pantera (their band) were huge figures in the world of heavy metal at the time (the year 2000); you couldn't be any more significant in the metal world, unless you were in Metallica.
Also note:  "the Abbotts" or "Abbott brothers" or "the brothers" = Dimebag & Vinnie
Pumpjack band:  Kyle aka Thurber, Boz aka Garner, Lance aka Willie, and me
Pumpjack crew: Bob, Clay, Trey, Stevie B, and Sterling running sound
Prologue 2 of 2
I've never shared all this detail with anyone ever before now.
When the tour ended way back when, and I got back to Phoenix, I didn't really chat with anyone about it, and if I did, I kept it to the major highlights – points that wouldn't take more than a couple of minutes to sum up. I just didn't want then, nor ever, to come across as "that guy."  You know "that guy." The dude who does something that might be considered cool or interesting and then doesn't shut up about it, ever. Don't be that guy!  Didn't want to come across as that guy, so I never talked about the experience with friends. It was what it was, and if people had questions, sure, I'd provide as detailed an answer as I thought they'd enjoy.
Still to this day, I'm friends with those who were around during a lot of what I've written about, so any one of them can edit or provide their perspective as well or comment on any of the events I've documented. I was pretty much never alone with any of the "famous" people I might mention.  Any encounter experienced was with at least one other, but usually, it was with a group of people. Every word is 100% true. I haven't embellished or made a situation out to seem better than it was. Some things, like actual shows, were forgettable, as you'll read. In other parts, I'm the biggest goof in the room. But there were also some incredibly special moments that occurred that I'll never forget.
I decided to finally put fingers-to-keyboard because I thought maybe those very people I shared the experience with, or those who were around us during that time might just get a kick out of the things I highlighted as the most memorable. Maybe it was a highlight for them too.
I used to think that I could make all the events that occurred into an interesting story, just based on the raw facts, and now, at least I have done the writing.  It'll be up to others to determine whether it's interesting or not.  There are a lot of ups and downs and it is a roller coaster of emotions. I hope you enjoy the story.
I am not a "proper" writer by any means.  I break the rules constantly.  I misspell, use incorrect punctuation, run on (and on and on), makeup words (boozewebs?) change tense, in the same paragraph, heck, sometimes in the same sentence. But most of the time, it's on purpose.  It's just to try and make the story more interesting, and to bring you into that moment.  Thanks for reading!
____________________

Chapter 1: Kyle Merren
As with all good stories, we'll start at the beginning…
The year was 1990.  TYNATOR, my band in Phoenix, was looking for a guitar player and Aric found an ad that was placed by a dude who was living in Mesa.  His name was Kyle and he'd moved to Mesa, AZ from Midland, TX, to go to school but wanted to jam if he found the right fit (Johnny Bravo reference).
I went with Aric to meet and hang with Kyle to see if we jelled.  I don't have detailed memories of everything about that first meeting, but of course, there were beers and smokey smoke and all that, but Kyle was so out of this world in terms of anyone I'd ever met.  What does that mean?  It means the way he dressed, the way he talked, the music he was into (not just heavy metal), but more than anything was that his personality was 100% different from anyone I'd met in my 19 years on the planet.  He is a KISS freak like me, but I was more "closeted" about that too (haha!). His Paul Stanley impression is spot on, but also will make you fall out of your chair in hysterical fits.
Anyhow, we were alike in many ways, but where we diverged is that Kyle is an Elvis devotee, and not just a minor one either.  We're talking full throttle obsession, having seen him in concert as a youngin', possessing all the TV specials on VHS, posters of the King lining the walls of his bedroom, etc.,  Not gonna lie, I 100% thought it was a joke at first, but nope, he's an Elv-head.
He's 3 years older than I, but our references from having grown up in the same era are the very same. (Brady Bunch (JB ref), Don Kirshner's Rock Concert, the KISS TV movie, knowing about the '83 US Music festival, Circus and Hit Parader magazines, etc.,.) Dumb stuff that we both grew up with, or had watched on TV, or whatever – Kyle seemed to remember all the most hilarious parts of things I too remembered but had long forgotten.
People have lovingly described Dimebag Darrel as a cartoon character comes to life, but I used to think that exact thing about Kyle long before it was said about DB. Back then, he was equal parts hilarious and goofy and it was just so easy to be around him. And he thought I was a hoot too, so it was all total fun.
While Kyle didn't fit with TYNATOR (him for us, and us for him), we stayed buddies and the three of us hung out all the time and became a tight trio for a while.  Ultimately Kyle didn't much care for Mesa and school and a few of the other characters he met while he was there, so he bailed on back to Texas.  But we stayed in contact and Aric and I routinely flew to Midland, or flew halfway and met Kyle and his girlfriend in El Paso to party and carry on. As flights on Southwest Airlines were so cheap back then, we found ourselves doing this kind of thing every few months.
To illustrate a bit of Kyle-isms…, we had phones, and long-distance calls didn't cost that much, but Kyle liked to write letters because it was obviously cheaper, but it allowed for full-on expression, of every type.  I only have about 2 boxes of "stuff" from my past of 51 years.  I've tossed letters and cards from my family.  I've always held on to Kyle's letters.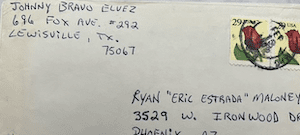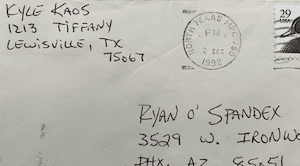 Eventually, Kyle got around to telling me about his connection to the Pantera guys. Briefly, just before they released the Cowboys From Hell record, Kyle was living in Dallas, and he helped out Phil Anselmo by letting him stay with him in his apartment for a while.
Then, like a year and change later, on the CFH tour, when Kyle was in Arizona, we took a road trip down to Tucson, as Pantera was headlining a show at The Rock. Wrathchild America opened the show, and they played a cover of Henry Rollins' "Followed Around" with Phil singing the lead vocal.  Easily one of those "I'll never forget it" moments because it was so out of left field and they kicked the original version's ass.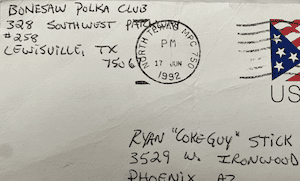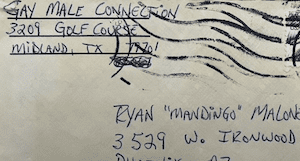 Anyhow, BEFORE the show, Kyle got Phil's attention somehow and we were invited onto their tour bus. Kyle had brought with him a shoebox full of Phil's stuff and Phil seemed to really appreciate the gesture. I was trying to appear as invisible and as small as possible so as to maybe go unnoticed and get to hang a little while longer on the bus with these rockers.
The curtain to the back part of the bus was closed, but about 10 min after we boarded, out from behind the curtain came Dimebag who'd just awakened.  They were due to be on stage in 30 min and he's just then shaking off the boozewebs, but they're preparing shots and crackin' beers.  It was surreal. I remember asking Vinnie how ATCO was treating them, surely sounding like a moron, but I was just stoked to chat him up.
BUT, and this is the best part of this little narrative…I got to relive this very memory 10 years later… meaning, I was sitting on a tour bus with Dime and Vinnie, which they had procured to come hang out with Pumpjack as we opened three Texas dates for Sevendust in early 2000 (later in the story)…. but this time feeling very much like I belonged there because I did, and actually hanging out and partying with Dime, telling him all about the Tucson show 10 years earlier, shooting whiskey, smoking joints, and feeling like I was on a cloud, as we rode along the Texas highways headed toward Dallas.
But I'm getting waaaaaaay ahead of myself…
Chapter 2: Thurber T. Mingus