Gotta do some correcting… thanks, Garn!!  
So, we found out about our being off the tour from Arizona, the then-girlfriend, (yes, that's her name), of our soundman, Sterling.  Dime called her and then she called us.  We were about two hours from Dallas, so we swung by, picked her up, and continued on to Chicago, because as Garn said, "hey, free guitars."  I was wholly unaware that they knew they were getting free gear.  I joked about the Washburn factory not having a drum room, but in all seriousness, the experience there was pretty cool, with the guys being treated like one of their roster artists who they were outfitting with gear for a tour. We actually did a photo shoot with a Washburn rep at the Alpine Valley venue site.  And when I say, we, I don't mean me.  But Thurb, Boz, and Lance looked super cool with their new guitars!
ENJOY ALL PRIOR CHAPTERS HERE↴
PUMPJACK – The Ozzfest 2k diaries, Chapter 8 of 12: No Secret Drum Room
I forgot about "when" a couple of insane road-related incidents happened, like pretty much one right after another, and they happened right after we took off for the tour the first time, so forgive me while I backtrack and just include them here.  
We had picked up Sterling's girlfriend, Arizona, and we were somewhere between Texarkana and Little Rock, Arkansas.  We're barrelling down the road in the RV, and it had already turned dark. Boz was driving. 
The rest of us are hootin' and hollerin' it up in the RV, and from the back of the RV, Thurb shouts, "oh sh*t, I'm seeing sparks!"  
Then immediately after, more eruptions from the back since more of them moved back there to see what was happening.  People are yelling,  "Oh sh*t, we lost the trailer!"  The trailer hitch became detached from the RV and was now still moving and going every which way, bobbing up and down on the highway asphalt like a lure'd fishing line catching action in the water.  And we were getting further and further away from it.  Everyone starts yelling for Boz to pull over. 
Miracle point 1 – the trailer managed to stay upright, on both wheels and just came to a stop in the middle of the highway, and also was not damaged in any other way.
Miracle point 2 – no other vehicles were behind us, nor were any in sight.
Boz eventually pulls the RV over to the side of the road.  A few of the fellas jog down the 1/4 mile to where the trailer is and haul it back to where we are.
Miracle point 3 – none of the equipment was harmed in any significant way.
We're all just catching our breath, not believing what just happened.  And someone gets to work investigating why it happened, and the answer is revealed… lost cotter pin.  I don't know or remember the full details on why the cotter pin would have released itself in the first place, but in any case, we lost the one we needed.
We are now sitting in the dark, on the side of the road, and we see a pick-up truck driving toward us but on the service road, next to the highway.  He wasn't coming to help us, but we flagged him down. He very kindly stopped for a group of long haired men along the side of the road.  Are you kidding?  But this kind soul not only stopped, he then proceeded to help us.  He was a little older than all of us, but cool as could be.
Miracle point 4 –  We explained what we figured out to be the problem, and he agreed.  He went back to his truck and came back….. with a cotter pin, and I think maybe a lock or something else to help secure the hitch.  We gave him beers and Pumpjack cds and a couple of t-shirts.  We couldn't believe that he literally had the exact thing we needed to get back on our way.
It must be noted that this was the point in the journey that Boz decided his time behind the wheel was over and handed over the keys to someone else.
We get on our way, and not an hour later…. just outside Little Rock, we came upon, at damn near 65mph, a semi-truck which was just sitting, stopped, in the middle of the four lane interstate, which was separated by a median. The truck next to us swerved into the grassy median and as Boz remembers, he just closed his eyes and braced. That we made it unscathed through both of those incidents is almost unbelievable.  
*************************************
OK, at this point in the story, we decided to head back to Texas, since we had no idea if we were ever going to be invited back to the tour.
Though we were feeling super dejected and disappointed to a degree none of us had ever experienced in terms of that level of "let-down", we had a show booked!  Somehow, we had booked a show in Bowling Green, KY, which wasn't far as it was in the path of the tour route.  While the Ozzfest tour rolled on to Indianapolis, we went to Bowling Green, KY and played a show with locals, 60 Watt Shaman.  That show was just in some crappy club where we got a decent but certainly not an overwhelming reaction.  None of that mattered, hitting the stage and getting to play was like releasing a pressure valve.  It helped a lot, at least for the night.  
We left the next day to head back to Texas, while the tour was on a day off, headed toward Somerset, WI. We got back to Midland the next day.  We weren't home for 3 hours and we got the call to "get our asses to St. Louis, MO," because we are back on the tour!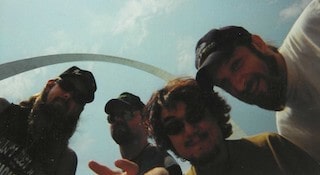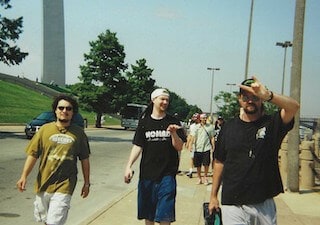 So referencing that "confusing" comment in Chapter 8 when we were at the Washburn factory… things just didn't make sense to me.  It felt like on one hand, perhaps the band opting to leave the contract with the brothers was fine… no repercussions.  Hell, here the guys were getting free Washburn guitars seemingly based on the connection to Dime.  But then, why weren't we getting help or updates from them when they knew we had been kicked off the tour?  It felt like we were just on our own, drifting in the wind. Maybe there were repercussions we didn't know about, or I didn't know about.  It's not like we were a last minute addition to the tour – every single thing about our participation had been finalized months prior, and confirmed in the programs, all the ads, etc.,.   Maybe it's presumptuous to think we would get help from the brothers, but it was directly because of them the band was there in the first place.  From whom else could we ask for help but them?  And maybe they were helping behind the scenes, and it was just taking that long to work its way through the channels of the Ozzfest organization, especially since we were sublevel priority.