"They say that good things come, to those who wait
well, I've been waiting all my life, for what I have… and it ain't that great
I've been told "maybe", and "almost" and "so close" too much
I'm just asking for my turn, I don't think I'm asking much
Mama always told me, son, this too will pass
But Mama, I've been down for so long now, it feels like it's gonna last"
~"Gonna Last" – Pumpjack
Geeeez, Ry, seven chapters in, and you're just now getting to the actual tour???  In a word, Yes.
ENJOY ALL PRIOR CHAPTERS HERE ⤵︎
PUMPJACK – The Ozzfest 2k diaries, Chapter 7 of 12:  Simply. Holding. It. Together. (S.H.I.T.)
After my Mom was settled into my sister's house, I was given the blessing to return to Texas.  I had been gone about 10 days, so we lost that much rehearsal time (remember that bad luck "constant" hanging over the band…).  But, we made up for as much as we could and prepared to hit the road, bound for Chicago, our first tour stop!  Myself, Thurb, Lance, Boz, Bob, Trey, Clay, Stevie B, and Sterling.
We'd left 2 days before we were due in Chicago, just to be sure we'd be ready – plus, bonus – we were going to connect with my brother, who was going to put us up while we were in town. I was ecstatic… There we were, almost to Chicago, and I'm going to play my first Ozzfest gig in my original hometown.  I secured passes for my brother and a few of his friends, so I was going to be able to share the experience with him also, which was significant, based on what we'd both just gone through in Arizona.  I knew people I'd gone to elementary school with would likely be in the audience, even if I'd never get to see them.  This was going to be huge and…  Oh, wait, hold on… phone's ringing… one sec…
"Yeah, what's up…?"  "Huh?"  
"Who in who's camp said what?" 
"Why does this affect us?"    
"Are You Serious, Man?"    
"WHAT THE F….??"
….were the questions Thurber is throwing back at the person on the other end of his phone.
We are in Chicago at this point, not yet at my brother's place.  Our first show was the next day.  I think maybe we stopped to gas up or something and we got that call.  
We were off the tour.
Word was, the person in the Pantera camp that was sort of our direct liaison got into a disagreement with someone in the Godsmack camp, and I have no details beyond that, but before we knew it, our liaison was fired from the tour and so were we.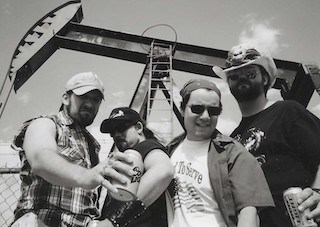 We were sitting there in Chicago at my brother's place, so bummed, and in shock.  The next day, we went to the Lake Shore and just hung out there for a while.  It was unclear as to what we should do, but we finally got a call from someone who said, just continue on with the tour – keep coming to the dates.  At first, we were hopeful.  The next show was the day after next in the famed Alpine Valley Music Center in East Troy, Wisconsin.  
We had two days to kill, and I'm not sure who made calls to whom, but before we left Illinois, the band had somehow been invited to tour the Washburn guitar factory.  Dime was repping their guitars at the time, so I have to believe there was some connection made from that end, which was confusing to me, which I'll explain in chapter 9. This was another "what is happening right now??" moment…  We went to the factory, and people were expecting us, who then proceeded to give us the red carpet treatment tour of their facility. It was interesting to me for about 20 min or so. I'm not a guitar player, so while it was kind of cool and I was appreciative of the invite, I was definitely hoping they'd pull me aside and show me some cool secret drum room, in which they'd let me rock out while they fiddled about with guitars…but no, that didn't happen.  
Wanna know what did happen?   Talk, chit-chat, questions/answers…  amongst Thurb, Boz, and Lance with the facility rep about adjustment-this, adjustment-that, this amazing color finish, that cool body style, something bridge, something else pick-up, ETCETERA, ETCETERA, ETCETERA. Garn… feel free to add color in the comments…
Boz and maybe Lance too, each walked out of the Washburn guitar factory a couple of hours later with not 1, but 2 freakin' brand new guitars, having been set up to their liking during the time we were there.  Thurb left with only one because they were out of the second one he wanted.  They promised to send him the other one he wanted but it never happened.  But anyway, those guys – free guitars!!?!?!  What???  And me? – no secret drum room, not even a damn t-shirt.  I might have gotten a Washburn logo plectrum.
The photo below shows the new Washburns they had just received.  Of course, Thurb got Paul Stanley's (KISS) signature (see the star by the bridge).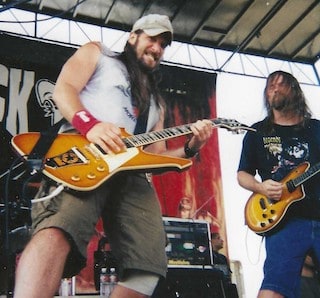 We drove to the Alpine Valley venue the next day, only to learn, nope, not playing. That was again discouraging, but at least, we'd been given catering passes and were allowed backstage.  The disappointment weighed heavy on us all still though.  We had no power to assert in any direction.  We were just…waiting.
I will say that the venue is amazing.  It's huge and seats almost 40K people. Glen Helen in San Bernardino is larger with a 65K capacity, but the way Alpine Valley is designed is more fan-friendly.  The stage is at the bottom of a massive hill, so everyone in the audience is on a slope and has a great view of the performer.  It was cool to see the back of the stage and the actual backstage area.  Every venue is different, of course, so how things like catering were set up was different at every place.
Next stop… Riverbend Music Center in Cincinnati.  We get to the venue and again, we're told, nope, not playing.  We had to get there early because we were opening the show (that was our slot), and then we were being told to hang around and then get to the next venue.  We were "far beyond" deflated. We hadn't gotten any updates. We managed to hang around until after Pantera's set and finally got to see Dime.  I got 30 seconds with him to ask him directly, what our chances were (about getting back on) since all of us had quit our jobs, invested in this, and were currently bleeding money every day for nothing. He just said he did think it would happen, but he didn't have confirmation we'd be back on 
for the next show. That was a bummer to hear. I don't know if any of the other guys talked to him, or talked to VP, or made any calls.  But none of us heard that there might even be a chance that we were going to be on stage for the next date.  
The Ozzfest schedule was one day on, the next off.  So to miss 3 dates, that's about a week on the road, spending money to survive and on gas to get to the next place.  By then, we were just getting more bummed out, getting more angry, getting more drunk, and feeling like having embarked on this adventure was indeed a mistake after all. We'd all had enough.
Back on our "mini" (our RV), after a short deliberation, the decision was made to pack it in and head back to Texas. 
 F this sh*t, F Sharon, F Ozzfest, F Godsmack, F no secret drum room, F it all!! 
We're goin' home.
Next Chapter: tour start redo…