It's now time to roll out of Lubbock and head towards Dallas.  Ever satisfied with giving us a hard time, Dime lets us on their bus.  We head out and at some point on the trip, the decision is made to stop at a roadside strip joint.
ENJOY ALL PRIOR CHAPTERS BELOW⤵︎
PUMPJACK – The Ozzfest 2k diaries, Chapter 5: Meeting the Brothers Abbott (R.I.P.
It seemed like we found this place out of nowhere.  Further, it seemed like there were 20 or more of us.  We all tumble into this place and out comes the money and overcome the dancers, etc., At this point, safe to say, I've had a couple, so I'm well on my way to feeling good.
But I've kept it together enough to keep my fanboy-ness in check, and haven't bugged the Abbotts or tried to hang where they were – none of that.  But to my astonishment, Dime pulls me toward him and has me sit next to him. He's not focused on me visually, as he has other things to watch to keep him entertained. But before he turns away, he says, "so give me your rap, tell me your story."
At that moment, my brain is calculating just how far back I should go.  I opt at starting where I started this story (maybe slightly before). I mentioned TYNATOR and our CD, and how we'd manage to land a single on Metal Blade's Metal Massacre thing back in 1990 and how we played around the Phoenix scene.  And how it was around then that I'd met "Kyle" and told him all about that period.  I segued and tried not to bore him about my going to school and then told him about hearing from Thurber just six months previous, after not having chatted with him for some time.  I don't remember much more about the time in the strip joint, except that halfway through the time hanging out there, Vinnie got up and spoke into D‫ime's ear and out the door, he went.  Pretty sure he went back to the bus to crash. This had to be around 2 am or thereabouts.
Eventually, we leave the strip club, and we board the bus bound for Dallas.  I remember in the front lounge was myself, Dime, Sterling, Thurber, probably Lance, their bodyguard, Krusher, maybe, and maybe Boz too?, and another friend of Dime's. That was it. Shots start coming out, and beers are flowing.  Again, I'm not trying to be too close to Dime to avoid coming off as a complete loon, but there I found myself again sitting next to him. Once again, lots of alcohol, so this memory of the ride is made up of little moments. He was being super cool to me, and I'd been warned to "just go with it if he starts having a fun go at you." But he never did, he just was straight up the nicest and most fun and funniest, normal dude. No rockstar BS at all. I remember being so drunk, and turning to him, and saying, "I can't believe you're as cool and normal a dude as you are." Ugh.. I cringe when I think of that – I completely fanboy'd all over him.
But here's the thing, I wasn't fawning over him because he was an amazing guitar player – other than on the tour, the few times I was around him, at his house or at a PJ show, he usually didn't have a guitar in his hands. During those special times, I was in his presence and he focused a little attention on me, even if it was ribbing me a bit, to whatever extent I might have "fawned", it was exactly because of the person he was without the guitar. It was just him, and his crazy, hilarious personality, which was very unique, in the best way.  All the stuff you've read online or wherever about how he tried to make sure everyone else in the room was comfortable and having a good time – all that is true, at least in my very limited experience. He was just about having fun, maybe sometimes at your expense, but it was all just good fun.
Anyway, that fanboy line I laid on him easily could have been an opening to goof on me, but he just rolled with it and laughed.  We were watching some home video in which Sterling was the star (Clem something), and it was cracking everyone up.  Everything about that moment was just so incredible, but before the last joint came out, I did get to tell him my story from 10 years previous in Tucson. And that's the last thing I remember on the bus.
What I learned later is that I passed out and Krusher I think, put me in a bunk. When we got to Dime and Rita's place in Arlington, Krusher carried me in (I was told) and plopped me down on their new suede sofa.
After we all woke up and were coming to, everyone was in Dime's main room, which was attached to the kitchen. I met Rita who was also very nice to me.  She said, "don't worry about any of these dudes giving you sh*t.  You're already in, cuz you're part of Pumpjack now, and Pumpjack is family."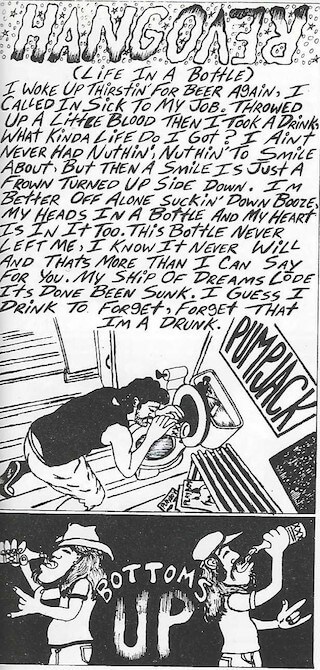 I remember getting myself to a seated position from lying down as everyone was making their way into the room.  It was a charged atmosphere, with people already drinking again, others lamenting how hungover they were, and it just felt like at any moment anyone in the room could be a target of some sort or another. I kept my mouth shut as I felt like a complete outsider, plus I'm not good at giving people a hard time just for fun. But Dime zero'd in on me, and he says, "hey man, that couch you're sitting on is brand-spankin' new…I better not find any sh*t on that after you leave…see, I can sh*t, p*ss, f*ck and c*m all over it, but if you spill even a drop of beer…."  Room erupts in laughter. And I can't help but smile along, because he's pulling me in, accepting me in front of everyone.