If there was one "constant" that reared its ugly head now and again in the life and career of Pumpjack, it is most certainly bad luck.
We were rolling to the gigs in a couple of pickup trucks.  We left Odessa, and I'm pretty sure it went down like this.  My memory is a little foggy on this one, but it sets things up for a paragraph or two down the road.  In any case, one of our trucks broke down on our way to the gig.  Great!  We had timed our travels so we'd make the gig, but it wasn't like we would have hours before the gig, so our time was tight.  Anyhow, there we were on the side of the road, trying to figure out what to do.  We might have gotten a call asking where we were, as I don't think we were too far out of town.  Word gets to the Abbotts and I'm almost positive they were at the gig already so they sent the bus they'd rented to come pick us up.
ENJOY ALL PRIOR CHAPTERS IN THIS SERIES ⤵︎
PUMPJACK – The Ozzfest 2k Diaries, Chapter 4:  Live, from Odessa
However that little episode played out, and we eventually made it to Jake's, the venue in Lubbock.  Again, the place is packed even before we go on.  People are chanting, PUMP-JACK, PUMP-JACK, PUMP-JACK, so I am stoked. My head is buzzing because we're gonna go on soon and the place feels electric. We're all backstage, and out of nowhere, Dime appears he has this huge grin on his face, as he greets Thurb, Boz, and Lance, and at the same time making fun of us for having broken down.  "What's up, BrokeJack? HAHAHA"  Someone introduces him to me, and he says Hi to me, puts out his hand, and shakes mine. Then, he turns around, and says, "hey, I want to introduce you to my brother, Vinnie Paul", and as if on cue, VP turns around the corner and walks up.  I say Hi and shake his hand and tell him I've been a huge fan forever. They're both totally cool, super encouraging, telling us to have a great show, and they'd see us after.
Once again, the intro tape rolls, and then I count us off into "Pa," and bam, we're off and running again.  One show under our belts, we're kicking even more ass this particular night, absolutely locking in and jamming like our life depended on it.  It was awesome again, with massive cheers in between songs.  And then we get to the song, "Harvest"…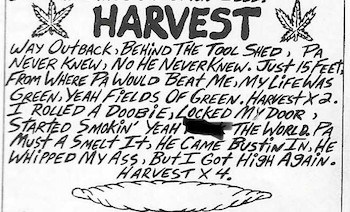 …on the recording, Dime actually plays the crazy outro solo.  Let me say… it had been described to me what happens when… I'd seen a video of when it happened before, and had been told about the possibility of it happening that very night, but nothing prepared me for what was about to erupt…  Again, from my spot behind the drums, I can't see what's going on specifically on stage because of the lights, but before I know it, we come to the end of the second chorus, and Thurb starts the guitar to the outro, and in that time, somehow, I catch a glimpse and see that Garner (Boz) has given his guitar to Dime.
All the stage lights go out except for one lone spot which is set on Dime.  He launches into the solo and at the same time, strikes a badass rocker pose while he's just ripping out these blistering notes on Boz's guitar.
The crowd is absolutely going nuts, freaking out, because while a few people might have seen him before he hopped on stage with us, I'm pretty sure most of the audience didn't know the brothers were there. During the solo, the tempo of the tune is slower, and while we're playing, I hear massive cheers, so I look and see Dime just working the moment like the pro he is, in complete silhouette.
It's one of those solos where he could play while still pulling the full-on rocker moves – he has one leg on the monitor and is holding the guitar above him, kind of vertically, with his head back, playing the solo, looking like a cross between Ted Nugent and KK Downing. I knew it looked awesome from the crowd's perspective because they were eating it up.
Dime walks off to a King's cheer, we finish one more song and all of us float off the stage.  We were on such a high it was crazy.  So we got off stage and now it's all cool and feeling relaxed.  First thing Dime says to me as we lock eyes is, "Man, you get an A+, dude.  Flying in from Arizona, and knocking that sh*t out of the park.  A+, my man."  I'll never in my life forget those words. Thing is, he couldn't have chosen a more apt analogy to "rate" my performance than that of a school grade.  All through school, through college, I was a grade chaser.  I actually think I did myself a disservice by focusing on the grade solely, versus making sure I understood the concepts being presented. Geez, that's another novel in itself… I digress…
Anyway, after Dime made that  A+ comment, you could have stuck a fork in me right there.  Thanks, I'll happily die now.  It was one of the most amazing moments during that time.  I explain this a little later about how selfless he was, about how that's been written and said about him over the years, that he was just a super good dude, deep down.
To illustrate…there we were, we'd just gotten off stage, and make no mistake, his 1 minute and 30 seconds on stage made him the star of the night that night, bar none….  he was King Sh*t and knew it, but yet, he went out of his way to comment on my performance and give me a moment I'd never forget, ever. He was pure gold.
Later, I somehow get on their bus again and there's a full-on party happening.  Bus is stupid loaded with people, and the Pantera crew guys have the big, fancy cameras out, recording all the party goers, and encouraging everyone to say something about the "Pantera Home Video 4" with Vinnie in the shots for good measure.  Dime wasn't on the bus at that time.  Eventually, I came face to face with Vinnie Paul.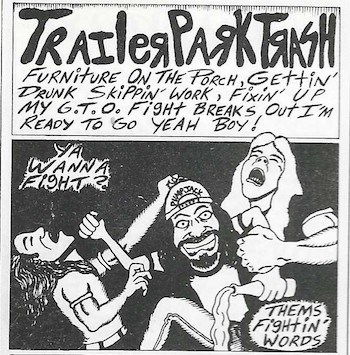 He says, "What's up, Mr. 50 thousand dollar man – hahaha – hey, I heard that double bass you put in Trailer Park Trash (the song), man, that's badass."  I was momentarily dumbstruck by that comment, but quickly realized he was speaking to something I had mentioned to Thurber as a reason I had contemplated not joining the band. I mentioned that I was earning "around $50K" which was a lot of dough to me 22 years ago. It was a tough thing to give up, because I was pretty sure I wouldn't be able to come back to Phoenix and pick up something similar so easily.
That was a weird first thing for Vinnie Paul to have said, but it's the legendary VP, and he ended his statement with a compliment of sorts, so I just went with it.
I offered back a benign response and just said, "yeah, I know that's not a lot of dough to you guys, but it is to me.  Anyhow, thanks for that double-bass comment.  I just love throwing it in when I can, ya know."  Then he tossed a raw pig's knuckle toward me that had somehow landed in his hands from this loud mob on the bus.  He wanted to get rid of it, so he tossed it to me. I wasn't sure where it came from, why it was there nor who had handled it before.  I stuck it in what looked like a wine cooler.
Next chapter:  the ride to Dallas and Dime's place