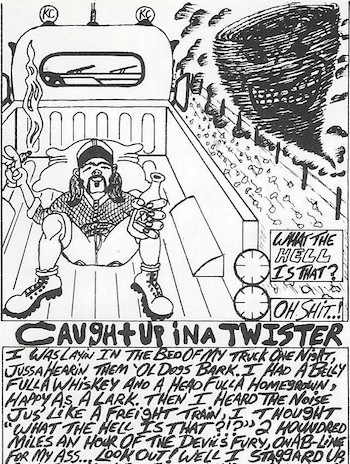 While Kyle/Thurber and PJ had certainly upped things a notch in terms of their career, I had been completely out of music. I was still super focused on school, which I wouldn't finish until Dec of 97, after which I went immediately to work for Harkins Theatres in Scottsdale, AZ, in their marketing department.
ENJOY ALL PRIOR PARTS IN THIS SERIES ⤵︎
PUMPJACK – The Ozzfest 2k Diaries, Chapter 2: Thurber T. Mingus
I was happily working away and had been with the company for 3 years (counting internship), at which point, I was offered the ability to sell screen advertising, in addition to my regular job, which was the film buyer liaison (I was the middle person between the film booker who negotiates the film $$ percentages on behalf of the theatre owners with the film studios, and the individual theatre managers at the local level).  One of my main jobs was to communicate to the theatre managers the new titles that each theatre would be receiving that coming Friday, as well as which were leaving, allowing them to make a new movie showtime schedule for the following week, as well as plan for staffing and a host of other things).
The ability to "sell" screen advertising was a coveted perk because there was almost no effort at all, and the commission was ridiculous. Only we in the marketing department could sell advertising, if you'd been with the company long enough. Basically, you were added to a round table of about 5, and received call-INs from businesses wanting to advertise on the screens before the movies. You simply answered the phone, fielded their questions, and ultimately took their payment and slides. Shooting fish in a barrel, as they say. (This was waaaaay before digital screen advertising.)  I emphasize this not to brag about any financial benefits I was incredibly fortunate to realize, but to state how important this job and career I was starting had impacted my life.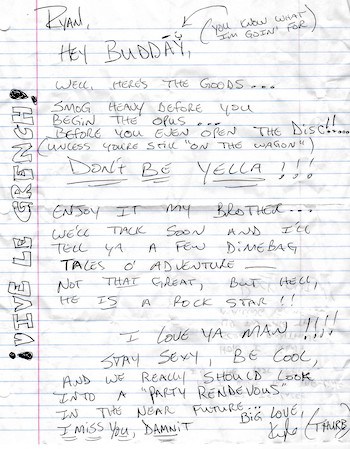 The timetable brings us now to around Nov/Dec 1999. I'd moved out of my Mom's home, and to several different places by then. My Mom called me one day and said a letter had arrived for me at the house. Turns out the letter was from Kyle/Thurber.  It was just one page – and it said… "For the love of God and everything Holy, if this letter finds Ryan Maloney, please call me at…."   Seriously, why so dramatic, I thought…  Oh, I'd find out.
OK… I need to interject something here – so around 1994, I'd come out…as in, out of the closet, with pretty much everyone. I was living life as a proud gay man, with a monogamous partner, fully into living a couple's life. I had even paused playing music from around 1995 through 1997, the years I was at Arizona State University finishing my bachelor's.  Point is, I'd become a different person in more ways than one from when Kyle last knew me.  Not that I'd turned into some super flamboyant queen, but back then being an out gay person still wasn't necessarily as accepted in mainstream society as it is now. Hang in with me here, as this point weaves in and out a few times in the story.
Again, I'm sitting there looking at "Thurber's" letter.  So, I called him. It'd been more than a few years since we last communicated over the phone, so it was cool to be back in contact with my buddy.