Once again, things get foggy, but right after our hang with Phil A, somehow, someway, Bob and I are back in our RV.  Everyone else stayed back to watch Ozzy or to try and party with other rock stars.  Bob made mention to me about a couple of microdots he had.  That's all he had to say.  We went back to the RV, dropped, and proceeded to laugh our faces off for the next 3 hours while at the same time, we wondered where everyone was.
ENJOY ALL PRIOR CHAPTERS BELOW↴
PUMPJACK – The Ozzfest 2k diaries, Chapter 10 of 12:  Dallas, Houston, and The Gorge
Somehow, we lost time.  And not just Bob and I, but everyone.  We didn't think about when we needed to hit the road to reach the next date, which was in Mtn View, CA, literally 3 states away.  We faced another long drive and all of us party fouled all over the place, by getting hammered and not leaving in enough time to make sure we arrived on time in CA.
Unbelievably though, we made it to Mountain View, but not before Clay accidentally hit the side of a mountain and blew out a tire. As Garn recalls, "We got the tire fixed in Crescent City, CA and we were on our way to the SF show hours later.  On the way down is when we found out the generator had also failed.  We finally made it to San Jose and got a room, where they still had porn on the tv!"
The Mountain View gig was unremarkable since we were playing essentially in a parking lot.  (On YT, search Pumpjack, Ozzfest 2000, Mountain View.) Complete opposite from the lush grounds of The Gorge.  But there's always a memory – and this date is a memory because my buddy, Steve, from TYNATOR, showed up.  He was living in Northern Cali then, and he came to catch our show.  Then we went off to get fitted for tuxes for his wedding, later in November of that year.
Regarding our failing RV, Garn continued, "We played the Mountain View show and Clay and I went on our adventure to get the generator fixed.  We drove all over Oakland looking for a place, burnin' gas, and eventually just stopped to eat at a restaurant.  And came back defeated."
A two-hour drive to Sacramento turned into an 8 hour BS trip after some dude told us there was a campground "just down the road a ways."  As Thurb recalls, "the damn road wasn't big enough for a motorcycle, much less an RV."  After searching and searching, we gave up, found a motel, barbequed in the parking lot, and drank.
Garn picks up the story, "Next day we drove to the show.  It was at this show I was trying to get everyone rounded up early because I had found a place in Chico, CA that would fix the generator.  Clay may have actually found it.  But anyway, we were all a bunch of drunk 12-year-olds and I remember having to explain that we were heading to Phoenix with no A/C because of no generator. I finally got you guys on board and asked Clay if he'd picked up our merchandise and earnings.  He said no and lit up a cigarette, and that's the only time I lost it out there!"
"We finally made it to Chico and the mechanics there actually stayed after closing to repair the generator.  We got there within a half hour of them closing.  I think we gave them some merch, beer, and weed.  And then we left California, bound for Phoenix, and drove all night into the next afternoon, thankfully with A/C!!!"  (Thanks, Boz!!!)
It was me behind the wheel for the drive to Phoenix.  I had driven from California back to Phoenix a million times and besides, we were headed to my place. I was excited to be headed home to play this show.  I didn't want the tour to end, and we still had another show to go, back in California.  To be clear, I was indeed excited, but also a bit nervous.  Over the course of this adventure, I debated about coming clean about my being gay with at least, Thurb, but I chickened out, having reasoned it wasn't important.  I figured that I could be possibly making it an issue by bringing it up in the first place.  The truth is I didn't want to come clean so to speak, because I didn't want to face rejection, if it turned out someone in the PJ camp or all of them, had a problem with gay people. (Not that they had EVER given me reason to think they might have an issue… it was completely and totally just down to my being a bit insecure.) I just didn't want it to be an issue in any way, shape or form.  And the real deep truth is that I wanted this dream more than anything I ever wanted in my 29 years on the planet up to that point, and the closer it got to being a reality, the less I was willing to risk losing it. Remote as it was that they or anyone might have an issue with my being gay, I erred on the side of caution and kept mum.
Remember this thread???  Told you it would come up again… Anyhow, they didn't know I was gay or didn't let me know they suspected, or whatever, the point is – it never came up.  Why the hell would it? But of course, all of these thoughts are coursing through my brain NOW, as I am driving us that day, in from California, headed to my gay house, the one I shared with my gay partner, in the place where there are tons of gay photos of our gay faces all over.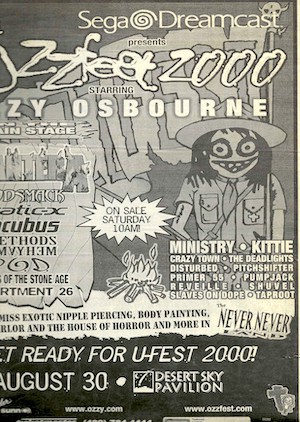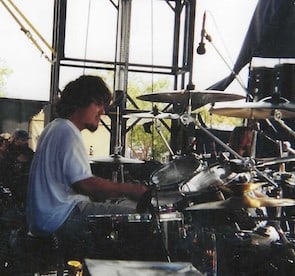 I'm driving into Phoenix on the 10, then I make the transition onto the 51… it's only a few miles now… Heading north on the 51, and I see the Glendale exit up ahead.  Gee, I really hope these guys are cool with all this, that which I haven't mentioned, this whole major part of my life.  Ok, pull down your blinker, exit is coming up.  Ok, make the turn, easy, you're pulling a trailer and who knows what other damage exists due to Clay not being able to negotiate turns…(hahaha!!!)  I digress…
I pull into our complex, and around to our house.  My family is all there, standing outside.  I park and the guys slowly tumble out, lighting up smokes, figuring out where to plug in our RV power.  My partner, Ron is there, my Mom is there, and my sister and brother-in-law.  Mom had recovered a bit in the weeks I'd been gone, so much so, she made us a huge pot of spaghetti and sauce.  Introductions are made all around.  I remember telling the guys – pee only inside, smoke only outside.  And then all nine of us devoured the food and promptly passed out.  Everyone, all around our house crashed, on beds, sofas, floors.  And the ones who couldn't find a spot, retreated to the cool quiet of the RV.