By the time we hit Dallas, we were rolling on a high.  A couple of shows under our belt, and we were getting into a rhythm of sorts.  Us and our crew guys got on really well with the Ozzfest stage crew, so they were all great with us.  Coming from having played dozens of crappy clubs, here was a situation 180 degrees from that.
ENJOY ALL PRIOR CHAPTERS HERE↴
PUMPJACK – The Ozzfest 2k diaries, Chapter 9 of 12: St. Louis and Kansas City
You mean I could have anything in monitors?  Anything?  Really? And not only did I have perfect monitor levels of all instruments, they were coming out of two massive speakers that sat right behind me.  Out of them, I heard our entire mix, including my drums pounding away.  It was the best stage scenario I'd ever experienced. And once all our on stage levels were set in St. Louis, it never changed.  It was perfect the entire tour.
The Dallas gig was awesome, with many folks in the audience recognizing the band as locals of sorts, and letting us know. (On YT, search Pumpjack, Ozzfest 2000, Dallas.) One dude from the audience even gave his $7 beer to Thurb!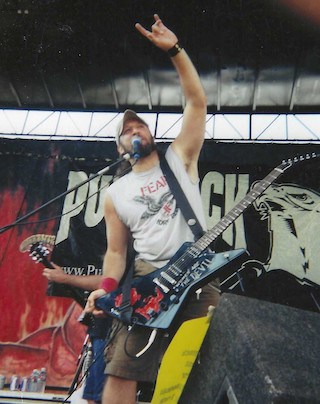 After Dallas, we rolled down to Houston for show #4. A week in and Thurb had grown tired of the RV, tired of no privacy, tired of us all, so he and Bob and their girlfriends drove separately to Houston.
Garn reminded me of a hilarious story that seems appropriate to share with you now.  In his own words…"And I'd just like to add something about the sleeping arrangements on the RV.  If you remember, Thurb and Willie both took the liberty of claiming the back bedroom as theirs (the largest, and presumably the most comfortable).  Willie Hicks went so far as to glue his alarm clock/sleep machine to the nightstand next to the bed. Only, they didn't take into consideration how bouncy it was back there when the RV was rolling down the road, like the back seat on a school bus.  One night, going down the road, I got down from the "over the driver" bunk to go take a leak.  I climbed back into the bunk and heard something next to me.  I rolled over and was face to face with Thurb.  He was already snoring.  I lost it.  I yelled "F*** NO", and kicked him out.  He was, of course, pissed off as he went walking back to the back of the RV.  I remember yelling that he "could have glued himself to the bed back there too!"  LOL!!!"
Ahhh Houston… All I remember of Houston is once again, "GET ME OUT OF THIS GOD FORSAKEN HUMIDIFIED HELL HOLE."  The show was good and felt like the best up to that point.  We played the tune, "Hangover" at this gig, and I think Dime might have put a bug in Thurb's ear about maybe not playing a 7 min slow-tempo tune when you only have 30 min to make an impression.  We swapped that tune out for a couple of faster tunes that we could play in the same amount of time. (On YT, search Pumpjack, Ozzfest 2000, Houston.)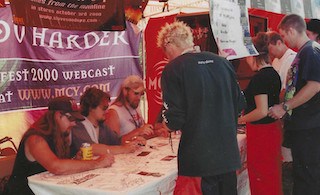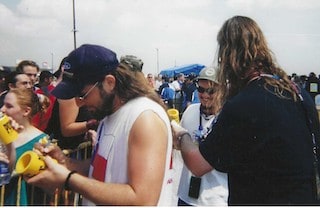 But anyway, yeah, there was no relief though from the stifling, oppressive heat, and our poor RV was working overtime trying to keep itself cool.  Could not wait to leave, especially since we were hitting the West coast next.