The years accumulate.  Experiences show up.  Some I love to recall.  Some I deem true miracles of good fortune. Some I'd prefer to erase, hardly believing I was ever so unaware and awkward.  And some are intensely painful, whether physically or emotionally or both.
All my experiences shape me, both those I choose and those that arrive like a freight train in the dead of night.  My power over what happens in my life is considerable, but it's not infinite.  My superpower — everyone's superpower — is choosing how major life events shape me.
We've all heard the axiom that it's not what happens to us, but how we respond to what happens to us that matters.  When something happens to us that brings all familiar patterns to a screeching halt, do we contract and attempt to leverage sympathy — or do we make a decision to expand and leverage gratitude and compassion?  One immobilizes and diminishes us.  One empowers and activates us.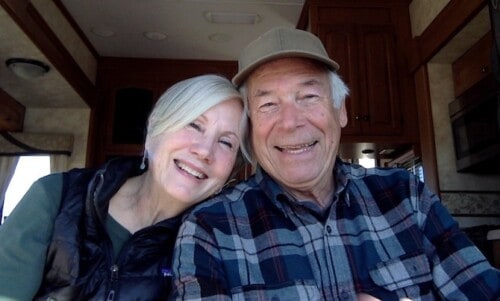 Lee and I believe our lives together are one big adventure story with some planned chapters and some surprise plot twists that test our courage, heighten our awareness, and extend our vision.  The heart transplant adventure two years ago, the rolling-the-truck-and-RV adventure three months ago, and assisting in Mom's current journey with Hospice have changed how we look at ourselves and how we look at our reason for waking up each morning.
You might call these experiences course correctors.  Once the fog of disorientation dissipates, priorities get shaken into crystalline clarity and light a new path through the trees.
I think of these experiences as part of a refining process. This is a much different, much more dramatic refining process than the daily choices we make to improve and grow. Reading and listening to the thinking of those calling me to expand rather than contract activates a relatively steady personal growth curve —  nice and easy, with an occasional "Aha!" moment or bruised ego.  This kind of growth is a matter of choice.  It's a garden that, best case, I plant and I weed.  It requires both a willingness and a determination to discover the next, improved version of myself.
Then there are the spikes disrupting this gentle growth curve. This is a very distinct and often abrupt refining process I call "going through the fire". Scientists coined the term, "adversarial growth,"* AKA "post-traumatic growth"* to identify the revelation some people have when they endure cancer, war, the death of a loved one — any experience that suddenly aborts routine, assumptions, and standard excuses.  Multiple scientific studies show that in the midst of extreme upheaval, some people manage to climb out of crisis and discover heightened joy, gratitude, and sense of purpose as well as improved relationships.
It's akin to the smelting process in which extreme heat is applied to extract metal from ore. These are refining experiences that we do not choose, the kind of experiences that I've long doubted that I would have the courage or the resilience to endure intact — intact in my body, intact in my spirit, intact in my relationships.
These are the experiences that construct a solid person—one who can empathize, one who can be trusted, one with a heightened appreciation for relationships. These are the processes that extract our metal.
These are also the experiences we all pray to avoid, not only for ourselves but for everyone we know and care about.
These are the proving grounds.
I believe these through-the-fire experiences give me leverage. They force me up the learning curve. They compel me to make heavy-duty pivotal decisions even though it feels as if my emotions have been hijacked.
I believe these crucible moments are the only real chance I have of coming face-to-face with where I currently stand in life, of internalizing my true priorities, of feeling the urgency to do something that takes the load off somebody somewhere, to do something that bends the course of another life in a slightly more positive direction.
Accompanying Lee on his heart transplant journey through near-death, walking away miraculously unharmed from the massive roll-over accident, watching my mother gradually decline in Hospice care — my current BIG THREE  compel me to do something harder than posting on Facebook or streaming the latest series on Netflix or numbing out innumerable other ways. I believe we resort to these numbing strategies in the effort to postpone the thought that we might be wasting our inexpressibly precious time.
Often I have willingly suspended my life in purposeless activity, perhaps to delay the realization that the moments of my life are finite, and there is so much more for me to create and contribute in whatever time remains.
What pulls me out when I succumb to anesthetized life?
The lifeline is two-fold and includes both the associations I invite into my life — who and what I listen to and read every day —AND, remarkably, those moments of overwhelming fear followed by the climb back to wonder.   The first  — the resolve to grow in ethics and impact every day — is the parachute that slows my fall and modifies the impact when life surprises me with crisis-adventures.
The wonder, the euphoria shows up once the soul-stretching, sometimes excruciating or terrifying experience yields to an undeniable miracle.  This is how I am expanded and elevated so that I can see the terrain of my life and make a new plan for the new life I've been handed.
Here's the map I found.  So far, these steps forward have gotten me through the proving grounds and through the fires, singed but whole:
Accept where I am.
Acknowledge how I feel.
Identify my support.
Find the good in the bad, what's right despite the wrongness, the new direction in the distance.
Do I ever wish for a nice long respite from the fire?  Yes, very often.  At the same time, though, I know I can't be proven unless I'm tested.  I can't "show my metal" without going through the fire sometimes.