A Hand Up! That's how I define a positive influence. It's easier to be pulled down than lifted up, but leaders who influence others to excel, who support,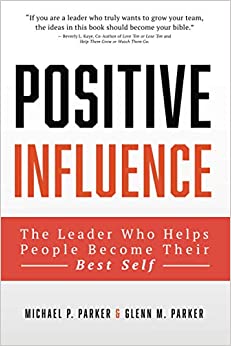 inspire, mentor, and guide people toward becoming the best version of themselves, that is a Positive Influence Leader. They offer a hand up to those who are receptive to learning and excellence. This book will help you become an effective leader who is supportive and models positive influence.
The authors, Michael Parker and Glenn Parker base their premise on the four leadership types. Whether Supportive, Teacher, Motivating or Role Model Leader each type has characteristics with a variety of strengths in the area of positive influence.
Leaders don't have just one of the leadership types, but rather have a combination of traits common to two of three of the leadership types. Readers learn how to determine the leadership style they lean toward, tips for adjusting how their leadership style to capitalize on strengths, and minimize areas where they need to improve.
If you are a leader who wants to see professional growth in your teams, this book can help you devise a strategy and develop a plan to assess your unique environment and break down the complexities into manageable processes.
Leaders are influencers. How much better our corporations would be if their influences were positive.  To sum up this book, I thought these actions to be key for the most powerful change agent of the book. While they are stated in the chapter on crisis management, it seems like they should be common to all positive influence leaders.
Be open and authentic
Be clear and specific
Ask questions. Listen some more and, Respond
Walk the talk
Conduct an after-action review
Regardless of which of the four leadership types you gravitate toward, your teams and organizations will benefit from your practice of the Positive Influence Leadership Style.