Starting in January, the History Channel will premiere Project Blue Book, a series based on unidentified flying object (UFOs) cases that were inspired by the work of the late Dr. J. Allen Hynek.  Dr. Hynek was an American astronomer, professor, and ufologist.
HISTORY's upcoming new drama series 'Project Blue Book' is based on the true, top-secret investigations into Unidentified Flying Objects (UFOs) and related phenomena conducted by the United States Air Force from 1952 to 1969.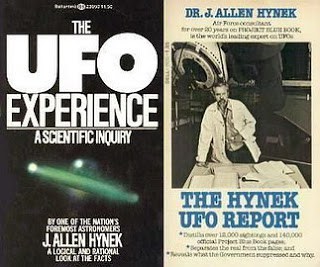 As viewers will find out in the television series, Dr. Hynek was not originally a believer in UFOs. He accepted the Air Force's offer to explore reports of UFOs with a scientist's mindset of debunking them. As he pursued his work, he found out that there was indeed UFO phenomena that he simply could not explain or write off. Too many reliable witnesses and too many questions that could not be plausibly answered as swamp gas, balloons, or perhaps test craft.
As an amateur astronomer with a layman fascination with science, and the esoteric, I am excited to see History Channel bring Project Blue Book back to life. Even more exciting, is that I have a direct connection to the topic and directly to Dr. J. Allen Hynek.
While in High School in the Chicago area during the seventies, space exploration was a hot topic for imagination. We recently landed men on the Moon and the NASA Apollo program was thriving. Aside from my teenage obsession with sports, martial arts, girls, working out (not necessarily in that order), I had a calling from within me for exploring the mystery of outer space. So much, in fact, that I wrote the late Carl Sagan at Cornell University that I wanted to pursue a career in exobiology (the study of extraterrestrial life forms). Dr. Sagan wrote me back with advice (I still proudly have the letter) but my career certainly took a different path.
What I did decide to pursue in my little spare time in High School was volunteer for the Center for UFO Studies, led by the leader of Project Blue Book, Dr. J. Allen Hynek. The Center was not too far a drive from my North Suburban Chicago home, located near the Northwestern University campus in Evanston where Dr. Hynek was also a Professor of Astronomy.  I had recently presented a speech in my High School class on "The Search for Extraterrestrial Intelligence," and I was knowledgeable and excited about the topic.
I remember meeting Dr. Hynek in his small office filled with files and tapes. It was before computers so data was on paper, photos, and cassette tapes. I helped organize files and even transcribed tapes from hypnosis sessions. I kept a notebook of my activities that I still have today. My work at the Center was both interesting and eye-opening.  I remember years later seeing Dr. Hynek in his cameo appearance of the movie Close encounters of the Third Kind by Director Stephen Spielberg. I was excited that I had the experience of being a volunteer for his research seeing him up on the big screen.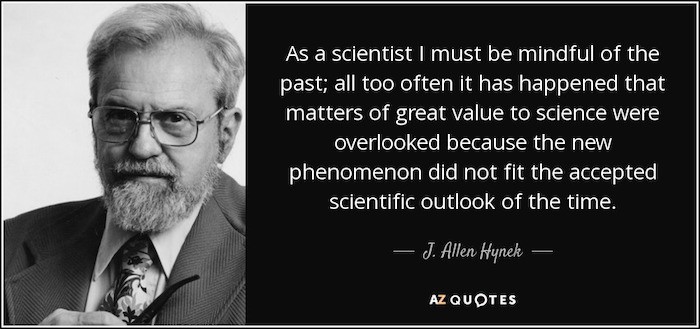 Now many years later, Project Blue Book is reborn, albeit in a fictional form. To me, it is still an exciting topic. In the billions of billions of galaxies with trillions of trillions of planets, we cannot be the only intelligent beings in the universe. I do not know if others have visited our still young planet, (there are astronauts, pilots, law enforcement, and scientists who claim they have) but the yearning to know is still there for me. Maybe we will find out more sooner than later as our own tech and the ability to search for life on other planets and in space exponentially advances.