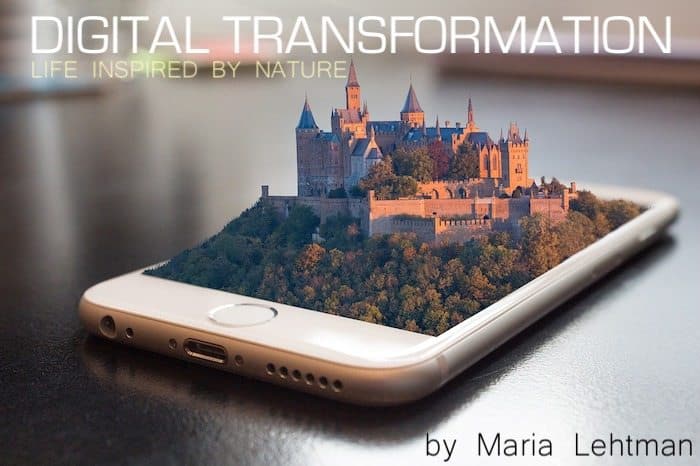 I have never learned more about trust than by being accountable for transversal teams and their deliverables. Today's business ecosystems rely on successful partnerships, people and organizations. Trust has become scarce and sought after resource.

~Maria Lehtman
Trust may be a commodity in today's business vocabulary, but it has become crucial in branding. Many resources are poured into making businesses and influencers trust-worthy. How can we succeed in becoming credible?
On my 2019 interview series, we focus on how digital transformation impacts the social and business life of international entrepreneurs. For this article, I had an opportunity to interview Karin Sebelin,  Author, Trust Expert and Personal Branding Coach (Key Person of Trust), Founder and Trainer of the Key Person of Trust Academy and Motivational Speaker.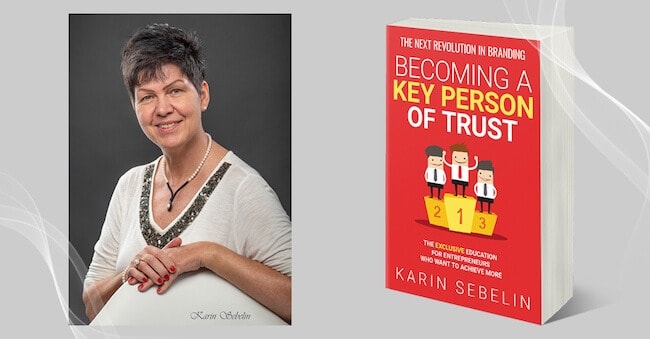 Personal branding relies on trust – how do you build it up?
Question: What inspired you to build a business around personal branding? Would you share more about your current business model as an entrepreneur, and how it was founded? 
Answer: My roots come from the field of leadership, mentoring and trust. As CEO of Presse-Service Karin Sebelin, as free journalist and (copy) editor, I made my first acquaintance with the topic of trust.
From August 2011 to July 2012 I was very active on Ecademy, a social business network (now SunZu), under the direction of Thomas and Penny Power. On this platform, I had huge success, and my personal brand came to life. I was very active and engaged on the platform, and people liked me, my work and my blogs. Within several weeks and among 600.000 network members I was number 1 in the Ecademy score for blogging and being so engaged with and by others.
On this platform, a job was offered to me, and in the end, the job was not there. I felt cheated and lost any trust in the community. I deleted all my blogs and left the community overhastily. I lost all my trust and felt desperate. I needed several months to gain back my stability and my energy.
From then on trust became my mission.
I have learned …
Trust … the only kind of influence that really matters
This became the title of my first book.
I feel the need to show people how important trust is in our life. And I want to help people become successful with regard to trust.
At that time I started mentoring people. With the years I learned what was false with regards to branding and success in our world. I realized that other branding agencies only see trust as an outcome of a successful brand and not as a necessity to learn about.
For me, trust must be a separate element in a branding concept to have maximum success
Question: When you consider business leaders today and how personal branding has evolved – what are the main catalysts and success criteria?
Answer: The great problem in our world is that too many people think that they must become the next overnight success. However, there is NO overnight success. Success comes from a great personal brand, from learning something about trust, from hard work, from perseverance and from discipline and from a great strategy.
Question: You have just published your 4th book: 'The Next Revolution in Branding – Becoming a Key Person of Trust.' Congratulations! What inspired you to write this book?
Answer: Thank you! I wrote my book because I wanted to share my experience with regard to my new branding concept and wanted to provide people a guidebook.
Question: How would you encapsulate the key benefits your latest book can provide to entrepreneurs? Does the concept also offer value to leaders in the corporate arena? 
Answer: My new book is a powerhouse resource packed with inspiring and new insights that will change the way that businesses approach trust, entrepreneurship, and branding. It is the exclusive education for entrepreneurs who want to achieve more.
It is built on the new branding concept of "Becoming a Key Person of Trust (KPT)" that is based on four pillars:  1. Trust, 2. Personality, 3. Leadership and 4. Brand.
This book shows you how to become such a "compelling" Key Person of Trust (KPT).  In the end, you are best prepared for maximum and long-term success.
In this book, I teach the background and the 14 KEY COMPONENTS FOR BUILDING TRUST. I reveal the 10 KEY QUALITIES for "Becoming a Key Person of Trust (KPT)."
Implement what you learn in the book and you can:
Become successful with regard to trust
Gain a new attitude with regard to success
Gain self-trust and self-confidence
Become authentic, credible and trustworthy
Develop character and attitude
Make a difference, become unique and distinctive / Position yourself
Better present and better perform
Become visible and attractive (for people, contacts, dream customers)
Become a thought leader / Build effective teams
Convince with the own personal voice, message, mission, vision
Create chances and opportunities / Get orders easily
Develop a good reputation
Enjoy more trust and influence
The book certainly offers value to leaders in the corporate arena – no question.