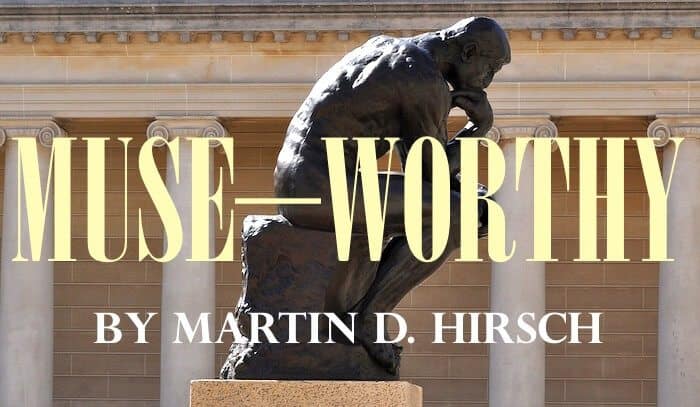 I was still in the throes of first love lost in my freshman year of college. So when our  English Composition professor had us read George Orwell's classic essay, "Why I Write," and assigned us to craft an explanation of what motivated us to express ourselves through the written word, I knew without hesitation what my subject would be. I wanted to try to distill in all its painful purity the exquisite ecstasy and torture of what I'd experienced. That's what made me want to write.
Phoebe (not her real name) and I had met in the fall of my 17th year and quickly fell into an intense romance that seemed to fill every pore of me; I'd bask in her beauty and cling to her caresses, wishing they'd never end. We'd hold each other in a tender embrace, face to face, with her sitting on my lap on her parents' couch, and the two of us bathing in the silence of the night, never going further than a precious kiss.
For silly high school reasons, she broke up with me in the winter, leaving me devastated, adrift, and beyond hopeless.
Teachers began to express concern about me,  wondering where my smile had gone. If there were a worse feeling in the whole of human existence, I couldn't imagine what it was.
The breakup was one of those milestone events in life that mark an immutable before and after – a sudden spike on the biographical timeline. The phenomenon of bumping into the blissful nourishment of teenage first love, only to have it abruptly ripped away, tugged at me to memorialize it in words so precise that I'd never forget the feeling and could bestow it upon others so they, too, could feel its power, as if briefly awakening their own feelings of first love from a cryogenic sleep.
That's what I wrote my essay about, and my professor thought it showed promise. "Let's see if we can get this in publishable form by the end of the holiday break," he told me.
Those words themselves marked another transforming spike on my biographical timeline. After that, despite my pursuing music and then journalism and finally public affairs at a big company, I would never lose the passion to try to capture in words, like the illumination of a hologram, the emotional impact of life's most memorable experiences – love, loss, joy, depression, friendship, betrayal, marriage, aging, beauty.
I wish I could find that first essay. But it got lost in the shuffle of life and never reappeared. But Phoebe did. We reconnected during our college years, and then again many years later during our professional lives. We actually resumed our romance, attempting a cross-country relationship for a while in our mid-30s.
I had a strange dream about her early in that iteration of our story. I wrote a piece about it called "Partners in Time." Here are some excerpts.
____________________
Partners In Time
Twenty years had passed. Twenty years of joy and loss and laughter and pain had crusted layer upon layer of life's experience on the original seed of pure, innocent, first love, until it receded into the distance of his consciousness.
He wondered what had happened to that powerful and mysterious force and sensed that its properties were unfathomable and beyond rational understanding; that like matter it could neither be created nor destroyed and that instead, it went through different phases, sometimes lying dormant and other times exploding in a runaway reaction set off by the volatile catalyst of unpredictable human chemistry.
When destiny had carried them many years and countless experiences and thousands of miles apart and then inexplicably brought them back together again – it was clear that whatever it was about her that had awakened the love in his heart when they had first met was still as it ever was; it still touched him and drew him to her, despite so many things that had changed about both of them.
Not long after they had been reunited he had a vivid dream in which he found himself in a large, white Victorian house on the oceanside, where he'd invited his love to meet. He arrived first and went to the bedroom upstairs.
He parted the drapes and looked out in amazement at a view of the sand and sky and ocean that was so utterly clear and the colors so radiant that the sight struck him as indescribably beautiful yet almost unnervingly surreal.
The sky was bluer than he'd ever seen it before, the water more sparkling and the sand whiter. The scene was too wondrous, he thought, to be real.
He heard footsteps coming up the stairs, so he let the drapes close and turned to see her, looking exactly as she did 20 years earlier, with long, fine dark hair setting off her beautiful blue eyes and gently framing the fresh, wholesome features of a high-school homecoming queen.
Before he could speak to her, another woman entered the room. It was her present self.
She looked lovely; while the years had changed her subtly, her face retained the fine, delicate contours that distinguished her own special beauty. But there was a troubling sadness in her eyes.
She grasped his sleeve and began to sob convulsively, crying, "It's her that you really love!" Her younger self, looking awkward and embarrassed, left them alone, and he held his love in his arms as she wept.
Her grief seemed to flow from the depths of her heart as if feelings repressed since her childhood had suddenly burst free.
He wrapped himself around her as if blanketing her in the tenderness of his feelings for her he could extinguish her sorrow.
Then he remembered the wondrous view he'd seen when he first came into the room. He guided her to the window to show her there was a radiantly beautiful world outside that they could share.
He parted the drapes to show her the electrifying vision he'd observed earlier. But the scene had changed. Or perhaps something about the way he looked at it did.
It was not like a lightning bolt, not like a rush of spectacularly brilliant color and light. It was more subtle, more complex, with various shades and hues. It was more real than what he'd seen before. And in an undefinable way, it was more complete, comforting and fulfilling.
For a long moment, they held hands and gazed at the world outside, knowing that fate had brought them together and chosen them to be partners in time.