The Lower Buckeye experience
(I can't say Buckeye without automatically thinking of Arizona's Phunk Junkees… I'm guessing y'all Phoenix peeps catch my drift.  I digress…) Anyhow, back to the story…
The late October night had finally come…. My good pal, Aric, drove me to the Lower Buckeye Jail.   My attorney tried to prepare me for what to expect.  Dress warmly, but not too warm.  No hoods/hoodies allowed.  Nothing with strings. Long sleeve tee, jeans, solid shoes.  Bring something to read. Preferably pocket-sized.
ENJOY ALL PRIOR PARTS BELOW↴

As the appointed time drew near, I exited Aric's car, and went to stand by the intake door.  There were three other guys there with me.  We were all taken into the facility and at the first checkpoint, we were told to remove our jackets and shoes.  We were all patted down and sent to another holding area. From this area, one by one we were called up, given our jackets and shoes back, and then fingerprinted and photographed.
We were then moved to a third area, held for maybe 15 min, and then taken to a tank. A tank is a large holding cell that's about 10 feet wide and about 30 feet long, with a 15-foot ceiling.  A cement bench is built out from the wall on either side of the tank.  At the back end of the tank was a commode and a sink.
The tank we were taken to already held four other guys.  Given the size of the tank, that many guys in there wasn't bad.  A couple of guys were sprawled out on the floor and the rest chose a spot almost equidistant from each other, as you would naturally.
After about an hour, the tank door opened and two more guys entered.  Everyone adjusted slightly and the two guys found a spot.
Another hour went by, and the tank door opened again, this time three more guys entered, but not five minutes later, one of them was removed.  Space was made for two more dudes.  Though, at this point, just ever so slightly, we're all maybe a couple of feet apart, with still plenty of personal space.  Other than a few sleepy moans from the guys on the floor, it was relatively quiet in our tank, and with my book I was told to bring, I just sat and read. I thought, well, if this is jail, I can handle this.
Things wouldn't stay so peaceful for long.
Around 1:30 am, the door to our tank opened and I was a little shocked to hear my last name called along with one other.  I collected myself and exited the tank, only to be escorted around the corner to another tank.
The door opened and to my horror, I entered the tank and discovered it was filled to the brim with at least 40 guys in the very same sized tank I was in just a minute earlier.  Not only were there 40 guys in this tank that suddenly felt tiny, all 40 were inmates being transferred and/or getting out, after sentence lengths that varied from a week to three or more months. Every single one of these cats was in an orange jumpsuit.
The other guy and I were in our street clothes so we stood out like sore thumbs.  Guys were sitting knee to knee, some on the floor, some standing on the bench, many standing in the center area between the bench seats on either side of the tank. I made a quick beeline toward the back of the tank near the commode and a growing pile of trash by the sink.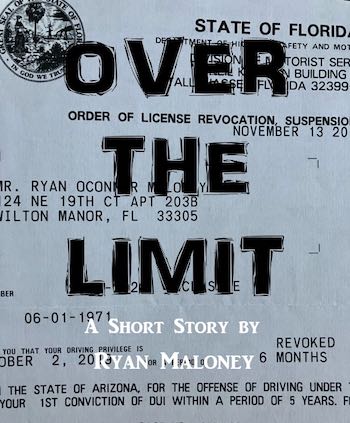 At this point, I recalled an episode a friend described to me when he long ago got into a scrape and found himself having to spend the night in jail.  Long story short, he mentioned that when he was in there, a guy tried to steal his leather jacket and my buddy held on to his jacket and said, "lay another finger on my jacket and I'll smash your face." The guy backed off. It should be noted that like me, my buddy was not then nor ever a super aggressive fighter type person, but he knew you couldn't show weakness in any way. I held tight to that notion.
After I adjusted to my surroundings, I just focused on the conversations going on around me at all varying levels of volume, and just mainly tried to remain alert.
Most everyone was being moved and it was a positive thing – either fully released or to a less restrictive environment, so no one was necessarily looking to cause trouble and mess up those plans.  That said, there were a couple of mild confrontations between dudes that got quickly squashed. The reality was that because these guys were on their way to something better, the general mood was more upbeat and jovial.
Most of the talk was about drugs, the desire to do drugs, the agony of the anticipation to do drugs, sex and food, in that order.  Sex and food, though certainly craved, took a healthy step back in terms of the priorities these guys held. Drugs were easily the top seven things they wanted in front of anything else. Glass (meth) as it was mostly referred to was by far the drug of choice.  Some of the guys waxed poetically when talking about their cravings and intense desire for it.
An hour or so into tank 2, the door opened again and two young white guys entered the tank.  By this time, the jokers in the crowd made themselves known and people are getting burned left and right, hilariously so. It came out that the names of these two guys who looked like teenagers were Dylan and Trevor, two of the whitest names for young white men. They got piled on mercilessly. It was hilarious and of course, they just took it and laughed along, as they had no other choice. It's not been that often that I've felt thankful for looking "more Mexican" than Irish. This was one of those times. Except for maybe two other guys besides Dylan and Trevor, the population of our tank was about 70% Hispanic and 29% Black.
One of the jokesters chatted me up as he caught me looking in his direction while he was talking about music, or rather, specifically, about playing music.  Before he could say anything to me, I thought I'd try to take control of the conversation by asking him if I heard correctly that he played guitar.  Bingo!  He then launched into a long chat about the many instruments he played. He was a super-talented cat and, when he wasn't in jail, sometimes played in a trio. Our conversation went this way and that, but for some reason, I held back about my drumming.
But then out of nowhere, he decides to play late-night talk show host, and goes over by the sink.  He started using the sink as a drum and he started drumming up a storm on the sink, getting EVERYONE's attention, and then he'd lighten up on the drumming. During the lightened-up parts, he'd kind of do like a scat thing but with actual words, describing people in the tank, just making things up about them.  He did this all on the spot, and it was entertaining as hell.  He ventured into goofing on the token white guys but he didn't stay on that long because he was surprisingly getting a better reaction from just the descriptions of people in the tank he was coming up with, which were funny, but not making fun of the person.  That was the coolest little part of the entire time and it took away any inkling of threats that may have existed.
Around 3:30 am, the tank door opened, and the guys all had to step back because the front end of a wheelbarrow got pushed inside the tank.  In the belly of the wheelbarrow was a large clear plastic bag that held other smaller, clear plastic bags that contained our meal – an orange, a piece of bread and a packet of peanut butter.
The guys all rabidly grabbed at the stuff and just dropped the orange peels wherever they stood, same with the peanut butter packets and plastic bags. I passed on the "meal." There was no bin or garbage bucket because that could be used as a weapon, so the trash pile just grew and grew.
Around 5:30 am, the first round of about 3 of the clothes exchanges occurred.  This was the most disgusting part of the entire experience.  Why specifically, you ask???  Let me enlighten….
As I said, many of these cats had been in jail for weeks, some months.  When a person is taken to jail and given an orange jumpsuit, their clothes get bagged and stored for as long as the person remains in jail.  To be clear, they do not get laundered. They simply get stored. Let me also remind you that most of the year in Arizona, it is hot, and people sweat in their clothes.  So these clothes that get surrendered at the start of their stint sit sealed in a closed plastic bag, complete with body bacteria growing and building what promises to be an olfactory assault the likes of which I promise you've never experienced.
But not one of these guys cared an iota about that, every single dude, as soon as they got their hands on their clothes, dropped the orange jumpsuits right where they stood, birthday suit in all glory, and redressed in these horribly smelly, grimy clothes that hadn't been laundered in who knows how long.
This "clothes exchange" occurred three different times, so that awful exposure to the rancid-smelling clothes just got worse, on top of the disgusting jumpsuits that started piling up, which maybe got laundered once a month, some guy told me.
Over the next three hours, the tank door opened and closed constantly as small groups of two and three were taken out.
I was told around 10 am that I could be getting out as early as 1 pm but that it might be as late as 5 pm, depending on when the shift change occurred.
By the time I was told that, I was mentally prepared to stay until 5 pm but was definitely hoping I'd get released earlier.  I never slept a wink because of all the activity in the tank all night long.
Thankfully, my release occurred around 1 pm.  I called Aric and 30 min later I was headed home, ready to burn my clothes.
By late October 2019, I'd completed almost all of the court-required participations.  The remaining task was to have the ignition interlock device installed in the car in Florida.
With the penalties mostly behind me, I spent the next year thinking about what I'd learned and how I was going to live with alcohol going forward.