May 11, 2019 – Phoenix, Arizona, the morning after…
"Ryan, where's your car?  It's not in the garage!  Ryan, do you know what's happened to your car?"
A hangover for me usually means a long next day of "opposing feelings"; tired but not sleepy, worn out but feeling anxious, physically sore but not in pain exactly, mentally miserable, and feeling guilty without fully knowing why.
"Ryan, are you awake yet?"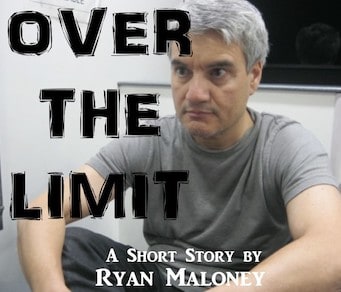 These questions were being fired at me by Dick who was trying his best not to do what he knew I hated, which is to be awakened by a shout or louder-than-normal voice, especially after a night of drinking, but a car was missing and there was no logical answer.
I had been staying at Dick's place because I was helping him finalize his move from his house to his condo, and the office I was working in was literally just down the street from him. John was in Croatia, deservedly enjoying an incredible European vacation, after having driven all of our belongings from Arizona to Florida, and getting our new apartment in order. And then I went out, and almost ruined everything.
To say I was less a casual drinker, and more a frequent binge drinker would be more accurate than not. I enjoyed that buzz that gets you and keeps you feeling good. But for me, if I pushed it, I would tend to black out mentally without knowing it's happening, and still carry on like nothing's happening, and even consume more.
"Are you OK?  What happened?", Dick persisted…
It was well after 10 am and I was still dazed from the previous night's events. The hangover and all its side tangents of feeling bad were in full effect. The reality of the nightmare was hitting. It wasn't a bad dream. This was real and I had to deal with it. It wouldn't be fair to lash out at poor Dick, who was just trying to both understand and help, so I kept it cool and just said flatly, "I got a DUI last night."
Dick had unfortunately experienced this same kind of event a time or two in his lifetime so thankfully for me, he knew the drill.  All of it… he knew exactly how I was feeling as he'd felt it a few times before. To say I was a mess would be grossly under-described. I knew I had screwed up.  At that moment, I just couldn't remember how badly.
As the fog lifted that morning, the crushing guilt started weighing on me as I slowly remembered the previous night's activities and the resulting consequences.
I reviewed the paperwork I had.  One small saving grace was that my car was not impounded. My paperwork told me to go to the Mountain View precinct, at Maryland and 20th St, to collect the keys to my car.  With keys in hand, I set off to retrieve my car from the Phoenix Country Club parking lot.
Dick drove us there in his car and when he pulled up to my car, I was sick to see that in fact the rear back fender and bumper were smashed in a bit. I didn't then nor still to this day cannot remember how that happened. Did I hit a parked car?  Did I hit a parking post?  Did I hit a utility box?  Did something hit me?  Who knows?
The Night Before…
I started the evening around 5 pm at the place I usually enjoyed that fun. Over the course of about three hours, I consumed at least 4 martinis. I then went to another bar and had 2 more beers, all on mostly an empty stomach, which had kind of been by design. Disturbing, I know. I think I was there until around 10 pm. From then until the time I was pulled over, I don't remember what I was up to. I'm pretty sure there was another bar involved though. There's a two-hour gap there because I sort of remember around midnight, thinking, I should probably head back to Dick's place.
I was heading north on 7th St. and had just passed Thomas Rd.  And that's when I saw the flashing lights behind me. Reality is that I later learned from the police report that they'd been following me for about a mile with the lights on before I decided to pull over to see if, in fact, they were pulling ME over.
I pulled into the Phoenix Country Club parking lot, almost hit the guardhouse on my way into the gated lot, and came to a stop, well outside the lines of a parking spot. This is what one of the officers later told me, per the guardhouse attendant.
I was not sober by any stretch of the word and knew it and so did the questioning officer who calmly requested I shut off the car and step out.  I did as she asked and then proceeded to fail every sobriety test.  I had to be helped to the curb, after which I was promptly put in handcuffs.
They called the folks to take a blood sample. I climbed in the back of the van, submitted my arm and they took all the evidence they needed to convict my drunk ass. They took my car keys, and told me I was being arrested for DUI but since I didn't have a record, they released me on my own recognizance.
The photo at the beginning of this story was taken while I was sitting in the back of the blood draw van, awaiting my jab. John told me, "yep, that's the look you present when you've over-indulged."
Still quite buzzed, I was left to sit on the side of the road and called for an Uber to take me back to Dick's place.
My head started to clear about halfway through all the time with the police.  I think the whole ordeal took about an hour, by the time they left, with the longest part having to wait for the blood draw team. But I was still in no way considered sobered up.
The Next Day…
After I'd retrieved the car, I immediately phoned my good friend, Becca, who also happens to be an attorney. She first calmed me down and asked if I was OK (hurt), and if anyone else was with me when it happened.  She provided me with a couple of attorney contacts who she knew handled DUI cases and then gave me her opinion.
I called the attorney I chose, and he quickly fired off a series of questions that allowed him to get a quick snapshot of the severity of the situation.
Was there an accident?
Was anyone hurt in any way?
Was there a minor in the car?
Were there any illegal drugs found on you or in the car?
Had I had a DUI before?
The answer to every question was no.  Had any of the above been a yes response, my legal situation would have been so much worse.
Right off the bat, sensing I was quite freaked out, he told me to just breathe and that it would be OK. He said, "you likely won't be going to jail for more than a few days, and you likely won't lose your license for too long." He explained that since it was my first, it's considered a misdemeanor, the penalties for which are less than if I'd been a repeat offender, which would have likely resulted in a felony charge with much harsher penalties.
He did his best to calm me but also cautioned me and said, the ultimate severity of the penalty would depend on the BAC level recorded when they took my blood.
A couple of weeks later, I learned that when I was stopped, my BAC was .234, or three times the legal limit – an automatic Super Extreme DUI charge. It's beyond repulsive, that I purposefully got that smashed and then got behind the wheel. To think of the living nightmare that could have been… it's incomprehensible to imagine how I'd be able to go on in this life if I'd hurt or done worse to another human being through my unbelievably thoughtless and reckless behavior.
I was deeply ashamed for a good long while, but I had to own it completely to get past it.  For me, owning it meant (and continues to mean) sharing the terrible choice I made and the penalties I faced with as many people as who could/can stomach hearing it (or reading about it).
I wanted then and now and hope to forever be a reminder to others who casually drink and drive that it's not worth it for so many reasons. I know there's a difference between a casual drink or two and binge drinking, but in the end, if you get behind the wheel with any measurable alcohol in your system and someone else hits your car or you just commit a small fender bender where no one gets hurt, you're still in for a world of trouble, expense, headache, and inconvenience like you've never known, as next, you'll read…