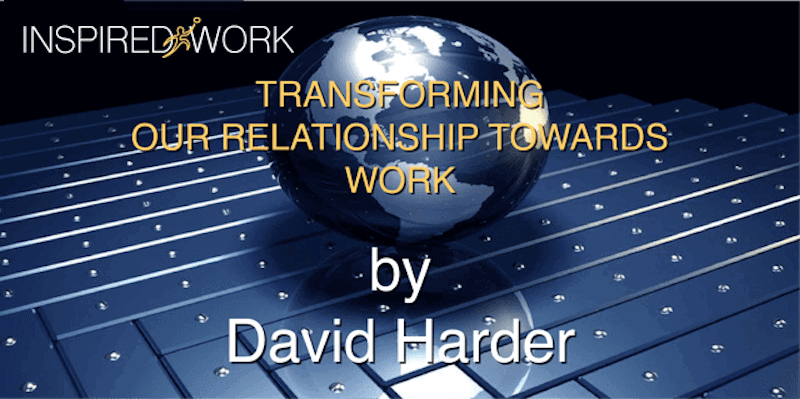 A Short Story Of Science Fiction
Career Press officially publishes The Workplace Engagement Solution! Amazon will make sure you have a copy in your hand tomorrow by clicking here. A shout-out to the many people that helped crack-the-code around the employee engagement challenge including Mary Campbell, my colleague, editor and former partner from USC; Adam Miller, Engagement CEO role model and founder of Cornerstone on Demand; Kim Shepherd, CEO of Decision Toolbox; Linda Sivertsen, Book Whisperer, and best selling author, as well as a legion of bright and dedicated contributors.
The following chapter is science fiction and takes place in the near future. I tried using this as a scenario of a fully engaged organization that has matured using all of the principles outlined in The Workplace Engagement Solution. Our publisher preferred present-time actionable truth and I eventually concurred.
---
This is how I envision the future ideal workplace:
Jennifer's a bit late for work but she resists the urge to update the speed of her driverless BMW. Jen, as most call her, usually prefers to direct-drive the car but this morning she is awash in thoughts and emotions. The car gently winds its way through traffic on Coldwater Canyon towards Century City. The early morning sun pops over a crest on Mulholland Drive lighting the Los Angeles valley for miles. She lets out the same inner gasp similar to her reaction over Manhattan's skyline whenever she flies back home.
This morning marks five years. She had joined AJMedia fresh from her first big success in New York. She had come to Los Angeles ready to conquer the world. AJMedia, how could you say no to them? They were the HBO of the virtual world. Last year, they walked off with eight Emmys and three Academy Awards. Jen's team even accepted one of the statues. At first, she was intimidated by their culture. It had a reputation for being open and hard-charging. Their mentors were the best in the industry. If you worked there, your only options were to grow or to leave. Indeed, one of the reasons she snapped up the opportunity was for the chance to become a mentor at AJMedia. Their mentors were consistently developing tomorrow's studio chiefs, award winners, and industry innovators.
It took two years. John Anglin, a story editor in development, became Jen's mentor a week after she arrived. When she told him of her desire to mentor others, he laughed kindly laughed and suggested she first pour energy into her own development. As civilly as possible, he said, "You have direct reports who can give stronger professional presentations than you. Fortunate for you, we have an extraordinary training resource that can help you progress through several levels of mastery in this area. It will take about a year but I can also promise you will be glad that you did it. Jen took John's advice and engaged in the highly focused process to become a master at presenting. The experience gave her an entirely new sense of ownership with her work.
All that Jen learned led up to that beautiful pivot point almost three years ago. Wang Jianlin, the CEO of the world's largest movie studio heard her presentation on emerging camera technology and it proved to be the tipping point they needed. He proposed a joint venture. As a result, last year AJMedia and China's Wanda Group co-produced over a billion dollars worth of content.
The car had passed the crest and it was now all stop-and-go in Beverly Hills. Large estates from a long-ago era seemed to manage the lineup of traffic into a disciplined and respectfully slow march. Jen thought of yesterday's events and became overwhelmed with emotion once again. Not long after she became a mentor, a project manager from across the hall hired a young coder named Greg. To say he was unlike typical hires at AJMedia was an understatement. Greg was very shy, had difficulty looking you directly in the eye and wasn't the most presentable of individuals. After a few days, she walked into Karen's office and asked,"What's the story with Greg? Why did you hire him?"
Karen leveled her gaze at Jennifer and said, "One of the reasons I brought him onto the team is you."
"OK, there's a story here."
Karen continued, "Greg is one of the most gifted software developers in the next generation of BathSound. He is brilliant, but he hates drawing attention to himself and is very uncomfortable with communicating generally" Jennifer frowned, "What do I have to do with this? Do you want me to help defend the hire?" "No, Jen, I want you to mentor him. His work DNA report indicates he is indeed one of the smartest people we have ever hired. The report also indicates strength of character and I believe this could actually help him overcome whatever is holding him back. When we looked at his core intelligence numbers and overall potential, it seemed more than worth the risk to have him join the team. But, I need your help and you are currently one of our best in this area.
He stuttered. This was a trait that was unnerving to Jen. She didn't even know why. Stuttering bothered her so much that it came up on three different bias reports. She had little exposure to it and didn't understand it. Although she wondered whether this was going to work, she asked him, "What do you want to accomplish with mentoring?"
Greg was sitting bolt upright in the chair on the other side of her glass work table. He was in his mid-twenties, rigidly still with the exception of two fingers on one hand seemingly pulling a finger off of his other hand. He said, "I, ah, want, to get better, with other, uh, other people." Somehow, instantly, all thoughts of time vanished, her heart melted and Jennifer became his mentor. She had one other new person and that relationship was progressing along effortlessly. Greg was something else. She worked behind the scenes to build a specialized support system for him as they worked on his growth areas. In addition to the regular communications processes, Jen found a speech therapist and got a quick approval from the talent development folks.
Everyone that worked with Greg told her that he was throwing himself into the work even though he often had almost crippling difficulty with his fears. But he progressed so quickly that even the learning and development center was holding him up as a role model. Despite this early success and validation, his sessions with Jen continued to confront him. He often found himself reverting to shyness and stuttering. When Jen asked why, he would often respond, "I don't really know." And, then one day he looked her in the eyes and said, "I get frightened around you because you are a 'big deal' around here and yet you set aside time for me. I so want to please you and make you proud. I so appreciate what you are doing for me." That was the moment she fell in love with her company. It was the critical moment when her life's work and contribution became more than what was already a wonderful job.
Jen reminisced about her own start and the words of the CEO just before she moved to Los Angeles. Cheryl Epperson had taken over just a few years after AJMedia became a well-known entity. Every new employee would have a five-minute virtual session with Cheryl and on that beautiful spring morning, the session opened with this prophetic message.
"Jen, you have joined a unique company. We are not only dedicated to producing the best virtual content in the world, we are dedicated to developing the best people in any industry, well-rounded, growing, competent, cutting-edge professionals with the capacity to reach their full potential and enjoy life to the fullest. From this moment forward I am holding you responsible to be your best, to help others become their best and to do whatever it takes to make our company the one that sets that standard. Are you with us?" Of course, she said "Yes" in the moment, but the truth is that Jen didn't have a clue how true and meaningful this would actually show up in her experience.
Earlier this year, her communications pod device indicated she had a POP call holding from the CEO. Cheryl Epperson had been one of the first executives to install the system which uses artificial intelligence and sophisticated filters to prioritize the day's activities and make automatic connections to critical stakeholders. Jen slipped on her headset and there she was. Cheryl was immaculate on every level. She had a gift for appearing at the leading edge of style without giving up her innate dignity and accessibility. Jen broke into a broad smile. "Cheryl, what brings you to my neck of the woods?"
"Jen I'm not calling with a problem. I am calling with an opportunity. You are mentoring a young man named Greg Baker. Early last year, Karen Brooks hired him after securing an override on certain characteristics from our talent management group. From all indications, Greg is advancing toward a breakthrough solution that will produce a revolutionary new sound system. No outsider technology. The advancements are based on his own innovations. Tell me how he is progressing with your mentoring."
CONTINUE BELOW TO NEXT PAGE