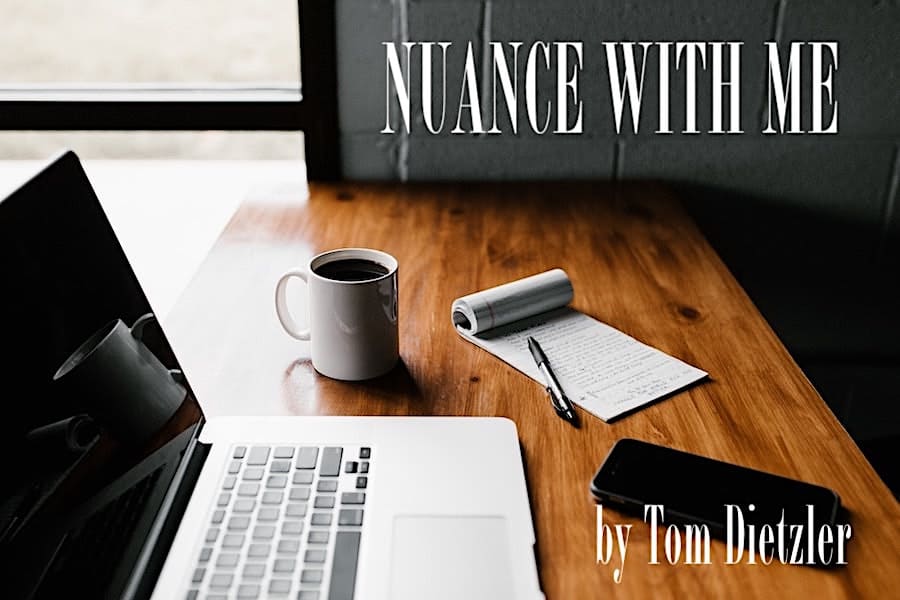 Wisconsin. Say it with me – if you want to sound like a native the first two letters, Wi – are almost silent. It should almost sound like you're saying "Sconsin." Do not put more emphasis on either syllable – say it fast "Sconsin." Not WES-cahn-sin" – no. Not Wes- CONN-sin, either. Stop it. It's Wisconsin, and when said fluently, anyone listening will barely hear the first two letters. There, we have that out of the way.
I'm from Wisconsin. It's part of my identity. I was born in Appleton, Wisconsin 63 years ago and I live here. Except for college in Madison, our capital, I have lived in this area my entire life. I love Wisconsin. With any love relationship, there is an ability to be honest about what our faults are. Right now, it's late August, it's been hot and humid with a deluge of rain every week to ten days. Those deluges have kept everything looking green and lush. It's also been a primo breeding ground for the state bird – the mosquito. As to the green and lush part, I give you Exhibit A – that's me sitting on the ground in front of a hydrangea that is planted in front of our condo. Those flowers on there are almost as big as my head. No special talent is needed to grow them, everywhere you look in this area, the hydrangeas are huge, healthy, and beautiful.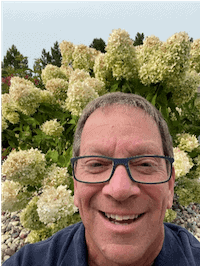 As for the state bird – our church just moved an outdoor worship service for tonight indoors. Not because of inclement weather, but because of mosquitos. We were enjoying a phenomenal summer until about two weeks ago. Then conditions must have peaked for those lovely miscreants. A few years ago, we had a rainy summer, meaning rain was never more than six days apart. I learned that those conditions are not good for mosquitos, who lay their eggs in stagnant water. Because of the frequent rain, those wannabe mosquitos kept getting washed away before they could become the bane of our existence.
Another, and possibly the only other downside to living in Wisconsin is five months of winter. If you read that sentence twice, there shouldn't be any need for me to expand upon it. If winter would stay in its lane and stick to its place on the calendar, we'd all be good with it. The way it crowds into November and stays into April is suckful in words that Dennis Pitocco would not let me use in this forum. Suckful says it fairly well. And I like Dennis, so I want him to keep liking me.
Let me tell you about two things that you have missed, just this summer alone, and two more things that are coming. The first thing is unique and wonderful and maybe not appreciated to the extent that it deserves. I like to talk about how if you use enough qualifiers, we can all be world record holders or the most excellent anythings. Not far (and I mean 10 miles or so) is Lake Winnebago. It's roughly 33 miles long and 11 miles wide. When I was a kid, I learned (not saying that what I learned is gospel, accurate or correct…) that Lake Winnebago is the "second-largest inland freshwater lake in the US." Notice the qualifiers… "second," okay, so it's not the first. "Inland" – which leaves out the nearby Great Lakes, which are kinda in the middle of the country, but apparently "inland" was a way of not including the Great Lakes, so I will accept that. "Freshwater" knocks off the Great Salt Lake from being in the mix. And oceans too… which of course, we knew, with "inland." All those qualifiers made Lake Winnebago sound cool and awesome to me.
Let's keep the qualifier lesson in mind as I proceed to discuss the cool events that help to make Wisconsin (see pronunciation rules, above) such a cool place to be. Thing one: The Experimental Aircraft Association Fly-in. We call it EAA. Don't even think about trying to get a hotel room or campsite within a hundred-mile radius of Oshkosh, WI for the last two weeks of July. During the last week of July, Wittman Field in Oshkosh, WI becomes the busiest airport in the country. See the qualifiers there? Not many of them. Busiest, in the country. This year 608,000 people attended the convention, and visitors represented almost every country on the planet. Vintage military aircraft are brought, lots of one-of-a-kind home-built planes fly here, and there are tons of displays, workshops, classes, and air shows that take place during that week. You can check out more about EAA www.EAA.org
The next week, right here in our very own Appleton, WI is another cool event. (Microsoft Word discourages the use of the word "very" and I do try to reduce my usage of it…) "Mile of Music" takes place in early August here every year and in its ten-year history, it has now become (watch the qualifiers) – the largest independent music festival in the country. "Largest" would mean there ain't none bigger. The key word is: "independent." "Mile of Music" is for original artists performing their own music. There are no cover bands. The mile that is referred to is a one-mile stretch of our downtown, College Avenue, running from Lawrence University to the east roughly to Badger Avenue to the west. The venues are not restricted to just College Avenue, but that is ground zero and most of the performances take place either on College Avenue or within earshot of it. "The 2021 festival featured 40 downtown Appleton venues that hosted 700 live music sets from 200 artists," Wikipedia told me that, thus the quotes. There are indoor and outdoor venues, you can even catch some artists performing on city buses.
So, you missed those two. In September, Wisconsin is hosting the Ryder Cup. It's US Men's professional golfers vs. golfers from the rest of the world. No qualifiers there. Attendance at that event for the week is likely to be 250,000 to 300,000 people. Have you ever heard of Kohler plumbing products? They're produced in Kohler, WI – about 90 miles to the east and a bit south of here, located on Lake Michigan. (Note geography lesson previously, it's one of the Great Lakes 😊) The Kohler Company, and especially their billionaire Executive Chairman Herb Kohler, Jr. have built some world-class golf courses on the shores of Lake Michigan. One of them, Whistling Straits, has hosted the 2004 and 2015 PGA championships. It's a spectacular venue, and as one of the "locals" (mostly me) wish that there would be some "typical" Lake Michigan coastline weather – blustery, cold and rainy weather for the Ryder Cup this year, instead of the balmy, hot and calm weather that has been the rule when major championships have been here previously.
And finally, the last event is Summerfest. Summerfest, on its website, says, "The World's Largest Music Festival." The qualifiers for this one knock it out of the park, yes? "World's Largest Music Festival" kinda says it all. I believe that there will be more than 700 different musical acts taking part. This normally took place around the 4th of July weekend, but they bumped it back to September for this year due to COVID. This too takes place on the lakeshore of Lake Michigan but in Milwaukee. I won't pitch all the acts that have been there in the past, or the ones slated for this year, as you need to do some research yourself.
My pitch is this: If you're unhappy doing business where you are, and if you want a change of scenery… check out the land of cheese. Yes, we do have mosquitoes in August and a tad too much winter, but everybody has something. And I will offer this sweet deal. If any of those events sound peachy to you, give me a shout, and we can talk about me hosting you. This offer applies to 2022, as we have travel plans for September this year… but hit me up and we can at least talk, right? Come to Wisconsin for the events, for the scenery, and get to hang with me. As a bonus, I might even take you to one very special venue that I didn't mention… can you say "Lambeau Field"? Yes, the home of the Green Bay Packers is only 30 miles from where I live. The team with 13 NFL championships. Yes, that's the most of any professional football team in this country. How do you like them qualifiers?