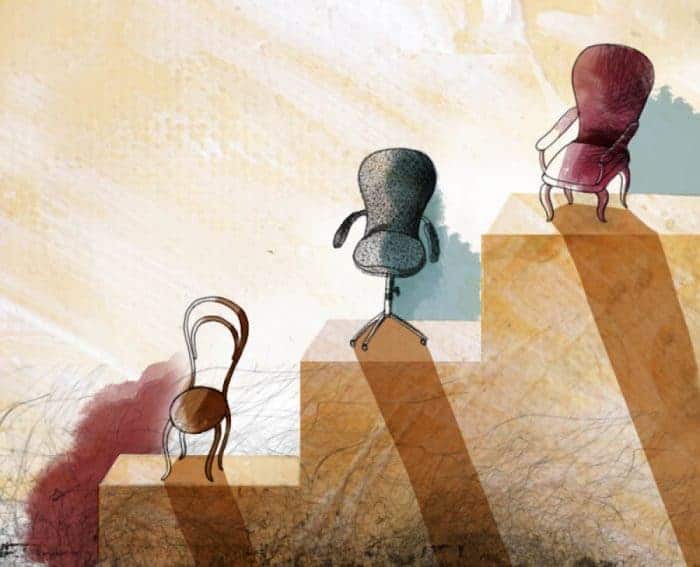 I n every job, there are good and bad days. But when you can't find meaning in things that you do – even during good days – then it might be a signal that changes need to be done.
These changes could be simple adjustments, like rocking your routine or breaking a bad habit. Sometimes, the issues dig deeper than that. When the latter happens, it's important NOT to ignore that nagging self-doubt whenever it rises.
With the New Year upon us, perhaps it's time for some BIG changes (AKA your career).
Entrepreneur Chelsea Berler has great advice for business owners like herself, which is also applicable to folks seeking a career change:
"Some people give up too easily. They hit even a small road bump, and they just don't go on. Yet others keep trying too hard and too long, way beyond the time when quitting makes more sense. When it comes to being a successful entrepreneur or small business owner, the trick is to know your sweet spot, the place when it makes the most sense to quit or when to keep on plugging away."
As the saying goes: there is a time for everything.
Unlike switching jobs, career change is a HUGE deal. Not only will you be leaving a familiar line of work, you'll probably need additional skills to help you land that position. But where do you even begin?
Whether you're aiming for healthcare or ecommerce, here are four transferrable skills that would come in handy during your career change.
1) Project Management
In essence, project management is the method of organizing, scheduling, and delegating tasks to complete company projects that will contribute to its goals.
For example: opening a second restaurant branch is a project aimed towards your objective of expansion. If you're successful in this endeavor, congratulations! You just improved your project management skills.
If you've never thought about harnessing this talent, it's never too late to begin. After all, experts predict that demand for project management skills is bound to increase until 2020. Plus, it's a highly transferrable skill that's needed in almost every profession.
But perhaps the best part is the paycheck. Depending on factors like location, experience, and industry, project managers could earn as much as $108,000, and $89,286 for an entry-level position.
How To Get Started: try looking up schools that offer project management basics. If you've already handled one or two projects at your current job, don't forget to list that in your resume. You can also showcase your achievement on your online portfolio. There are also certified online courses if you want to target this skill.
2) Writing
Did you know that people with strong writing skills get paid more and are doing better at their jobs?
In one study by Grammarly, they found that the best reviewed professionals on online staffing platforms committed the least grammar errors. But this is hardly a surprise as writing skills require attention to detail, versatility, and a deep understanding of context.
This is also one of the most in-demand skills for 2017 and beyond. That's because excellent writing is a MUST in every job: from politics, business, healthcare, to academics. Writing is needed in research papers, speeches, PR campaigns, social media posts, online articles, and media relations.
Pay will be based on location, experience, and the actual position. Salary of people strong writing skills typically anywhere from $28,778 – $95,248 (from Payscale).
How To Get Started: If you decide to home your writing talents for a career change, there are dozens of entry points for you to choose from. You can begin as a freelancer, then work your way towards becoming an editor. After that, you can pursue more creative arenas (creative services, marketing manager), or go for something more settled (senior technical writer).
If you're not into publishing the next bestseller, there are still plenty of writing jobs available for you. Check out The Write Life for more resources, tips, and ideas.
3) Languages
It's no longer uncommon to have bilinguals at the workforce. Thanks to technology and the millennials' own drive to travel, more and more people have strong skills in a second language. For others, the number goes even higher to three or four.
Although there's no conclusive evidence (yet!) that bilinguals earn more, the benefits lean more on long-term career development and opportunities.
People who are fluent in a second language are always in demand for management and senior level professions. Being bilingual also keeps your mind sharp. That's reason enough to review your Spanish or French lessons. If you're targeting a job in a communications-heavy industry, this skill would be more than handy during your career change quest.
How To Get Started: It's free and easy nowadays to learn a second – or third – language. Try apps like Duolingo and Memrise, which are available on mobile devices. They make it simple for anyone to improve their languages skill, even while on the go!
4) Public Speaking
If there's ONE skill that many people are terrified of practicing, it's public speaking. Nothing like a crowd to watch your every move and sweat. But should you succeed in improving your public speaking skills, not only would you be poised for a grand career change – you could even earn your freedom.
Based on your expertise, years in the industry, and demand, you could be earning up to $61,000 as a public speaker (from Payscale). For those who just want to harness this talent, public speaking could pave the way for promotion in leadership roles. That, plus a chance to influence your colleagues, spark change, and inspire others.
How To Get Started: Whatever your reason for improving this skill, public speaking is bound to make you more confident, witty, and a great influencer. Start small by joining groups like Toastmasters.org. They have resources, tools, events, and all kinds of people who would be willing to help you on your way to public speaking success.
Conclusion
It won't be easy admitting to yourself that the job you once loved is now something you don't see being part of your future. But sometimes, we need to let go of things that are hurting us.
"But there was a difference between being stuck and choosing to stay. Between being found and finding yourself."
― Martina Boone, Compulsion
Ready to take that leap of faith?
Jumping ship is not always easy – especially if you spent a great deal of time on it. The memories and experiences you gained will always stay with you. But in life, we can only move forward. But before you leap, be sure to:
Give yourself time to reflect on the decision. Just to make there's little to no regret. After all, the grass isn't always greener on the other side.
Next, write down the pros and cons of your current job. Are there things that might make you stay? If not…
Create a plan on how you can slowly shift to your career of choice. Include small, realistic tasks such as attending seminars or volunteering. Don't forget to include a deadline for yourself so you avoid prolonging your misery.
Most of all: try not to do it alone. There are others like you who are also trying to figure this out. Look for people who are in the same journey, and listen to their stories. Who knows, you might learn a thing or two from their experience.
Are you currently in marketing, but you're itching to try non-profit? Or perhaps you're a startup CEO just waiting to transfer to healthcare? Tired of wondering what life would be like as an entrepreneur instead of teaching?
Do what you can to get started on your career change today. Listen to informative podcasts, signup to newsletters, join an online community.
Remember: whatever small thing you do now has the power to influence your tomorrow.