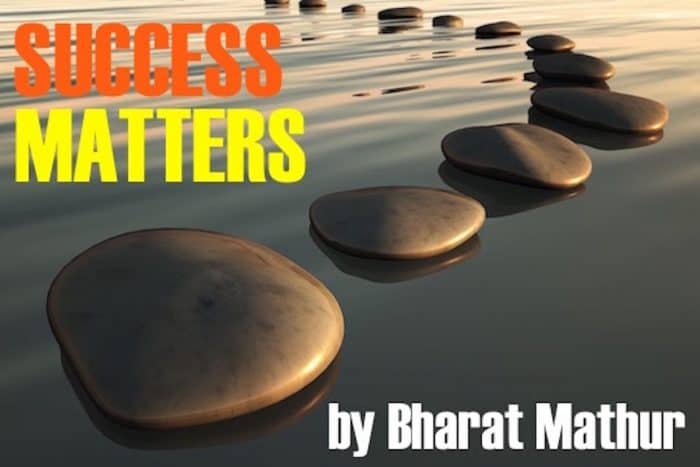 "A Native American grandfather talking to his young grandson tells the boy he has two wolves inside of him struggling with each other. The first is the wolf of Peace, Love, and Kindness. The other wolf is Fear, Greed, and Hatred. 'Which wolf will win, grandfather?' asks the young boy. 'Whichever one you feed,' is the reply!"
It is true peace, love, and kindness help enhance our prestige in public and professional activities in every imaginable way. Little do we recognize the continuous struggle these habits must risk against fear, greed, and hatred every step of the way! The metaphor of the two wolves helps us understand the influences in a more compelling fashion as we understand the ferociousness of the contradictions involved.
Peace is the obvious character that every eminent individual has asserted since times immemorial. Maintaining peace at home boosts mutual love and affection, creates uniformity and deeper relationships. It offers us a stress-free way to put our emotions out and seek guidance, help, and support. Peaceful living helps us strengthen two-way communication tactics while we develop compassion. It encourages us to drop fear because we can reach out to others without shyness.
How we live at home reflects in a significant fashion on how we manage with others. The peaceful home environment helps focus our intellectual abilities as we rest after a strenuous workday. Peace-loving families share and lighten each other's trials and troubles.
Peace at work enables us to be at our highest productivity level since the atmosphere is more favorable to greater concentration, collaboration, and potency. It enables us to sharpen our interpretive faculties so oncoming challenges fail to bring about major interruptions.
Love has many sides and varied connotations yet the fundamental laws of reciprocal consideration and respect stay the same in every situation. Love enters our life even before we take birth. The moment a baby conceives, it draws the emotions of love from the parents. The happiness born out of these feelings continues to increase in the household as the time of delivery draws near. It takes such strong roots that until our ultimate departure, we keep yearning for love in every imaginable direction. The early love from the kindergarten days to the tremendous love showered upon us by adoring parents, love of the life-partner, and the love and attention of so many others helps us gain a personality.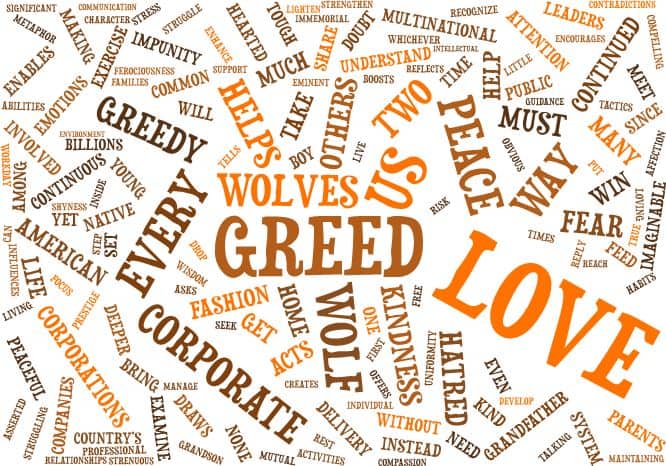 The continued experience of love helps us overcome hatred so long as we concentrate on the attempts and not the outcome. There are problems involved, no doubt! They may take longer to meet but our continued momentum without compromise acts as an unbeatable weapon. The more devotion and dedication we use in feeding the wolf of peace and love the easier it gets to beat the wolf of fear and hatred.
Those kind-hearted know the characteristics of the greedy wolves that exercise kindness for a much deeper motive. They are same as two parallel lines that never meet. There is no common ground between those kind-hearted on the one hand and the greedy on the other, with a single-track mindset of self-satisfaction at any price. When the contemporary American society proclaims 'greed is not a dirty word,' it makes sense, no doubt. Yet, it accords nobody a clean chit or Carte Blanche. This declaration comes from views that reasonable greed acts as a catalyst for the enterprising. Greed motivates those daring to go out on a limb and capture increasing market share in every possible way, shape, or fashion.
Among the most hapless fallen victim to the wolf of greed, the insatiable appetite for more, are none other than the fastest-growing multinational corporations (MNCs). They take advantage of their fiscal strength to influence the system with impunity. Whether we examine tobacco companies or pharmaceutical companies making life-saving drugs, from automobile manufacturers to electronics behemoths, the endless lineup pales others in comparison.
Continued investigations around the world bring to light how this growth of corporate greed fails under the scanner of legislative actions. Irregularities worth billions of dollars come out into the wide. Multinational corporations pay large penalties running into multiples of what they accumulated in an uncontrolled greedy way.
It is normal to see the majority of greedy corporations making up a pretense of common welfare, or 'Corporate Responsibility', as they claim it. Their contributions to philanthropic or charitable causes get so much attention in the media that their wicked acts of greed become simpler to cover up. An example in time is the emission report of Volkswagen automobiles. Even billions in fines could not amount to any impression in their operations. There exist cases of the not-so-good corporate citizens that bypass their own country's regulations with impunity. They set-up corporate offices off shore and get circumvent their own country's taxation rules. How do you classify this tendency if not greed?
I wish authorities could determine how much tax revenue they are giving up for the greedy wolves! Once they set up a dynamic control system, we could have more social interest initiatives implemented. I suggest none of the extreme measures here. Instead, the need of the hour, for pragmatic leaders, is to carry out their duty and examine the vital points, and illustrations, for responsible judgment-delivery. There must be transparency to cut erosion of public confidence. They must do detailed studies before coming up with a win-win formula. Leaders need to realize legitimate dues from such scandalous, ravenous wolves. They include leading political to accounting experts and from law-enforcement to legal luminaries. You will discover among them many policy planners, enforcers, and corporate decision-makers.
To end this curse of continuous corporate greed, countries across the globe have to get together and exercise 'TOUGH LOVE', instead of kindness. The same faces that approach governments with petitions of help and assurance for the organization's survival must be culpable for every criminal action arising out of mounting greed. Leave your love for the innocent, the helpless, the victims, and give a lethal dose of tough love to the wolf of greed.
Given a choice, I would feed the former and kill the latter of the two wolves!
You Are the Judge!