Ocala was great, so a week or two later I was ready to go again. I sent a message to Robin and told him I was planning "another walk," was he interested? He jumped on board, so did his brother, Paul. Then he added another life-long hiking friend, Minter and his 25-year-old son, Owen. The five of us would make a great team.
SEE PARTS 3 AND PRIOR BELOW ⤵︎
I'd picked the Florida Citrus Trail in the Withlacoochee State Forest which includes a bit of the official Florida Trail. I mapped out a 30+ mile loop that would span two nights and have us wind back up where we started. I was the only one who could spend two nights, so the others would leave the trail at the end of day two. That meant planting their car at one location and mine at another.
Because the Citrus Trail has practically no water resources, it's considered a "dry trail." This meant caching water on the trail near where we expected to end up the evening of day one. Because I'd planned the route, I used Google Earth to determine how best to access that location from a highway and got an early enough start so I could leave three gallons of water as close as possible to our planned campsite. My Toyota Corolla limited my ability to get more than a quarter mile into the woods, meaning we'd still need to hike just over a mile beyond our campsite to retrieve the water. This isn't really all that bad when compared to the distance most water sources are from shelters on the AT.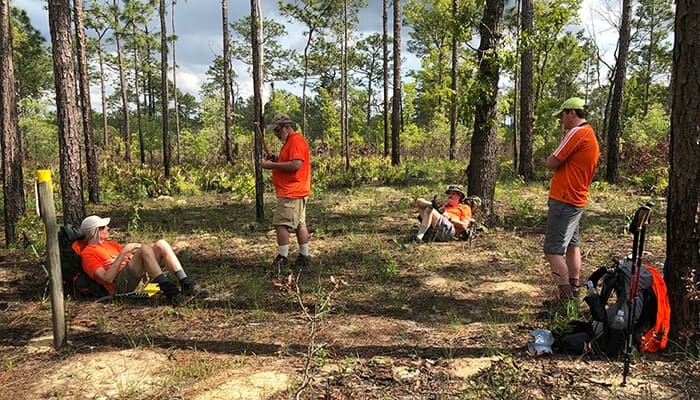 The Citrus Trail offered more elevation changes than Ocala did but our biggest nemesis was the heat which was a sunny 85-92 degrees during the day and might've dropped to a muggy low 70's at night. I'd learned a lesson about chiggers in Ocala and had pretreated my clothing with Permethrin for this hike. It paid off in warding off chiggers but had no effect on horseflies.
The Citrus Trail crisscrosses with a horse trail several times. Do horses attract horseflies? I don't know, but the coincidence was sure suspicious.
On day three, after everyone had left the night before, I was hiking the last stretch alone, leaving me to be the only remaining target for an angry band of horseflies. After about 30 minutes of just waving the dive-bombers off my face, I tried to outrun them. Running in sand with the equivalent of a first grader on your back is cumbersome at best. I could only maintain a trot for a hundred yards or so before having to walk again. It didn't help. They were laughing at me, mocking me even. My next attempt at fighting them off was using my trekking poles as twin props and rotating them in front of me. I was beginning to feel like a Flying Fortress being harassed by a squadron of Zeros. It still wasn't helping.
I finally reached my breaking point, stopped in my tracks, lost my composure and started screaming like a madman. I threw down my trekking poles, shed my pack and began waving my arms frantically and clapping my hands.
If video had been taken it would've convinced any viewer I'd completely lost my mind and was fighting off an invisible band of Ninjas. I ripped into my pack and dug deep to retrieve my nearly empty spray bottle of 100% Deet. I sprayed directly at them with no effect before realizing how stupid that was. I covered every inch of my being I could before the bottle went dry. It seemed to help, somewhat, and I moved on with only minor encounters from the suicidal few who followed.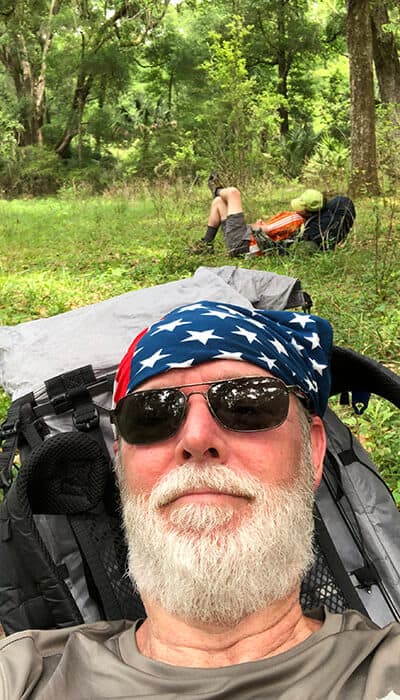 My last night on the trail was spent alone in a small campground that had only 13 designated sites. I was the only one there beyond the caretaker and I have no idea where he slept because I could find no trace of him the next morning. He had visited my site just before sundown so I asked him about bear activity. I needed to decide about hanging my food bag, but he told me bears were not a problem, raccoons and Bobcats were. I hung my bag accordingly. It was my very first ever solo attempt at hanging my food in a tree. #nailedit
During the night the only sounds I could hear were alligator mating calls in the pond behind my tent, and one bobcat that I'd mistakenly thought was an owl at first. It sounded like a low "hooooo" but the more I heard it I realized it was more of a "puuuurrr." At 2:00 am I finally Googled "What does a bobcat sound like" and found a YouTube video of one making the exact same sound I was listening to in the woods around me. I never felt threatened by either, a tent is a relatively secure place believe it or not, so in spite of the wildlife I actually had a great night's sleep.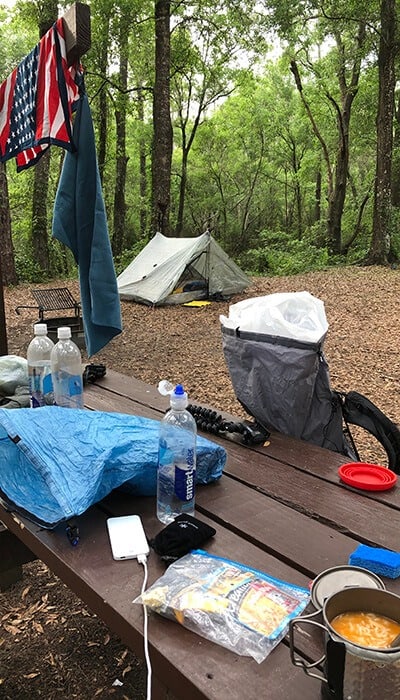 Gear-wise, my Snow Peak stove refused to work on night one so I used Robin's, and when he left after day two he loaned me his stove for the rest of my hike. I had purchased and brought a different fuel canister than I had used in Ocala and incorrectly assumed there was a compatibility issue between the two. It wasn't until I got back that discovered I just hadn't screwed the stove down quite far enough to make the connection. The old fuel didn't require as tight a connection as the new one did – lesson learned.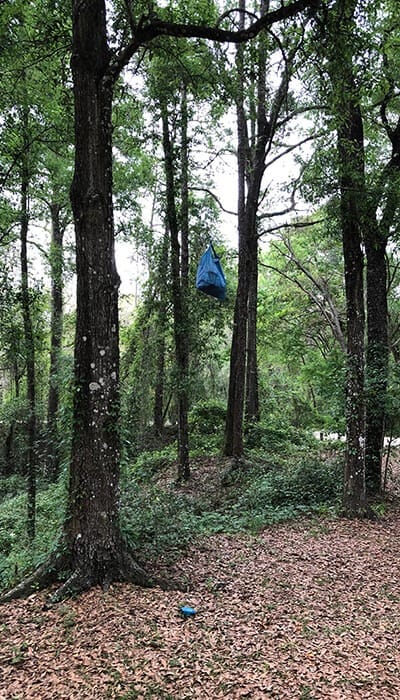 Other than the stove/fuel issue, the heat, and the horseflies, our short trek was really quite pleasant. We'd covered 27 miles in two days as a group of five, then I did another 6.8 miles the following morning alone to get back to my car. Like Ocala, I never really developed any noteworthy muscle aches, soreness, or blisters. The bites on this hike were horseflies, not chiggers but their itch was impossibly annoying prompting a visit to the drugstore for a tube of hydrocortisone which will now be added to my medical kit for future hikes.
We'd collectively agreed that Florida's hiking season was now over and wouldn't resume until late fall when the temps get back to a tolerable level. Discussion was then made about the possibility of making a trip to Georgia or North Carolina later this summer to log some miles directly on the AT, finally giving me a taste of what it's like to ascend and descend a mountain. This is a double-edged sword… climbing actual mountains can either prompt me into more physical training or frighten me out of a thru-hike altogether. I'm banking on the former.