Hiking gear is just one piece to a thru-hike puzzle, but if not taken seriously, can be the catalyst to ending what might've been a successful trek. Gear too heavy, unnecessary gear, wrong clothing for the weather, cook systems that take too long to prep food or ill-fitting shoes and backpacks can make you miserable and spell disaster and doom your thru-hike attempt long before you even take that first step. I learned this lesson the easy way, by reading books like a Baby Boomer and watching YouTube like a Millennial. My research bordered on a sickness. To call it an obsession would be an understatement, but it was one of the pieces to the puzzle that I felt I had any sizeable degree of control over and I wasn't going to let it become my Achilles heel.
ENJOY PART TWO AND PRIOR BELOW⤵︎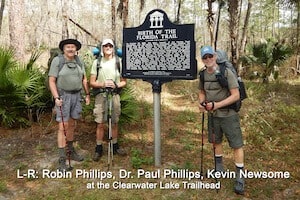 I had one goal… go "light." "Ultra-light" would be difficult, but somewhere in between seemed reachable. Ultra-light hikers are so minimalistic, they knowingly deprive themselves of comforts they've already learned to do without. I wasn't there yet. Christmas helped fill some of my pressing needs gear-wise, and by a few weeks into the New Year, I'd finished my shopping. I now had everything I needed (I hoped, and I'd soon find out).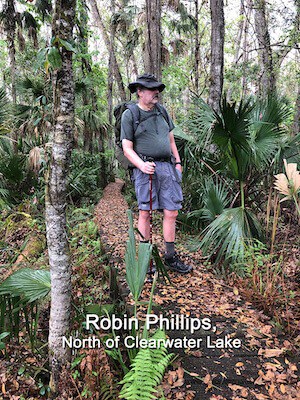 I enlisted my good friend, Robin Phillips and his brother Paul to join me on my first shakedown hike, a section hike of the Florida Trail. They'd both successfully thru-hiked the entire Appalachian Trail 40 years earlier and Paul had completed the entire Pacific Crest Trail after that. They still section hike once or twice a year with their families so they're both experienced, proven hikers and would make great mentors to help turn my fantasy into a reality.
Robin had suggested the 72-mile long section of the Ocala National Forest. We'd planned it as a five-day hike, ambitious for a newbie like myself but with no mountains to summit, it seemed doable. Because Paul is a physician it had to be planned months in advance. It was early fall when we picked mid-February assuming the weather would be nice and cool and the bugs wouldn't be a problem (neither of which would pan out as our reality).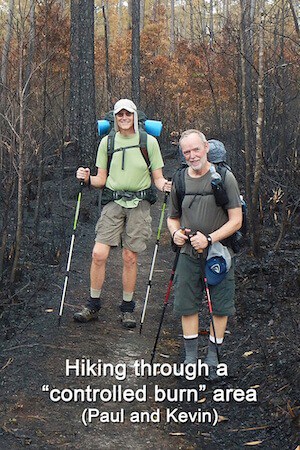 In an effort to reduce my living expenses and plan for a five-month hiatus from work, my wife and I had decided to put our home of 21 years up for sale. The plan was to pay off debt and downsize to a townhome. Our current mortgage was paid off but we still had a sizeable line of credit that needed to be dealt with along with a few credit cards. The home sold in record time, it never even made it to an MLS listing, we simply put a sign in the yard, held two open houses, and it sold for the asking price. It was late December and the closing was set for February 20th, the day before I was scheduled to leave for my shakedown hike… oops.
Within a few weeks, we'd negotiated the purchase of a townhome clear across town. That closing was also scheduled for February 20th. Because my work schedule had me out-of-town for most of January and February, my wife jumped into hyperdrive using her organizational and packing skills and rented three storage units, making several dozen trips herself to migrate all our boxed-up belongings out of the home. We'd solicited some very close and Saintly friends to help with the heavy stuff and by the closing date, it was done. We were out of the home of our dreams and into an empty townhome. I left for my five-day shakedown hike the next day leaving my wife in tears in a new townhome with all our furniture still in storage. Did I mention I'm apparently the biggest a-hole of a husband in the history of husbandry?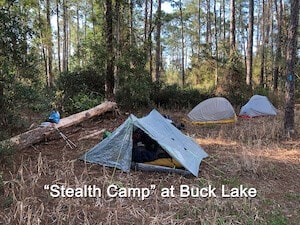 I picked up Robin and Paul the next morning at 7:30 am and drove to Ocala to meet up with another photographer friend, John Jernigan. John had offered to keep my car and provide drop-off and pick-up service for us. We made it to the Clearwater Lake trailhead on the southern edge of the Ocala National Forest about 11 am and were on our way. John took a photo of the three of us to provide the authorities with a poster-worthy image once we went missing. He had his doubts about our chances of making it.
Day one went well. We made it from Clearwater Lake to Alexander Springs, about 12 miles. It was hot, very hot, like low 90's hot, sunny, and for about five or six of those 12 miles we were walking through a controlled burn. The Forestry Service was burning the scrub on both sides of the trail and occasionally we literally had active flames just a few yards from our ankles. Much of the burn had occurred days earlier so everything was black and smelled bad but still smoldering. That made the rain that followed a welcome sight. We never even stopped to put on any rain gear, we just allowed it to wash the burnt smell off ourselves and cool things down.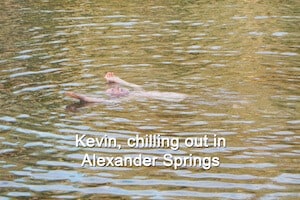 When we checked into the Alexander Springs campground late that afternoon, we were informed that a large section of the Florida Trail was closed at Juniper Springs, about 15 miles north of us. Seemed a bear trampled a woman's tent and scratched her leg, nothing serious, but anytime a bear gets aggressive they close the trail until the bear can be put down or relocated. The suggested detour would have us walking about 40 miles out of our way along highways that border the park. We certainly didn't want to do that so we elected to continue hiking about nine or ten miles northward the next day and camp at Buck Lake, then return the way we came, turning our five-day, 72-mile hike into a four-day 45-mile hike. After all, the goal wasn't as much to cover miles as it was to use and get familiar with my gear. We'd be cutting the trip short by a day but still had enough time to meet my shakedown goals.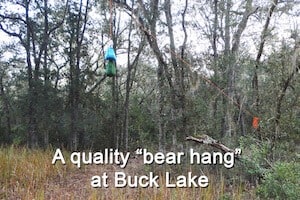 Day two was a shorter hike but not by much. We arrived at Buck Lake and the place was empty, giving us the illusion it would be a great night and we'd be tenting on grass, on level ground, within a few yards of a hand pump providing fresh water and a huge (albeit gator-filled) lake to cool off in, and a night of peace and quiet. We couldn't have been more wrong…