"YOU MEN HAVE TO LEAVE… NOW!" she shouted from the passenger seat of a pickup truck about 30 yards away as the two women pulled up. "WE RENTED THE ENTIRE PARK, ALL 50 SITES, YOU CAN'T STAY HERE, THIS IS A PRIVATE PARTY AND WE HAVE THE ENTIRE BUCK LAKE CAMPGROUND! I'M CALLING THE RANGERS ON YOU RIGHT NOW!!"
This was her idea of how to say "Hello, are you three men hikers? I see you're drying out your tents from last night's rain and it looks as though you may even be planning to camp here for the night. You probably aren't aware, but a very large group of us have rented all the campsites here for the weekend and everyone will be arriving very soon. You're welcome to stay and rest for a bit, but you won't be able to tent here unless you'd like to move to the very end of the park where no one is likely to camp. Of course, we'll be making quite a bit of noise late into the evening and I'm sure you're tired from hiking all day and would probably opt for some peace and quiet so I think you'd be much happier if you camped just outside the park boundaries. Of course, you're free to come and go to get water from the pump, seeing how it's the only clean water source for 20 miles."
Well, that's how MOST of us would've phrased it.
SEE PARTS 3 AND PRIOR BELOW ⤵︎
My Appalachian Trail – Dialing In The Gear with a Shakedown Hike
Unfortunately, her greeting etiquette indicated that she was raised by wolves owned by Klingons so the "conversation" wasn't going well right off the bat. I approached the pickup for some clarification.
"Did you say '50 SITES' or '50 people', because I don't think there are 50 sites in this campground."
"I SAID 50 SITES AND THEY'RE ALL MINE!"
"You mean the whole lake?"
"EVERYTHING AS FAR AS THE EYE CAN SEE BELONGS TO US AND YOU NEED TO GO! I'M CALLING THE RANGER NOW!" <furiously punching her phone> "HELLO RANGER? RANGER?"
I knew good and well she didn't have cell service, none of us did, we're in the middle of the Ocala National Forest for cryin' out loud. At this point, I just couldn't help myself… "You might call the Ranger who just left and told us we were fine to camp here but to just stay out of your way. He was a really nice guy."
Seconds later several more pickups full of women arrived, any of which looked like they could crush more than a beer can on their forehead. It quickly became apparent that this was not a crowd to be reckoned with. Another arrived driven by a man who was instantly directed by the Alpha Wolf to "GET THOSE MEN OUTTA HERE!" a task he really wasn't comfortable with but dutifully followed the orders barked in his direction. His approach was much more sympathetic, apologetic, and quite cordial, after all, we're three men in our 60's, not brutish-looking bullies. We exchanged pleasantries the way most civilized people would, then I asked him who these women were. "Is this some sort of corporate event?" He looked puzzled at first, then chuckled "Oh no, these are all… <looking around him, then noticing one angry woman was still within earshot and eyeballing him sternly>… well, they're… they're… they're… I'm not quite sure how to explain it… they're… they're… a SOCIAL group, yeah, that's it… a SOCIAL group!" I felt sorry for the guy. He wasn't sure what he was allowed to say. It was like some sort of bizarre forest game show where he was trying to give clues without offending anyone and he was the only one playing! "Alex, I'll take "It's Perfectly Acceptable to say 'Gay'" for $100."
Clearly, our presence was unwelcome and that was all we needed to know. We needed to leave… STAT!
It's okay, sir, no need to go any further, we understand. We'll leave now, even though the Ranger had already been by to speak with us about 10 minutes before they arrived. The Ranger was quite pleasant and had informed us that a large group would be arriving soon, and to just simply "give them their space" (he didn't tell us "the entire park as far as the eye can see" was "their space"). We'd agreed and had planned on moving to a more remote section of the park but after Alpha's arrival, we clearly saw even that wasn't an option so we packed up our damp tents and hustled off.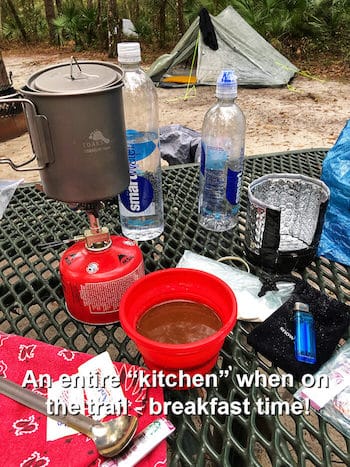 We set up camp about a hundred yards outside the marked boundary of the park and stealth camped in a remote section of the woods ("stealth camping" is simply camping in an area not officially designated for camping). The three of us had a chuckle at how the scenario played out because it genuinely looked like a comedy sketch. We'd remained calm, very professional, explained ourselves, explained that the Ranger had already spoken to us, and explained that their water pump was the only clean water for miles around and legally available to anyone at any time. Alpha had no interest in any of it. The cigarette dangling from her lips performed miracles dancing around her mouth without falling while she shouted at us and barked orders at the others.
They would get real close, then they'd fade off into the distance, then they'd slowly get close again, the fade back off, over and over and over again. ALL. NIGHT. LONG.
Later that night we could hear the music and laughter so we knew they were enjoying themselves. About 10 or 11 pm the music and laughter died down but was replaced by the faint sound of barking dogs. Were they really turning into wolves? Is there a full moon tonight? Did Alpha's family just show up? The barking slowly got louder. Then louder. Then disconcertingly close, like inside of 25 yards close, which in the woods at night sounds like inches away. And there were several of them. I admit I was feeling a bit vulnerable. Should I be looking for a tree to climb? Is this comedy sketch going to turn into an installment of the Twilight saga? It's not hunting season, but they sounded like hunting dogs. Yes, definitely… Hound Dogs, Pointers, and Beagles. It had to be someone out training their hunting dogs! They would get real close, then they'd fade off into the distance, then they'd slowly get close again, the fade back off, over and over and over again. ALL. NIGHT. LONG. Regardless of a ten-mile hike carrying the equivalent of a first grader on my back, I was getting no sleep whatsoever.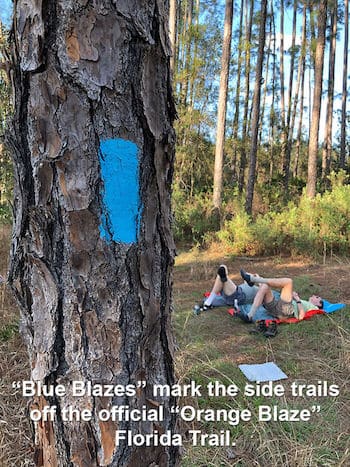 About 2 am, I heard something nearby running extremely fast. I assumed it was a hunting dog but when I opened my eyes and looked out of my tent, I watched what appeared to be a small German Shepherd fly through our camp at full speed, right between two of our tents. Who the hell hunts with a German Shepherd? OH CRAP, WAS THAT A POLICE DOG? ARE THEY CHASING AN ESCAPED CONVICT OR SOMETHING? Less than a minute later, two German Shorthaired Pointers ran into the camp, stopped and sniffed the ground, made eye contact with me, then ran off in the direction of the German Shep… waaaaait a second… THAT WAS NO SMALL GERMAN SHEPHERD, THAT WAS A FULL-GROWN COYOTE! HOLY COW! A WILD COYOTE HAD JUST BLOWN THROUGH OUR CAMP INCHES FROM OUR TENTS AND IS BEING CHASED BY THOSE POINTERS! The barking and howling went on all night long. I heard the last of them about 7 am, shortly after sunrise when two Beagles greeted me as I was making my morning visit to the pee tree.
The one consolation to losing so much sleep that night was knowing that our angry neighbors inside the park had to have endured the same sleepless night… and that Coyote was headed straight for them.
Yeah. Take THAT, Angry Klingon Alpha Wolf Lady!
That morning we began hiking back the way we came. We arrived back in Alexander Springs in mid-afternoon, plenty of time to set up camp and take a dip in the springs. Slept like a baby that night. Our last day was spent hiking back through the controlled burn area and setting up camp just a few yards from Clearwater Lake where we took another welcomed dip to cool off and wash up. John picked us up the next morning.
If I were to give my gear and myself a score for how we performed over the 40+ mile shakedown, I'd say my gear was a 10 and I was a 9 ½. Everything about my hiking and Globo Surf gear performed flawlessly and exactly as I'd been promised by all the wonderful YouTubers and Facebookers who helped guide all my gear decisions. I give myself props for recognizing "hot spots" on my feet before they become blisters and having the wherewithal to stop and cover them with moleskin. I expected my legs and joints to be sore, but they really weren't. My shoulders bore the brunt of my muscle aches but adjustments to how I was wearing my pack made a difference towards the end. I did have a considerable number of Chigger bites on my legs and had a bit of an adverse reaction to them. Robin and Paul's bites were the size of a pinhead, but mine grew to the size of a half-dollar. They quickly disappeared within a few days of getting back home so I wasn't worried too much about it. I'm told the AT has a minimal Chigger population (hope that's true).
I know that a ten-mile per day average is light, but that's about what I anticipate my first week or two on the AT to be. I plan to start slow and work my way up to 15-20 mile days, reducing my risk for any early injuries, after all, my bones will be turning 65 one month into the big hike, even if my brain will have just graduated high school.