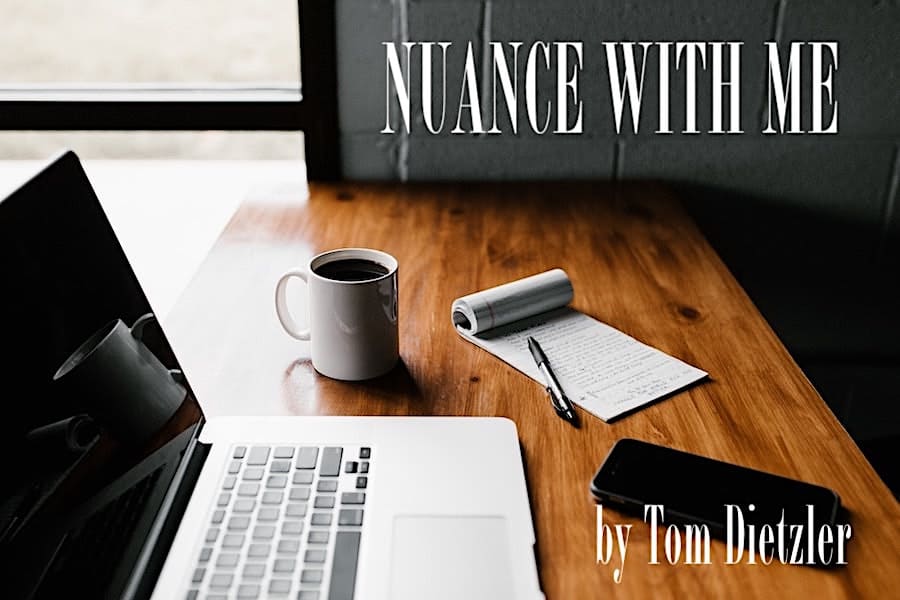 This piece is about me marinating in a situation. I learned quite a long time ago that this is not wise for me. I love a good backstory and it helps me to understand things better when I know some of the history, some of the context, some of the nuance about a story – rather than just a headline and someone else's narrative.
With Mother's Day here, I want to write a smart, maybe funny, uplifting piece about Moms. I might get there, but just know, good friends and kind readers, it's going to take some work on my part. You also may know that with my writing style and meandering grasp on my consciousness, that I can get virtually anywhere. It ain't always a straight line from Point A to Point B, and not even I, at this point, know where this will end up.
I just got off the phone with my Mom. Some of you know some of this backstory. My parents are both 92 years old, married more than 72 years, and have put my four siblings and me through some interesting times with their stubborn, or shall we say, interesting, independent streak. Last week, we moved them into senior residential housing, and as one would expect, it's been a bit overwhelming to them both. Granted there are plenty, abundant, numerous silver linings to the cloud of this disruption to their lives… but my mom is gifted at seeing not only the glass in front of her as half empty – she also knows that all the ones in the cupboard are empty as well.
My desire to write something clever, warm, and a rhapsody to moms is more fervent than ever at this moment. I am married to a hall of fame mom. My wife is a mom among moms.
We have two kids; we wanted more, but two pregnancies ended in miscarriage, and by the time she had delivered our son after a high-risk pregnancy, we decided that having two wonderful children was our destiny, and we thankfully have raised our kids as best we could.
We said goodbye to my mother-in-law at the end of November, less than six months ago. She would've turned 96 a few weeks after her death. She was a strong, funny, and faithful woman who raised seven wonderful, funny, and hard-working kids. Her two husbands were brothers, and she outlived them both. She taught us about love, loyalty, family, and rolling with the punches.
My daughter is a mother now, and it gives me such joy and heart explosions to see how she excels as a mother to Naomi. Our granddaughter is but ten months old, and she's such a blessing that it's hard to recall all that time before she was here. To see our Melanie become a mother and to see her and her husband raising such a beautiful child, would take far more than words, language, this paltry verbal exercise, several volumes of prose, and a couple of feature films to express.
My mom and dad raised the five of us. I've heard some families describe themselves as having put "fun in dysfunctional." Our family life was a pretty small town, typical in many ways of other families that came of age in the 1950s, '60s, and '70s. My dad worked shifts at the local paper mill and as soon as their youngest (me) got into school, mom went to work at the junior high and elementary school where all five of us got some of our education. Mom and Dad did the best that they knew how with us. They were married in the late summer of 1948 and before the spring of 1954 arrived they had four seedlings. I came along four years later, and somehow, miraculously, for a Catholic family in the 1960s, I was my parents' last child, when they were just 29.
Here is where the story pauses. My fingers are poised on the keyboard, but this is not one of the things that I write that writes itself.
There is so much that I want to say (this is me here – there is never enough context…). The story definitely needs to be shaded, and with big, broad, bold strokes – that this marriage, my family has been truly and profoundly blessed. Please come after me if I ever sound downcast, or forlorn about my family. My parents are still here, married for more than 72 years. All of my five siblings are still here, as are the 11 grandchildren, 2 step grands, 15 great grands – our family has not yet seen the shadow of death. Contrast that with my wife's family – she has lost both of her parents, 2 nephews, a niece, and a grand-niece.
Back to Mother's Day, and my mom. She lost her own father before she was a year old, in November 1929 – just weeks after the stock market crash that ushered in the Great Depression. My grandma worked hard to support her two girls, and she eventually met another guy and married him when my mom was 11. My mom's stepdad molested her. That set up my mom to be someone who would develop pronounced trust issues, and despite her family all living close to her and her husband always being at her side she would often say "I've been alone since I was 12 or 13."
Later, her mom, stepdad, and older sister moved to California because my stepdad said it would be better for his health to live in a warmer climate. My mom had met my dad by then, and she didn't want to leave Wisconsin, her high school life and friends, and her boyfriend, to move across the country. She was allowed to live with her grandmother, and stay in the Dutch ghetto of Kimberly, Wisconsin. My parents reigned over prom in 1945 – king and queen and graduated from Kimberly High in 1946, both at the age of 17. They married two years after that.
We have always teased mom, because, well because she had a fair number of quirks that invited it. When I was in high school we lived in a pretty decent part of town in a nice house. The only time that we were allowed in the living room was when we had company. "We" is a pretty unique way to express that, as by that time I was the only one living at home yet. Mom had beautiful furniture in there and she cherished that room. We didn't need to go in there, there was no TV in there anyway.
My dad retired after working in the same place for 44 years. He has been blessed to be retired for 30 years. My parents traveled a lot, usually spent the winters in Florida, and they never went back to the same place. My mom made it her thing to research different places that they could go. One of the reasons that they always went somewhere new was so that they wouldn't get too attached to any particular people. My dad was a social animal, but my mom preferred keeping her distance.
We teased mom about not being a very good cook. She isn't and has always owned that part of herself. When she and her sister were growing up, my grandma was working, so the two girls divided the household chores among themselves. My Aunt Marianne was a fabulous cook. My mom was the sewer, dishwasher, and cleaner. Mom used to love to sew, and she could fix any clothing, and she would promptly return any piece of clothes back to whoever had torn it or worn it out, in just a day or two – repaired and better than it was when it was new.
Mom has beautiful penmanship – and she always wrote letters. To us kids, her grandkids, some of her friends, to her mom and her sister in California. She took pride in staying in touch with everyone. She'd tell us how she was praying for us, and include news of friends, activities, and anything that struck her.
Mom loves to read. This is not one of her strong points. She read too many magazines. She feasted her brain on medical stories, and she collected medical information like archaeologists collect bones. As time went by, she felt as if what a doctor told her was secondary from the knowledge that she had gleaned from all the medical articles she had read. She prided herself on being well into her 80's and not being on any medication. Her paternal grandmother lived to be 105 (my mom's aunt lived to be 102) and she was bound and determined to get there too.
And I pause again. I'm trying to bury you with all this stuff, and working at giving a balanced view of the woman who gave me life and raised me and my siblings. I have spent a good share of the last five years fighting with her. She is a stubborn and independent woman. Her fierce loyalty to my dad probably is one of the reasons that he is still here – after prostate cancer, skin cancer, heart issues including a pacemaker, high blood pressure, and a mini-stroke that took most of his eyesight in one eye.
They have moved three times in the last five years. It all makes sense now. It was more entertaining to fight with her and consider ourselves right than to look beyond a lot of what we were fighting about. Too many things that didn't add up during all of this time finally make sense now. We thought, and probably rightly so, that the demons she was fighting were called anxiety and depression. Those were symptoms. Enough other ones cropped up here and there that blew us off the trail. This is the part of the story that's hardest to write, and I can't expect it to write itself.
Today, my mom was diagnosed with dementia. It's got a specific name but I won't bother you with it here. Our template was Alzheimer's and she didn't fit that in so many ways. We kept jousting with the anxiety and depression, and this form of dementia was the real villain. So today we embark on this journey and we'll see where it takes us. A huge blessing has been that for the last year, especially the last six months or so, my siblings and I have never been so united. We are all on the same page, showing more grace and patience with each other than we ever have shown at any time in our lives. We need to be. The hard part is just starting.
Here is my punchline, my lesson, my reason for droning on this long: I am blessed. My family has been blessed. We are blessed, fortunate, lucky if you will.
We didn't ever want to be here, but here we are. We've had a great run, and now it's time to step up and serve the people who gave us life, and fought for us, and never allowed us to want for anything. Mother's Day was one of my mom's worst days of her life. But it doesn't overshadow that she won't lack for anything in this final chapter of her life. She won't lack for love, and she won't lack for our loyalty. We're all strapped in and ready to do whatever they need.
What I have learned from being a part of this community is that many of you have faced down similar challenges. Besides my blood relatives with whom I get to trek this journey, I have another family scattered across the planet who will hold me, hug me, and raise a glass to my patience and resilience. Your part in this is that I don't ever have to get too down about any of this. Thank you for lifting me up in so many ways. I am blessed.